What is mountain rescue? A look at how the service differs across the world
What is mountain rescue? We take a look at rescue services in the US, the UK and Europe, including how to contact them in an emergency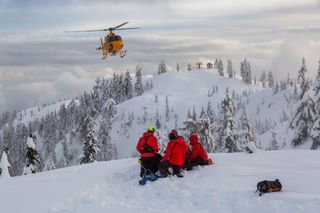 (Image credit: Getty)
What is mountain rescue? If your ankle's done, on the mountainside. Who you gonna call? Mountain rescue! If an avalanche, sweeps you off your feet. Who you gonna call? Mountain rescue! I aint 'fraid of no peaks. I aint 'fraid of no peaks. If take a fall, down a big, steep crag. Who you gonna call? Mountain Rescue! An icy cold, has begun to take hold. Who you gonna call? Mountain Rescue!
That's right peak busters, when you get in trouble in the mountains, there's one bunch of heroes you gotta call: mountain rescue. Just dial 911 in America, 112 in Europe, Australia and the Himalayas, 999 in the UK and 111 in New Zealand!
But what is mountain rescue? How does it differ between the US, UK and Europe? Most importantly, how do you raise the alarm and contact mountain rescue in an emergency?
What is mountain rescue?
Mountain rescue is exactly as it sounds, teams of highly trained individuals who come to the aid of the injured, unwell, lost or missing in our mountain regions. Skilled in both emergency procedure and upland craft, they operate beyond the reach of traditional emergency services in what is a highly specialized environment. Their job is to aid the casualty off the mountain and into the care of the ambulance service or hospital, if required.
In some countries, professional rescuers are dropped into the thick of things by helicopter; some countries have teams of volunteers, primed to take to the mountains in their best hiking boots to come to your aid; and in some places there are no mountain rescue teams at all.
Is hiking dangerous? The truth of the matter is that it can be, so it's always prudent to know how to contact mountain rescue in the region you plan to explore.
When you get through, mountain rescue will usually ask for the following details:
Location (ideally with a grid reference). On high mountains, you will also be asked to give an approximate altitude.
Name, gender and age of the casualty.
The details of the emergency and suspected injuries sustained.
What the weather conditions are like.
The number of people in your group.
Your contact details.
If you can't get reception, it's recommended that you still send a text message to the emergency services number with the above information. A text will make it through even with the faintest signal. If you are with a group, send a confident member to seek signal and try to get through. If you are alone, try to summon help using your hiking whistle.
Calling mountain rescue doesn't automatically scramble a squadron of helicopters to come to your aid. The response will depend on the severity of your emergency and, if the expert on the other end of the phone thinks the situation is one you can deal with yourself, they may be able to solve it by giving you advice.
However, in a more serious emergency, mountain rescue personnel will be called out to come to your aid. The nature of mountain terrain means that they may take quite a while to reach you, which is why a helicopter is often called for severe situations. If you know a helicopter is coming to your aid, make you and your party as bright and conspicuous as possible. To signal the helicopter hold your hands out above your head to form a Y-shape. To indicate that help is not needed, hold one arm diagonally up and the other diagonally down.
The traditional way to contact mountain rescue is by phone but this relies on having a network signal and smartphones are prone to fail in cold conditions. Many mountaineers carry a satellite communicator, which contains a personal locator beacon (PLB) and can raise the alarm at the push of a button. These robust units boast excellent battery life and better coverage than a mobile phone.
Mountain rescue in the US
Mountain rescue in the US is a mixture of professional teams in many of the National Parks and voluntary services in other regions. Popular national parks that have the benefit of paid mountain rescuers include Yosemite, Denali, Mount Rainier and Grand Teton.
Voluntary services are often supported by the Mountain Rescue Association (MRA). The MRA is an organization of teams dedicated to saving lives through rescue and mountain safety education and is split across eight US regions. Founded in 1959 in Oregon, the MRA is the oldest search and rescue association in the country and has become critical to mountain rescue in North America.
The good news is that, generally speaking, wherever you are in the mountainous regions of the US, you should be able to get help should you need it. However, the search and rescue (SAR) laws differ from state to state, meaning there is the potential for you to be held liable financially for a rescue. With this in mind, it's a good idea to obtain a state-issued SAR card, giving you insurance and thus covering you against the cost of rescue. The cards are inexpensive and give you peace of mind while on the trails.
How to call mountain rescue in the US
Dial 911 and be ready with the usual details, as well as the name of the trailhead you accessed. Stay where you are unless advised otherwise and follow the instructions given.
Mountain rescue in the European Alps
The intricacies of rescue in the European Alps differ depending on where you are but it's generally a professional service that's overseen by police forces and non-profit organisations. It's essential to have travel insurance suited to your activity, as the cost of helicopter rescue can be eye-watering, depending on where you are. In a potentially serious situation, the last thing you want is to be weighing up whether or not to call for help based on monetary concerns.
The teams are highly trained in techniques like crevasse rescue and how to deal with casualties struggling with altitude. Most work alongside helicopter crews, such as Air Zermatt, who were recently the subject of a Netflix documentary 'The Horn'.
Away from the highest mountains, there are mountain rescue teams in places like France and Italy that operate on a voluntary basis, coming to the aid of the stricken without getting paid. This means that you can expect rescue not to cost you anything in the lower ranges.
How to call mountain rescue in the European Alps
Dial 112, which is the European emergency number and ask for 'police' and 'mountain rescue'. After raising the alert, don't hang up until told to do so and make sure you follow instructions given by the emergency services.
Mountain rescue in the UK
What is mountain rescue like in the United Kingdom? The mountains of the UK do not reach the great height of those found in the US or in the Alps. However, this fact makes them more accessible to the general public, with popular peaks such as Snowdon, Ben Nevis and Helvellyn receiving hundreds of thousands of hikers every year. Many people get lost hiking, while accidents and, sadly, fatalities are commonplace.
While the dangers posed by altitude and glaciers are not present, there are still many hazards on the UK's peaks, while conditions can be extremely challenging once temperatures plummet in winter, particularly in Scotland, where potentially fatal avalanches are a real possibility too. Hikers attempting routes without proper mountaineering equipment, such as crampons and ice axes, often get caught out too. To give a sense of how busy services can be, in 2021, Scottish Mountain Rescue Teams responded to 683 callouts.
Due to this, the UK has 74 mountain rescue teams (49 in England and Wales, 25 in Scotland) covering all the major upland regions. One of the main differences between British mountain rescue and in the Alps or the US is that it is a voluntary service. The rescuers don't get paid but instead do it to help others and for the love of the mountains. Mountain rescue teams in the UK rely on charitable donations to function.
How to call mountain rescue in the UK
Dial 999 (or alternatively the European emergency number 112) and ask for 'police' then 'mountain rescue'. Once you've given your details, stay where you are unless in immediate danger and wait to be contacted by the rescue team, who will give further advice.
All the latest inspiration, tips and guides to help you plan your next Advnture!
Alex is a freelance adventure writer and mountain leader with an insatiable passion for the mountains. A Cumbrian born and bred, his native English Lake District has a special place in his heart, though he is at least equally happy in North Wales, the Scottish Highlands or the European Alps. Through his hiking, mountaineering, climbing and trail running adventures, Alex aims to inspire others to get outdoors. He is currently President of the London Mountaineering Club, training to become a winter mountain leader, looking to finally finish bagging all the Wainwright fells of the Lake District and hoping to scale more Alpine 4000ers when circumstances allow. Find out more at www.alexfoxfield.com