Types of rock climbing explained
We help you get to grips with the different types of rock climbing, the advantages of each, and what you need to get started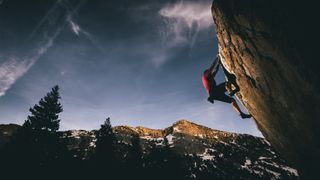 (Image credit: Vernon Wiley)
In a relatively short amount of time, the sport of rock climbing has diversified perhaps more than any other. When it first evolved out of the long tradition of mountaineering, climbers mostly used tools to hoist themselves up sheer rock faces. But once they discovered that with the right protective equipment and skills, they could use their arms and legs to power themselves up, all bets were off. The popularity of rock climbing really exploded in the 1970s and today there are nine different types of rock climbing and counting – some using lots of rock climbing gear and other using none, taking place on rock and ice, over water and indoors.
When you're new to climbing and still getting to grips with all the rock climbing terms, it can all be a bit mind-boggling to be honest, so in this article we break down the different types of rock climbing, the advantages of each, and what you need to get started.
Aid climbing
Aid climbing is the only type of climbing on this list which isn't considered a form of free climbing. In aid climbing, you use ladders and other devices that can be permanent or impermanent to ascend the wall, as opposed to powering yourself up by finding holds and using your limbs. Aid climbing is typically reserved for scenarios where free climbing would be impossible, such as a sheer rock face with zero holds.
Mountaineering
Mountaineering, also known as alpinism, is generally thought of as a type of rock climbing because it usually incorporates some climbing. Mountaineering involves climbing mountains by rock climbing and ice climbing as well as hiking and even skiing – basically whatever the terrain requires – in order to reach the summit. By nature, mountaineering can involve most or all of the gear usually used for rock climbing as well as ice axes, crampons and hiking gear.
Ice climbing
As we mentioned, mountaineering often involves some ice climbing, but ice climbing has evolved into a sport in its own right. As the name suggests, ice climbers ascend areas of frozen water, such as frozen waterfalls, using a lot of the typical climbing gear – ropes and harnesses – as well as crampons and ice axes. Ice climbing is exhilarating, dangerous and very dependent on current conditions.
Bouldering
As the name implies, bouldering takes place on a large boulder, although you can also do it on the bottom section of a cliff, or even indoors. What defines bouldering from other types of climbing is that you climb rock formations that are smaller and closer to the ground, and therefore you don't use any of the typical gear such as a harness or ropes – you really just need your best climbing shoes, and your only piece of safety equipment is your crash pad. Bouldering emphasizes strength and technique rather than endurance, which you might need for trad climbing.
Sport climbing
In sport climbing, you climb up a wall or cliff face following routes that have been pre-established by other climbers. Instead of finding your own line, there will be bolts drilled into the wall. If you're the lead climber, you'll clip quickdraws and secure your climbing rope as you go, then build an anchor at the top for your partner to use – when it's their turn, they'll clean the quickdraws. This type of climbing usually offers a more direct route up the wall and requires less gear and skill.
Top roping
Strictly speaking, top roping is a sub-style of sport climbing, but because not all sport climbing is top roping, they're often viewed as distinct. In top roping, you feed your ropes through a pre-established top anchor and then you and your partner can take turns climbing on belay. Usually, the anchor can be reached by non-technical means such as hiking or scrambling, so there's no need for anyone to lead climb and there's also no need to use pre-drilled bolts. This style of climbing requires minimal gear but also allows you the freedom to find your own lines. It's also the most common type of indoor climbing.
Trad climbing
In trad, or traditional, climbing, you don't have a top anchor or bolts drilled into the wall. Instead, you choose your own line and place your own gear (such as cams and nuts) into cracks and spaces in the rock to hold your rope, meaning you're only as safe as the last piece of gear you placed. Trad climbing raises the stakes on sport climbing and requires good instincts, skill and lots of gear, but it means you can climb just about anywhere there's a cliff, for any number of pitches.
Free soloing
The most advanced type of climbing is free soloing, where you climb rock faces in the same style as sport or trad climbing, except you don't use any protective gear. This type of climbing raises the stakes once again, as you climb without a rope or a harness, and no amount of helmets or crash pads in the world can really help you if you fall. This style of climbing is reserved for only the most daring – or crazy – people in the world and we recommend you enjoy it only from the comfort of your couch, while watching the movie Free Solo.
Deep water soloing
Deep water soloing is a sub-type of free soloing, meaning that you climb without any protective gear, but you do it over deep bodies of water (like the sea). The upside is that if you fall, as long as you can swim you'll probably be okay, but on the downside, you need a boat to get to your line so it's a bit of a luxury sport.
All the latest inspiration, tips and guides to help you plan your next Advnture!
Julia Clarke is a staff writer for Advnture.com and the author of the book Restorative Yoga for Beginners. She loves to explore mountains on foot, bike, skis and belay and then recover on the the yoga mat. Julia graduated with a degree in journalism in 2004 and spent eight years working as a radio presenter in Kansas City, Vermont, Boston and New York City before discovering the joys of the Rocky Mountains. She then detoured west to Colorado and enjoyed 11 years teaching yoga in Vail before returning to her hometown of Glasgow, Scotland in 2020 to focus on family and writing.