Want to camp in a rented igloo? Colorado Parks and Wildlife can help
For $18 a night, you can camp in a temporary igloo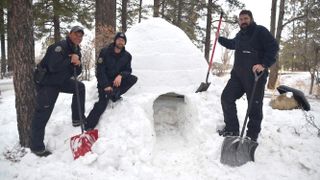 (Image credit: Courtesy of Colorado Parks and Wildlife)
When you head out on a camping trip, there are many ways to secure accommodations for the night. You can take your own tent and sleeping bag and make a home away from home. Or you can stay in a cabin or a backcountry yurt. Or even an old railroad caboose.
But what about an igloo? Winter camping experts will teach you how to build your own igloo, but if you're in Southwestern Colorado this winter you can actually stay in a rented igloo.
The Colorado Division of Parks and Wildlife is offering winter visitors the chance to sleep in a real snow igloo for $18 a night or $126 per week at Mancos State Park in Southwest Colorado.
You can find the igloo located in the park at site #24A, which can accommodate up to three winter guests.
According to a report from the Durango Herald, the igloo was recently built by park staff who tested the design of the snowy creation prior to construction.
"They're pretty fun little shelters," said Nathanael Bokelman, a Colorado Parks and Wildlife engineer. He's built a few igloos for his family and friends, and now for the state park.
The Mancos igloo was formed with the assistance of the Icebox igloo tool, which essentially is a "three-sided box" with a center pivot pole to measure an exact circular shape, Bokelman said. Snow is packed into the box to make the blocks used for the igloo's construction, and the pole is shortened as the igloo grows taller, since the higher layers have a smaller diameter.
It's a very geometrical process, Bokelman said. The igloos they build are taller than they are wide, somewhat egg-shaped. (The technical term is "catenary," meaning the U-like curve that a hanging chain would make.) For an igloo with a 9-foot diameter, the roof may be about 5- or 6-feet tall – a true hemisphere would have a roof height of about 4.5 feet, in order to match the base.
"It creates a more structural shape," Bokelman said. "And also makes it nice, because you get a little more head room inside."
The igloo took about 3½ hours to build and is about 30 degrees inside, said CPW spokesman Joe Lewandowski.
But it won't last very long. Daytime temperatures have been above 32 degrees Fahrenheit (0 degrees Celsius) occasionally, while nighttime temperatures should rise above the freezing level by late March or early April.
"The weather's staying cold and we're getting snow," Lewandowski said. "So obviously when it warms up a lot, it will usually melt. There is a little bit of a time element here."
But igloos still remain intact for some time, particularly as the walls grow icier. Last year, Bokelman's lasted through February, at which time his family was forced to dismantle the structure since they were moving.
"They settle, and as the days get warmer they definitely start to sag," he said. "But structurally – they change shape, but the ice and snow consolidate so it actually ends up getting stronger to a certain point."
For more details about the igloo or to make a reservation, visit www.cpwshop.com/campinghome.page.
Mancos State Park is located in Montezuma County, just a few miles away from Mesa Verde National Park.
All the latest inspiration, tips and guides to help you plan your next Advnture!
Brian is an award-winning journalist, photographer and podcaster who has written for Runner's World, The Times, Outside, Men's Journal, Trail Runner, Triathlete and Red Bulletin. He's also the author of several books, including Kicksology: The Hype, Science, Culture and Cool of Running Shoes. He lives in Boulder, Colorado, and loves to run, bike, hike, camp, ski and climb mountains. He has wear-tested more than 1,500 pairs of running shoes, completed four Ironman triathlons, as well as numerous marathons and ultra-distance running races.