Watch pro skiers jump over chair lift cables
And that's just one of the crazy ski stunts they perform on this "best party lap ever"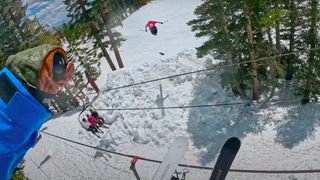 (Image credit: Red Bull Snow)
Sitting in a chair lift is the last place you expect to be able look up and say, 'Is it a bird? Is it a plane?' But there are some chair lift passengers in the videos below who could do just that.
The breathtaking stunt in the Instagram vid comes from towards the end of the three-minute YouTube video below that which is full of more crazy skiing stunts, including a back flip off what looks like a ski lodge roof.
It features a group of Red Bull skiers – @LoganPehota (who also drives the snowmobile), @jespertjader, @NicoVuignier, Kirsty Muir, Paddy Graham, @nico.porteous, @hunterhenderson5904, Mac Forehand, Max Moffatt, @chablozmax, @ari_tricomi, Birk Irving, Walker Woodring – going wild on gnarly track built by the park builders at Mammoth Mountain, California. Filming was by Filmed by @alexmeliss and @marinhoramonmeyer.
As the video's title says, it could just be "best party lap ever".
The fun all actually happened back in spring, but Red Bull has only just published the full YouTube video. Presumably the editing took so long because the editors spent so much time just sitting back in amazement, but they've done an excellent job piecing the clip together.
We heartily agree with CinematographyLischka in the comments, who says: "This video is a testament to the evolving art form of capturing extreme sports on film. Hats off to the entire crew for pushing the boundaries and delivering such a visually stunning experience."
The chair lift moment remains the standout. The skiers here make it look easy, but it certainly wouldn't have been, so don't go getting any ideas about trying it yourself.
All the latest inspiration, tips and guides to help you plan your next Advnture!