Best camping coffee makers
Nothing beats a good coffee in the great outdoors. With the right device you can make a cup as enjoyable as you have at home or even in a café.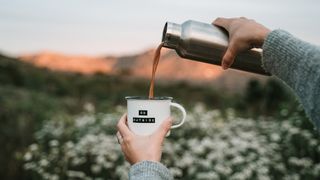 (Image credit: Photo by Taryn Elliott from Pexels)
One of the best things about camping is brewing your own cup of coffee outdoors at the start of the day. We're sure it smells and tastes better when you've made it yourself out in the open but that only applies if you choose a good coffee maker in the first place.
As with making coffee anywhere, there are a range of different methods to get to a great cup, some more complicated than others. Here's our pick for your next camping trip so you don't have to risk drinking bad coffee or, worse still, no coffee at all.
Best overall
A portable espresso machine
Perfect for coffee connoisseurs under canvas, you simply add hot water, unlock the piston and pump to pressurize the coffee and extract a short of delicious espresso. The smallest and lightest espresso maker, this version takes Nespresso capsules to make it even more convenient. You never need to be without good coffee.
Best value
Portable and consistently great coffee
The AeroPress is a firm favorite with coffee addicts who love how easy it is to use and the high-quality results that often see it used in specialty coffee shops. The good news for campers is that it's pretty portable too, especially when it comes with this zipable tote bag. You won't have trouble finding space for it in your backpack or luggage and will be glad you did when you get world-class coffee within a minute.
Best for fires
The perfect coffee pot for a campfire
What caffeine addict wouldn't want to peer out of their tent door and see this percolator heating on the fire. Made from polished aluminum, it heats quickly and makes up to nine cups (there's also a 20-cup version) of good strong coffee which you can pour thanks to the side handle and cool touch bail. It will also fill your camp with that freshly brewed coffee aroma.
Best press
On-the-go press and flask
One of the lightest coffee presses on the market, so you can take this wherever you go. The double micro-filter gives you a rich flavor with less of the mess you get with a traditional press. The 16oz insulated bottle will keep your brew hot (or cold) for hours, sealed in with the leak-proof lid complete with a loop to hang it from your pack.
Lightest coffee maker
For pour-over coffee wherever you want
Designed to make pour-over coffee on the go, the Brew Buddy fits on most mugs and makes one great cup at a time, as strong as you like it, in around 30 seconds. The paper filters you usually need for drip coffee aren't required, with the fine mesh filter also making for a slimline design that's easy to slip into your bag when traveling.
Bottom line
Coffee fans are well-served when it comes to making a cup away from home on a camping trip. All these coffee makers will help you brew up a good coffee without the need for electricity or a fully-equipped kitchen. Our choice for making coffee on the go would be the Wacaco Minipresso NS. This ingenious device doesn't compromise on taste but will make you a proper espresso in the middle of nowhere as long as you don't mind pumping it up to pressure. The fact this version takes Nespresso capsules only makes it even more convenient.
We also like the AeroPress Coffee and Espresso Maker which is, if anything, even easier to use but doesn't quite have the portability of the Minipresso. It's another miraculous device that will make you a coffee as good as any you'll drink but packs into a tote bag. When it comes to coffee, campers are spoiled.
All the latest inspiration, tips and guides to help you plan your next Advnture!
Launched in July 2020, Advnture is the ideal destination for anyone who loves the great outdoors. Whether you're into epic hikes through the wilderness, camping trips with the family, climbing with your friends, or looking for a trail running personal best, our team of experts will point you in the right direction, with top buying advice and in-depth guides to help you get the most of your time in the backcountry.