Everyday Carry essentials: must-haves for outdoor types who like to be prepared for every eventuality
Make sure you always have what you need with these Everyday Carry essentials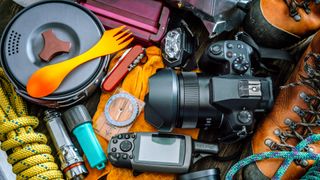 (Image credit: Getty)
The kit that makes its way into your pack, pocket, pouch or belt bag as an Everyday Carry (EDC) item is a subjective choice, and a lot will depend on where in the world you live and the kind of terrain you regular explore on your outdoor escapades.
As these Everyday Carry essentials show, however, some categories demand to be represented. So if you're serious about being prepared for anything – whether you're exploring urban green areas or heading deep into the backcountry – this EDC buying guide can show you the way to go.
And in case you're wondering what Everyday Carry is, our explainer will tell you all you need to know.
Everyday carry essentials: flashlights
Ledlenser i6R Penlight
Specifications
RRP: $65 (US) /£55
Weight: 2.9oz/82g
Length (defocused): 6.7in / 17cm
Head diameter: 0.73in/1.9cm
Lumens: 120
Range (min–max beam): 98–328ft/30–100m
Run time (min–max beam): 5–25 hours
Waterproof rating: IPX4 (splashproof)
Ledlenser has been one of my favorite outdoor lighting brands for years, and I use several of their headlamps and lanterns regularly on both daily and extended adventures. As an Everyday Carry essential, however, the i6R Penlight is difficult to beat. This slim, lightweight, modern flashlight packs a powerful punch for its size with up to 120 lumens of illumination, including a patented 'Advanced Focus System' that allows you to switch back and forth between a long distance pinpoint beam and broader flood pattern. The pocket clip helps keep it secure in any pocket on a daily basis. And when it's time for a recharge, simply slip it into the included charging station that doubles as a desk holder and let it sit for just three hours. All of this makes the i6R an ideal pocket penlight for daily carry in the wilderness or when in urban areas, trying to unlock the door to your flat in the dark, looking for dropped items, or working in tight conditions.
Ledlenser P5R
Specifications
• RRP: $70 (US) /£110
• Weight: 2.65oz/75g
• Length (defocused): 4.6in / 11.7cm
• Head diameter: 1in/2.6cm
• Lumens (min–max beam): 20–420
• Range (min–max beam): 164–787.5ft/50–240m
• Run time (min–max beam): 3–15 hours
• Waterproof rating: IP54 (dust and splashproof)
Need something a little bigger? The P5R is a high-power rechargeable light that is as practical as it is powerful, while retaining versatility with its clip, holster, and dual power settings. Low power mode gets you a full 15 hours of battery life, and the patented charging system is equivalently versatile as it can be used with a wall mount or on the go via an included USB cable. The strobe mode is particularly useful for emergencies with 420 lumens. This light uses the same patented focus system as the i6R allowing the beam to switch focus from tight (almost 790 feet) to broad as needed.
Everyday Carry essentials: the write stuff
The James Brand Stilwell Pen
Specifications
• RRP: $50–$85 (US) / £50–£85 (UK)
• Weight: 0.71oz/21.5g
• Length (open): 5.4in / 136.5mm
• Length (closed): 3.5in/89.5mm
• Diameter: 0.45in/11.5mm
Everyone needs to have an ink pen handy – even in today's digital age, it's not simply sophisticated to have something to write with, it's also practical. This slick, compact little is so well designed, sleek and durable, that at first you don't even know it's a writing device. It is refillable, using easy-to-find D1 style cartridges. The cap locks in place in both the closed and open position by using triple O-ring construction, keeping it securely positioned under all conditions. Easy to use and hard to lose, the Stilwell pen features a removable lanyard. It writes well even in difficult, wet conditions, and it is available in either titanium ($85) or aluminum ($50) – both stunning.
Everyday Carry essentials: multitools
Farmer X Alox Swiss Army Knife
Specifications
• RRP: $60 (US) / £53 (UK)
• Weight: 3.8oz / 109g
• Length: 2.3in / 9.3cm
• Width: 0.7in / 1.7cm
It as the original multitool and first EDC item – carried by everyone from boy scouts and farmers to soldiers and hunters – and Victorinox built the name Swiss Army Knife. It has become synonymous with what EDC represents today: practicality, preparedness, and quality. The new Farmer X is a compact version of the old standby, with a full repertoire of tools packed into a tidy little package. Scissors are a new addition to the Farmer, alongside more familiar elements such as a blade, bottle opener, can opener, punch, screwdriver (7.5mm), wire stripper, reamer and saw.
Signature Lite Onyx pocketknife
Specifications
• RRP: $63 (US) / £70 (UK)
• Weight: 3.8oz / 107g
• Length: 3.7in / 5.8cm
• Width: 0.5in / 1.3cm
Also new from Victorinox is a remake of the iconic Signature Lite, now in a more durable, all-black finish. The sleek black Signature Lite Onyx takes the classic knife but adds a ballpoint pen and nifty LED light and then wraps it all in a dusky black finish for a lifetime investment that will go with you everywhere.
SOG Ultra XR carbon & gold pocketknife with money-clip
Specifications
• RRP: $125 (US) /£156 (UK)
• Weight: oz/35g
• Closed length 3.5in/9cm
• Total length: 6.3in/16cm
• Total width: 6.5mm
• Blade shape: clip point
• Blade height: 1.1in/2.8cm
• Blade length: 2.75in/7cm
• Cutting edge length: 2.5in/6.5cm
• Blade thickness: 2mm
Another one of my absolute favorite Everyday Carry essentials, this new pocketknife with money-clip from famed knife and toolmaker SOG is a thing of beauty. With a slender, compact, ultra-light design, it goes from a titanium money clip inside your pocket, to a clip knife on your pocket, depending on your situation. It weighs very little and the carbon fiber handle (with gilded stainless steel blade) is completely unique. The SOG XR locking mechanism is super smooth and subtle, and allows ambidextrous single-handed opening.
Everyday Carry essentials: fire and heat
Top Tactical Gear: Flameless Waterproof Windproof Lighter
Specifications
• RRP: $40 (US)
• Weight: oz/g
• Dimensions: 2.71 x 1.87 x .68in / 6.9 x 4.8 x 1.7cm
While there are several brands selling a very similar product, this windproof, flameless, rechargeable, double-arc technology has been a total game changer for outdoor survivalists and Everyday Carry. It is further sealable from the elements with a ring seal and locking clasp, waterproof rated to IP56. Convenient, functional and durable, I've used these lighters for everything from campfires to cigars, and it makes the perfect addition to any adventure-based EDC. Simple USB rechargeable lithium ion tech makes it long-lasting and practical for getting a fire going, or lighting a stove, barbecue, candle or beacon, no matter where you find yourself or how bad the conditions.
Everyday Carry essentials: eating and drinking
Purist 10-Ounce Maker
Specifications
• RRP: $40 (US)
• Volume: 10 fl oz / 284ml
• Weight: 6oz / 170g
• Height: 4.5in / 11.5cm
• Width: 2.9in / 7.4cm
• Colors: Bare / Black / Ash / Bone / Ever / Drift
One of the coolest things about modern insulated mug and water bottle technology is that these highly advanced, stylish and convenient products allow us to stay hydrated, and they reduce the use of wasteful plastic water bottles and coffee cups. That said, there are a lot of options out there, and you have to find the water bottle or mug that works for you and your lifestyle. You also want something that is chemical- and taste-free, of course.
The petite 10oz Maker from Purist is a great balance of volume and light weight for personal daily use both for hydrating, and for coffee and other beverages both hot and cold. Promising to stay taste-free when properly cared for, with an extremely durable insulating glass liner between two layers of medical grade stainless steel, the new Union Top allows for convenient sipping on the go. The powder-coated stainless steel outer is comfortable to hold, sleek to slip in and out of a pack, and timeless.
Gerber Compleat
Specifications
• RRP: $30 (US) / £30 (UK)
• Weight: 2.5oz/71g
For any thru-hiker, bikepacker or outdoors person who likes to be self-sufficient when it comes to eating tools, the Gerber Compleat is an important Everyday Carry essential. Like no other tool on the market, the Compleat combines four highly functional utensils into one little package weighing in at just 2.5 ounces (71 grams). A multi-tool (with can and bottle opener and veggie peeler), a long-tine fork, a deep-basin spoon, and double-sided spatula (with cutting edge) make up this unique space-saving configuration. The spatula and spoon clip together to form tongs as well. And the high-density nylon construction is food grade and easy to clean, making this tool one of the best EDC items for any trail adventure without adding bulk.
Everyday Carry essentials: hygiene and health
Halolife Unity Edition facemask
Specifications
• RRP: $35 (US) / £25 (UK)
• Sizes: S/M/L/XL
• Materials: Bamboo (95%) and Lycra (5%)
• Filter lifespan: 200 hours
• Age appropriateness: 5 years and up
Masks may be our new normal in urban situations, but sometimes you might need to have one handy even when heading out in to the wilderness, if you need to go into a store to get gas or pick up essentials, for example, or if you encounter someone on the trail or in camp who needs assistance. And why wear a normal mask when you can wear one with nanofilter technology? The proprietary SETA Nanofilter technology in these reusable masks has been proven to block 98.8% of airborne infectious agents, Corona virus included, and these masks are suitable for wearing during outdoor activities such as running, biking and hiking. Each mask comes with one replaceable HALO Nanofilter which is good for 200 hours. Made from breathable Bamboo, with a little bit of lycra for flex and durability, the distinctive geometric Unity Edition 'Flower of Life' pattern is available in a variety of sizes for people age 5 and older. The perfect form, proportion, and harmony of this design has been revered by philosophers, architects, and artists for centuries, believed to symbolize creation and the unity of all things. Halolife donates a mask to frontline workers and the homeless with every purchase.
Leatherman Clean Contact Biner
Specifications
• RRP: $25 (US) / £ (UK)
• Weight: 2.55oz / 72.3g
• Length: 3.5in / 9.25cm
• Width: 1.9in / 4.83cm
Keep yourself safe as you navigate new normal with this simple device from Leatherman, arguably the original EDC brand, that allows you to interact with any potentially contaminated public surfaces. The Clean Contact Carabiner is a specially designed copper alloy (naturally antimicrobial) keychain allowing you to push buttons, hook handles, and even serve as a stylus for touch screens at the store, coffee shop, or ATM. Not touching public surfaces just makes good sense at the moment, and this incredibly simple and economical tool makes an easy addition to your Everyday Carry essentials.
All the latest inspiration, tips and guides to help you plan your next Advnture!
A writer, photographer and adventurer with two decades experience as a multimedia developer, curator, and award-winning journalist, Aaron is a former contributing editor at Backpacker, a contributing editor at Elevation Outdoors magazine and regular contributing writer and photographer to many others including Men's Health and Freeskier. Aaron lives with his family in the high-country of Nederland, Colorado, where he and his wife are raising two kids to love thin air, fresh powder, and the flow state. He always carries extra gloves, hats and socks in the backcountry due to multiple episodes of past trauma over the last 30 years. Follow his adventures at @definitelywild