The best head lamps: for camping, backpacking, hiking, trail running and other outdoor pursuits
By Pat Kinsella
With the best head lamps, sunset should not mean all adventures come to an end – you can keep exploring well into the night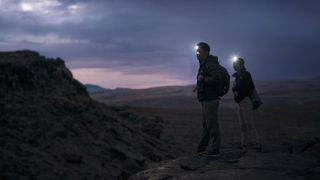 (Image credit: BioLite)
On campsites these days, the best head lamps are de rigueur from dusk to dawn, for kids and adults alike, and many veteran campers can't now remember how they managed to perform afterdark ablutions without one. One handed, while holding a torch we guess, but it's all so long ago now, and seems plain daft.
It's not just on the campsite that headlamps' star is burning brightly, of course.  Outdoor active types all own a good head torch or two, and long gone are the days when wearing a headlamp while walking or running around country lanes and town streets after dark would earn you bewildered looks or even derisory catcalls from passers by. 
Such is the popularity of running as a year-round after-work evening exercise now, that even the non-running population have become used to the sight of Cyclops-like runners bouncing towards them out of the gloom, with the best head torch ablaze, en route to the dark hills and trails.
During the long winter months, when most people's only option is to go running in the predawn or post sunset hours, a headlamp is an absolute necessity if you stray any distance from the faint glow of street lights. Many running clubs make them mandatory for members during the dark side of the year, and solo runners feel much safer wearing one in the shadier parts of some towns and cities. 
In the countryside, whether you're running or just taking the dog out for a walk, a headlamp with a pulsing rear red light can be a lifesaving piece of equipment if you need to go along roads where there are neither footpaths or streetlights to protect you from passing cars. 
More specialist sports communities such as cavers and climbers have long seen the light and used headlamps to keep both of their hands free and useful, and there are entire ranges of specialist headlamps devoted to the spelunkers, potholers and crag-clingers out there. Here we have concentrated more on headlamps catering for campers, backpackers, hikers, trail runners and winter sports enthusiasts, although the more advanced models below are also good options for climbers, canoeists and kayakers.
The technology has kept pace with the increased popularity of headlamps too – or perhaps, more logically, it has led the way. Over the last decade we've seen the development of ever more powerful LED lights, rechargeable power packs that seem to last eons longer than the batteries of old, increasingly sophisticated lamps with programmable settings that automatically sense light levels and adjust their output accordingly, and better head harnesses that keep the lamp in place while we walk or run along undulating ground.
All this smart tech doesn't come cheap, of course. But people's appreciation and understanding of what goes into a decent headlamp has also improved – it's one of those areas where it becomes very quickly clear that you get what you pay for.  Having said that, as the popularity of after-dark adventures has increased, so has the range of headlamps available, and some brands do offer basic models at very competitive prices.
Our roundup of the best head torch models are featured on merit, but we especially like the Black Diamond Storm for its rugged capability, the Petzl Actik Core for its functionality, Silva's Trail Runner 4 Ultra for its tiny but powerful lamp, and Alpkit's Qark for its incredible beam range and low weight.
The best head lamps available in 2020
Black Diamond Storm 400
A reliable and robust no-nonsense headlamp for multiple adventures
RRP: $50 (US)/ £50 (UK) | Weight: 120g /4.25oz | Max Light Output: 400 lumens | Average Run Time: High: 5 hours / Low: 200 hours | Max Beam Distance: 100 metres | Water Resistance: IPX67 | Compatibility: Backpacking, hiking, trail running, climbing, kayaking, snow sports
Good price point 
Reliable and robust
Very easy to use and adjust (even with gloves on)
Not rechargeable
No rear red light 
No over-the-top headstrap
The Storm has been Black Diamond's workhorse of a headlamp for years (we have an old version that's at least 12 years old, and it's still working well – the only thing that's gone is the elastic on the headstrap). The latest iteration has a much brighter maximum beam of 400 lumens, which will reach 100 metres into the night. 
Dustproof and water resistant (it can be submerged to 1 metre for a short period of time, but don't go daft and take it diving), the new version retains the model's signature robustness, foregoing too many fancy features and concentrating on what's important: shedding light on the trail ahead, or the tent you're trying to put up. 
There are seven settings (full strength in proximity, distance, dimming, strobe, red, green and blue modes) and two beam types, flood and spot, which feels more than ample. The Storm will remember the mode it's in when you turn it off, and return to that setting when you turn it back on. 
Somewhat surprisingly, there's no recharge pack yet, but you could (and should) use rechargeable batteries. The Storm takes four AAAs, which are inserted into the main body of the torch – so all the weight is carried at the front, which isn't everyone's favourite distribution model. However, that does mean no annoying cables flapping around your ears, and more volume in the front housing of the torch means it can have a large operating button, and toggling between settings is therefore very easy, even with gloves on. 
Black Diamond have more exciting headlamp models in their gadget bank, but having gone on many adventures over the years with its great, great grandfather, we have great affection for this torch.
Silva Trail Runner 4 Ultra
A tiny lamp face with a beam bigger than an ecstatic Cheshire cat
RRP: $130 (US)/ £105 (UK) | Weight with batteries: 121g / 2.96oz | Max Light Output: 350 lumens | Average Run Time: High: 25 hours / Low: 90 hours (with AAA batteries) / High: 5 hours / Low: 18 hours (on USB-charged power unit) | Max Beam Distance: 75 metres | Water Resistance: IPX5 | Compatibility: Trail running, hiking, skiing
Red rear light included for extra visibility
Extra battery pack included
Intelligent lighting system offers long-distance and peripheral vision
External wiring to rear battery pack
No colour nightvision modes
No overhead band
Aside from its svelte size, the most impressive feature of this Swedish beauty is Silva's intelligent light tech, which uses a double bulb system to send a long beam off into the distance, while spreading a wider light right in front of you, which is excellent for running across technical ground in the depth of night (especially when you're tired and the roots and rocks are all out to get you). 
Other features include a battery strength indicator that works even when the torch is off. It comes with a USB charger for juicing up the main rechargeable power pack, but there's also a secondary pack that takes three AAA batteries, so you can carry a spare waiting and ready to be plugged in. Note, however, this headlamp lasts longer when used with AAAs than it does with the rechargeable power pack. The power pack is housed on the back of the head strap, which more evenly distributes weight - although the lamp itself is featherlight (49g) - but that does mean there are external cables running around the side of your head, which some people find annoying and which could conceivably snag on bushes and trees as you run. (Although cables are well clipped to the band.) 
If you really hate having weight on your head, you can carry the battery pack in your backpack or hydration pack, and use a longer cable (supplied) to reach the torch. The light can be angled up or down with ease, and the single button used to switch between settings is large, logically located and a cinch to use (even with gloves on).
Petzl Actik Core 450
A lightweight beast of a lamp that'll stand you in good stead wherever you take it
RRP: $70 (US)/ £58 (UK) | Weight with batteries: 75g / 2.8oz | Max Light Output: 450 lumens | Average Run Time: High: 2 hours / Low: 130 hours | Max Beam Distance: 90 metres | Water Resistance: IPX4 | Compatibility: Mountaineering, trail running, hiking, backpacking, snow sports
Very lightweight
Easy to use
Super bright
Weather resistant, not waterproof
No rear light
The multi-beam design of the Actik, combined with its muscular 450 lumen punch when it's on full gas, make this model the standout performer for those in need of a headlamp for activities in more extreme environments, such as on mountainsides in the dark. 
Of course, you don't have to be clinging to the eyebrows of the Eiger at midnight to appreciate this lovely lightweight lamp, which is also ideal for trail runners, cross country skiers and backpackers. Using accessories (sold separately), you can even mount the lamp on helmets and bikes. It boasts three white-light brightness options, two beam patterns (flood or mixed), a red light and strobe option, all of which can be toggled though by clicking a single button large and easily located button. 
It has a reflective headband (good for safety on road) and red lighting to preserve night vision. The hybrid concept design enables you to swap between the main rechargeable battery and three AAAs, so you need never run out of juice. It also has a lock function, to stop you turning it on accidently in your bag. 
Alpkit Qark
An absolute light sabre of a headlamp, which scythes through darkness with an incredibly powerful beam
RRP: £33 (UK) | Weight with batteries: 95g / 3.35oz | Max Light Output: 580 lumens | Average Run Time: High: 2.5 hours / Low: 18 hours | Max Beam Distance: 150 metres | Water Resistance: IPX6 | Compatibility: trail running, trekking, climbing
Stellar brightness
removable rechargeable powerpack, but takes batteries too
overhead central strap on the harnes
No rear red light
Weatherproof, not waterproof (to submersion level)
With a maximum beam of 580 lumens (the brightest in our roundup), the little Qark packs an incredible punch for its size (and price), but also has the capacity to extend burn time to an impressive 18 hours if you switch to the lowest setting of 30 lumens. In between the two extremes you have a very functional 270-lumen setting, which offers a 100-metre beam that lasts for five and a half hours. Toggling between the levels is simple, with one easy to locate button. 
The Qark also has a red light setting to preserve your night vision, and 'focus' control functionality, offering the choice between two beams, 'flood' (wide) - perfect for reading a book in your tent or a map on the trail without getting blinded by the bounce back – and 'spot' (narrow), ideal for illuminating the trail ahead or zeroing in on something. The lamps can be tilted across 90 degrees. 
The power pack is rechargeable via a micro-USB charging port that plugs directly into the battery, but one of the best features of this torch is its belt-and-braces dual battery compatibility, which allows you to use standard AAA batteries while you're recharging the main power pack (or, on multiday trips when you don't have the capacity to recharge the power pack, you can pack as many back-up batteries as you think you might require). 
It's water resistant, not waterproof, which means it can withstand very wet weather, but don't go putting it under water. Unlike the Alpkit Gamma III, it doesn't have a rear red light for safety on dark roads at night, which is a shame, and all the weight (which is minimal, to be fair) is up front, but it does boast an overhead central strap on the harness (removable if you're worried about it messing your hair up), which means the Qark sits very securely on your bonce, no matter what action-packed adventures you're engaged in.
BioLite HeadLamp 200
Lacking a little in brightness, this slimline lamp makes up for it with green credentials
RRP: $45 (US)/ £45 (UK) | Weight with batteries: 50g / 1.76oz | Max Light Output: 200 lumens | Average Run Time: High: 3 hours / Low: 40 hours | Max Beam Distance: 50 metres | Water Resistance: IPX4 | Compatibility: Trail running, hiking, backpacking
Low profile lamp and comfortable slimfit headband
Made with recycled materials
Rechargeable power pack
No rear light
No battery back-up
Not as bright as others
Partly made with recycled materials, the lightweight BioLite HeadLamp has a slimfit minimalist headband (made with a moisture-wicking material) that sits very securely on your head and keeps the beam from bouncing around, no matter what adventure activities you're engaged in. 
These lamps have a lovely low profile, and are extremely comfortable to wear. There are two white light brightness settings on this torch, and a brace of beam types - 'flood' for close-up work such as navigation with a map, or reading in your tent, and 'spot' for picking out details in the distance and negotiating the trail ahead. 
It also has a red light option, so you can use it on the trail or while stargazing without obliterating your night vision, and there's a strobe function in both red and white. This is a rechargeable lamp, but there's no back-up option to insert batteries. It can handle any amount of rain, but it's not submersible.
Lifesystems Intensity 235
A chunky but versatile lamp that'll keep you out of trouble (and help if you still manage to get in trouble)
RRP: $ (US)/ £30 (UK) | Weight with batteries: 90g / 3.17oz | Max Light Output: 235 lumens | Average Run Time: Low: 110 hours | Max Beam Distance: 85 metres | Water Resistance: IPX6 | Compatibility: Camping, backpacking, hiking, trail running
7 lighting modes, including pre-programmed S.O.S. setting
Rechargeable 
Competitive price
Relatively chunky
No rear red light
No central over-the-head harness band
The Intensity 235 boasts seven lighting modes, the brightest of which is 235 lumens (clue in the name), with other options including a red night vision setting, so you can illuminate a map or locate something quickly without completely blowing out your night vision, and a programmed S.O.S mode (three short flashes, three long flashes, three short flashes) in case things go south while you're out and about. 
Use this lamp to light your way, however, and you should be safe on the trail even well past the witching hour. Beside the suite of lighting levels, there are two beam settings, wide (for close quarters work, like reading) and narrow (for mid distance path finding), spreading the light across 15 metres and 85 metres respectively. All the bulk is worn at the front, but the relatively chunky lamp unit has one easy to locate button, which makes it easy to toggle between light settings. 
This is a rechargeable lamp, with a Lithium-ion battery power pack, and it offers a decent level of water resistance (don't submerge it completely, but take it in the shower if you really must, and certainly don't worry about wet weather, no matter how bad it gets).
Choosing the best head lamp for you
As always, the most important thing you need to consider when investing in a headlamp is how and where you are most likely to use it. If you're primarily looking for a handsfree torch for use around the campsite, then there's no need to invest in a super lightweight model with a massive mega-lumen punch and a rocksolid head harness. But if you're looking to stay out on the hills, trails, mountainsides and crags well past dark, while running, hiking and climbing, then of course weight, brightness and maintaining a level beam will be much more important factors in making your choice. 
Brightness
This is likely to be the first thing you look at when considering a headlamp. Brightness is quoted in lumens, which is a measurement of the total quantity of visible light emitted by a source per unit of time, but let's not get caught up in the science – basically, the bigger the number, the brighter the light. Bright is good, of course, especially if you're engaged in something like trail running along a technical trail with potential drop offs, or negotiating a mountain. 
However, the brighter a light burn, the quicker the battery will run out – although LED (light-emitting diode) lights have completely changed the game in recent years, and headlamps and other torches can shine brightly much longer than they once could). The best thing to look for is a headlamp that offers a good top level lumen level for when you really need it, but has several other settings to choose from too, so you can preserve the life of your battery.
Beam and strobe options
All decent headlamps will offer at least two beam settings: typically called 'flood' – which casts the light wide and is ideal for reading (books or maps) and looking at adventure and camping buddies in the tent or on the trail without burning their eyes out – and 'spot' which project a concentrated and narrow beam for, perfect for illuminating the trail up ahead, or zeroing in on something in the distance. Besides these settings, you should also look for a lamp with a strobe setting, which is a very visible blink or flash mode that can be sustained for ages by a battery and is useful for road safety and emergency signaling.   
Night vision
Most headlamps will have at least one colour settings, usually red (sometimes green and/or blue too) which allow you to turn the torch on while you're out on the trail walking in the moonlight, or gazing up at the stars, without completely blowing out your natural night vision (your sensory ability to see in the semi dark, which is better than you might think, but improves over time and is easily shattered by unnatural light). This is also a useful function for getting enough ambient light in a tent to find what you're looking for in the middle of the night, without waking everyone else up. 
Rechargeability
Many modern headlamps have bespoke battery packs – either completely integrated into the lamp, or removable – that can be recharged from a range or power sources, including USB ports. This is great, of course, but even better are the ones that allow you to also use standard AAAs as well, because then you can take back-up batteries and not fret about being left in the dark out on the trail on longer adventures.
Head harness and weight
Unsurprisingly, the head band is a crucially important element of a headlamp – no matter how good and bright a lamp is, you're not going to wear it on your head if it's brutally uncomfortable (and if you find yourself carrying it around in your hand, then you have entirely missed the point of this tool). An easily adjustable head harness is ideal, and the option to have an over-the-top-of-the-head strap as well as one that goes around your scone will allow you to get a more secure and less bouncy fit (especially good for trail running). 
Generally, the lighter the lamp is the better, and some people prefer designs that split the battery pack (always the heaviest element) and the lamp, with the battery being positioned at the back of the harness (or even in a backpack). This does involve cabling, however, which can be annoying (and might even become a snagging issue on trees on bushes). Others are happy to carry all the weight and bulk up front, because larger profile lamps with one big button can be easier to use, especially with gloves on.
Functionality
Ideally you will want a lamp that doesn't demand a degree in physics to operate. Myriad setting options are all well and good, but simplicity can be better, with one easily located button that allows you to toggle through the various modes, all of which should have an obvious function. 
Look for a lamp that swivels up and down, so you can point the beam at your toes, mid distance, or straight ahead at upcoming trails, depending on your requirements at any given time. Other functions that are handy are a lock out option (to stop the lamp getting accidentally activated in your backpack, draining the battery), a rear red light for safety while walking or running on roads and lanes at night, and a pre-programmed S.O.S. flash option. 
Waterproofing
No matter if you're camping or taking part in outdoor activities, you're bound to encounter some wet weather while wearing your headlamp, so it's important to know it can survive getting wet. 
Quality headlamps (like other good pieces of tech) are given a Ingress Protection (IP) rating, awarded by certified, independent companies after substantial testing. The acronym IP is followed by two digits, the first ranges from 0–6 and refers to resilience to solid particles (dust) and the second ranges from 0–9 and shows how water resistant a gadget is. Most head torches score between IPX4 to IPX6, which means they are resistant to water (higher that second number the better), but not waterproof. 
The Black Diamond Storm, featured here, scores IP67, which means it is fully dust proof, and waterproof, submergible to 1 metre for up to half an hour. While this degree of robustness is reassuring – don't dismiss lamps that score slightly lower. Unless you're a caver or a kayaker, you shouldn't need to submerge any of the best head torch brands, and so long as it can cope with a bit of weather, it'll be fine.
All the latest inspiration, tips and guides to help you plan your next Advnture!
Thank you for signing up to Advnture. You will receive a verification email shortly.
There was a problem. Please refresh the page and try again.