The best camping flashlights 2023: the best and brightest options
We shed a light on the best camping flashlights to illuminate your outdoor adventures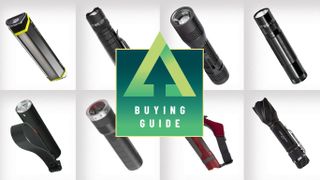 (Image credit: Future)
One of the best camping flashlights is an essential item for any self-respecting camper. Most of us city-dwellers forget just how dark it can get in the backcountry. Once the sun goes down, you absolutely need something to illuminate the way ahead or help you to sort out camp. Plus, when it's misty, you can also have loads of fun pretending you're a Jedi knight.
The best camping flashlights have come a long way in recent years. These days, the finest models give you a powerful beam that can last for days. Not only this, they're also supremely durable, designed to take plenty of abuse throughout their lifetime.
In short, we wouldn't set out for the backcountry with our best camping tent without one of these models. In this guide, we reveal the finest torches for general camping, the best rechargeable and solar powered options, as well as lightweight options for running and wild camping.
Of course, we're also advocates for taking a couple of the best headlamps on any adventure and you can't beat the diffuse glow of one of the best camping lanterns for campsite ambience. However, for handheld, focussed illumination, the best camping flashlights have got you covered.
Best camping flashlights all-round
1. Ledlenser MT14 1000
One thousand lumens of programmable, personalized illumination
Specifications
Run time:
9–192 hours (high–low settings)
Reasons to buy
+
Rechargeable
+
Powerful light
+
Long run time
+
Battery strength indicator
Reasons to avoid
-
Not fully waterproof
-
Questionable USB port durability
-
Battery generates heat that affects performance
This small, lightweight, rechargeable flashlight delivers a powerful punch of light. Four light modes are controlled through Ledlenser's Smart Light Technology and an 'Advanced Focus System' that lets you program and personalize the light beam for your specific environment and activity, offering functionality ranging from broad flood to long-distance focused beam.
The USB rechargeable battery includes a status indicator to give you real-time, accurate readings on battery life. The MT14 delivers an incredible nine hours of run time on the highest mode and almost 200 hours at the lowest setting. The housing is weather-resistant, but not fully waterproof, so don't go submerging it.
We rate this excellent torch as the best camping flashlight option of all.
2. SOG Dark Energy DE-02
Five ways to turn darkness into light
Specifications
Run time:
171 mins–89 hours (high–low settings)
Reasons to buy
+
Rugged feel
+
Durable
+
Checkered housing for non-slip handling
Reasons to avoid
-
Short battery life
-
Mode controls
This flashlight feels rugged the instant you pick it up. Crafted from aluminum, the housing is checkered to deliver a firm grip. No more frustration dropping your torch just when you need it. The 263-lumens beam is strong enough to illuminate your work. With a fine balance in your hand and five modes managed from a single button control, it's easy to match the beam to the need. A belt hook keeps the Dark Energy flashlight close at hand. Powered by a pair of CR123 batteries. This torch is the middle offering in a range that also includes a less powerful flashlight with 128 lumens ($62) and a big brother that packs a punch that has 678 lumens behind it ($130).
Best flashlights for runners
3. Nathan Terra Fire 400
Stay on pace after dark, with this run-specific hand torch
Specifications
Run time:
5–12 hours (high–low settings)
Reasons to buy
+
Angled beam appeals to runners
+
Rechargeable battery
+
Rear strobe
Reasons to avoid
-
Stiff controls
-
Weather-resistant, not waterproof
If your training schedule means running after dark – and you're not keen on wearing a head lamp – it's nice to have a torch that's designed specifically for that very activity. The Terra Fire shows that level of specialization the instant you pick it up. The ergonomic handle and 24-degree download projection angle illuminate the running path ahead of you. No more stumbling on cracked sidewalks or slipping on ice. Using USB rechargeable batteries, the Terra throws out 400 lumens in three modes. With a five-hour run time on high, there's no worry about a fading light stranding you on the trail after dark. Although bad weather may send you scurrying home, the water-resistant housing is protected from snow, sleet and rain (but it's not fully waterproof, so don't submerge it).
Best rechargeable flashlights
4. Knog PWR Camper 600
A bright flashlight/bike light that can power your electronic devices
Specifications
Run time:
2 hours 45mins–30 hours (high–low settings)
Reasons to buy
+
Customizable light head
+
Doubles as a bike light
+
Serves as a power bank for other electronics
+
Bright 600 lumens beam
Reasons to avoid
-
Expensive
-
Waterproofing rating unknown
Simple, elegant design carries the day with this flashlight, produced by an Australian company that specializes in making bike lights. The torch packs a strong 600-lumen circular beam, which can be used as a camping flashlight or interchanged with another optional light head to serve as a bike light. Five light modes help you customize the beam.
The PWR Bank also offers a USB port for charging other devices. A simple one-button push reveals battery life status. A removable lanyard helps you keep the flashlight handy when you're setting up camp or organizing the inside of your tent. Knog hasn't made the waterproofing rating of their lights public yet, but it seems to be weatherproof.
5. Nite Ize Inova T7R Powerswitch
A versatile flashlight with a feature list as long as its name
Specifications
Lumens:
713 (with rechargeable battery) / 825 (with batteries)
Run time:
3 hours 55 min (on high beam)
Reasons to buy
+
Tactical durability
+
Six light modes
+
Rechargeable USB and battery back-up power
Reasons to avoid
-
Expensive compared to similar models
-
Weather-resistant, not waterproof
With this versatile flashlight, you can shift from spotlight to wide flood with a simple twist of the head. The end cap switch activates six illumination modes, from a high beam to a momentary strobe. The PowerSwitch dual power delivers juice through micro USB rechargeable Lithium-Ion batteries or two CR123 batteries – which aren't included but are widely available. Having this option means you can take spare batteries on longer adventures, where you won't be able to plug the torch in and recharge.
A charge indicator light turns from red to green when fully charged, and visa versa, so you can make the switch to batteries in good time, and there's no more worrying about a fading light just when you need it most. The precision-machined, rugged mil-spec aluminum body is shockproof, crushproof and water-resistant (not waterproof, though). A steel belt clip keeps the flashlight secure and accessible.
Best solar-powered flashlight
6. Goal Zero Torch 500
An unconventional, multi-purpose, solar-powered, portable power, LED light
Specifications
Run time:
3–50 hours (high–low settings)
Reasons to buy
+
Built-in solar panel
+
USB rechargeable
+
Waterproof
Reasons to avoid
-
No lanyard
-
Unconventional shape
Goal Zero moves away from the traditional flashlight shape with the Torch 500, which can be charged from the sun. The angular shape means it can be used as a handheld flashlight, or the unit stands on its end for use as a floodlight – useful in a tent and in all sorts of other situations when you want to keep your hands free. A built-in solar panel and USB-C rechargeable battery powers a 500-lumen three-level spotlight. The integrated powerbank also lets you charge other small electronics, such as a smartphone, GPS unit or headlamp. The rugged housing is waterproof. Use the convenient clip to hang the light to provide more illumination when needed.
Best flashlight for wild camping
7. Maglite XL 50
A little pocket rocket of a flashlight, which punches well above its weight
Specifications
Run time:
6–25 hours (high–low settings)
Reasons to buy
+
Compact
+
Rugged
+
Single button control
Reasons to avoid
-
One mode only
-
Low power for some situations
-
Weather-resistant, not waterproof
There are more advanced models in this collection of the best flashlights, but sophistication sometimes brings complication. The XL 50 is a simple, rugged, dependable tool. One button delivers a powerful beam for close-up work environments. One mode, one purpose, one singular benefit. Show me the light. It's small, compact, light and inexpensive, so you can buy multiple units for your backpack hip belt pocket, day pack and glove box – this is a dependable little light that you can have as a secondary light source, in case all else fails.
Swipe to scroll horizontally
Camping Flashlights Comparison Table

| | | | | |
| --- | --- | --- | --- | --- |
| Flashlight | Price | Weight | Lumens | Best use |
| LED Lenser MT14 1000 | $100 (US) / £110 (UK) | 8.9oz / 253g | 1,000 | General camping and hiking |
| SOG Dark Energy DE-02 | $66 (US) / £60 (UK) | 4.1oz / 116g | 263 | General camping and hiking |
| Nathan Terra Fire 400 | $60 (US) / £60 (UK) | 6.1oz / 173g | 400 | Running |
| Knog PWR Camper 600 | $110 (US) / £86 (UK) / $180 (AUS) | 9.2oz / 260g | 600 | General camping and hiking |
| Nite Ize Inova T7R Powerswitch | $100 (US) / £95 (UK) | 7.2oz / 204g | 713 (with rechargeable battery) / 825 (with batteries) | General camping and hiking |
| Goal Zero Torch 500 | $50 (US) / £50 (UK) | 12.8oz / 363g | 300 | General camping and hiking especially in summer |
| Maglite XL 50 | $38 (US) / £45 (UK) | 2.4oz / 68g | 200 | Wild camping expeditions |
How we test the best camping flashlights
At Advnture we endeavor to test every product we feature extensively in the field. That means one of our team of reviewers and writers – all experienced outdoor specialists active across the US, UK, Europe and Australasia – taking it out into the terrain and climatic conditions that it's designed for. If, for any reason, this isn't possible, we'll say so in our buying guides and reviews.
Our reviewers test camping flashlights in a range of outdoor scenarios – camping, hiking, caving and wet-weather activities (where appropriate) – assessing their value and performance against the claims of the brand in terms of illumination, beam strength, weight, battery consumption, robustness and features.
How to choose a camping flashlight
Every one of the best camping flashlight options above deliver high-performance illumination. Here are some criteria to help you evaluate the options and help you narrow down your choices. Add one (or two) to your gear kit, tick them off on your camping checklist and push back the dark.
If you haven't got a headlamp either, it's worth getting both. For guidance on their features, advantages and disadvantages, see our feature on headlamps vs flashlights.
Lumens
When it comes to the best camping flashlight, one of the first features brands brag about is the number of lumens offered. Lumens is a measure of how bright a torches' beam is, with max output being the number of lumens when the torch is on its most powerful setting.
More is better, but that's not always the full story. Different applications require different shapes and sizes of beams. From tight focused beams to full flood, the number of lumens is influenced by environment and application. Generally, a good flashlight will boast a minimum of 200 lumens, which is bright enough for the vast majority of applications.
Multiple light modes
Today's flashlights are far more powerful than a simple high, medium and low settings. Most of the best torches offer a collection of useful settings including emergency, strobe and burst modes that target all of the flashlight's lumens in a tightly focused beam. There's no consistency between brands in terms of controlling and switching between modes. Power buttons can be found on the side or both ends of the flashlight housing. Some models can be programmed or customized for specific uses and preferences. All function well – just find a model that fits your needs.
Power source
Flashlights have been part of a camper's gear kit since they were invented. The tech inside has evolved a long way, from low-power light bulbs to impressive LEDs that light up the night. Power is the next innovation. Many models have switched from standard AA batteries to rechargeable longer-lasting lithium-ion batteries.
Backpackers embarking on multi-day adventures can use flashlights with dual power sources, so they can take spare batteries, or use a torch with an inbuilt solar panel. With long run times and fast recharging rates, there's no reason to stumble around in the dark.
Runtime
The runtime is the amount of time the flashlight will operate on a fully charged battery. Of course, different modes and settings drink juice at different rates, so it's worth getting clued up on these. Marching through the dark with your light on full is all well and good but if it runs out on you, you'll wish you'd had it on a lower setting. After all, you can always recharge when you get back to camp.
Extras
Flashlights that use micro USB ports to bring power to the rechargeable batteries can serve a second purpose. With some models, the flashlight's power bank can be used to recharge small electronics like your best GPS watch, headlamp or smartphone. The power banks don't store a lot of power, but nice to know there's a little extra juice when your other gear is fading.
Weather resistance and durability
The best camping flashlight is a piece of kit that works hard. They get dropped on rocky terrain on campsites, rolled around in the beds of pick-ups, and accidentally dumped into streams and lakes. Most torches are constructed of durable aluminum water-resistant housings. Surfaces are checkered to enhance the grip, especially when your hands are wet. Every flashlight's product description includes a rating that explains the water-resistant or waterproof level of the flashlight's housing. Take a look and match the model to your applications.
All the latest inspiration, tips and guides to help you plan your next Advnture!
A journalist specializing in outdoor recreation, Lou has covered product design innovations, participation trends and environmentally sustainable manufacturing for over 20 years. On the other hand, he's had some less than successful outdoor adventures: once, completely spent after a hard day on the trail, he managed to set a vintage MSR Whisperlite stove ablaze before accidentally kicking the burning contraption into a lake. A published author, his book about invasive fish threatening the Great Lakes watershed will be published in 2021. craftedwords.com