The best camping apps: for finding a great spot to spend a night outdoors
The pitch-hikers guide to the galaxy – the best camping apps for sites in the US, the UK and well beyond, whether you're a wild camper, a backpacker or a vanlifer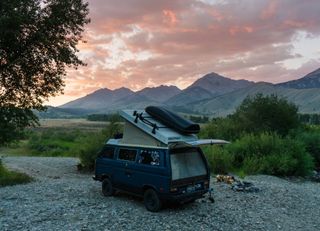 (Image credit: OnX)
Even with thousands of potential campgrounds, millions of acres of public lands, and a will to roam, finding a great camp spot takes more than dumb luck. Thankfully, the best camping apps (free and paid-for) can help you hone-in on the best campsite for you, wherever and whenever you want to pitch or unhitch.
People's concept of what constitutes the 'best camp spot' isn't universal. A camper who wants to plug in or dump tanks will have a different 'best' to those who want to sleep under the stars without seeing another human. How you plan to get to your overnight site will also help define your favorite camp spot. Backpackers, RV campers, and ORV rooftop tent campers have different needs and preferences, as do campers who want to be based near a trail system or bike park.
The best camping apps below will help you research and book your ideal campsite, and in some cases related services. Before you hit confirm, double-check fire regulations, road conditions, and campsite amenities, including if there is cell service where you plan to overnight. Make sure your vehicle can get to the site you're reserving, and that you have water and the supplies you need to leave no trace, including wag bags and trash bags. Then hit the road and follow your compass towards sweet dreams in a special place.
onX Off-Road GPS Map
Coverage: United States
Cost: Free trial available, then $30 per year
Sign up: onxmaps.com
If you consider your camp spot a stop on a journey more than a destination, this is the app to help you get there. I don't generally pay for apps, but I didn't bat an eye at the $29.99 annual fee for this one it has such a broad spectrum of truly useful features, including 500,000 recreation points, with 54,000 campgrounds, campsites, cabins, and more. OnX also marks parking areas, trailheads, and boat launches, then helps you explore more than 400,000 miles of trails and roads on 975 million acres of public land that are also in the app.
The free Basic membership gets you satellite, topo, and hybrid maps, trips tracking, limited waypoints, and one downloaded map. If you like to get off the grid, shell out for a premium membership, which provides access to offline-accessible downloaded maps. Use it to track your travel and drop waypoints, so that next year when you want to go back to that cool campsite with the giant rock you can retrace your steps. Whether you're arriving by ATV, pickup, or moto, the app will recommend appropriate routes. Featured trails have descriptions, duration, difficulty, and photos in an easy-to-read information card.
iOverlander
Find camping anywhere in the world with the crowdsourced iOverlander app. Zoom in on the i app to see your options on a map. Then, click on a site for a description, a list of amenities, photos, and notes, and reviews from recent users. The app also allows filters like Wifi, water, bathrooms, and more. Don't forget to share your discoveries and add campsites as you can. Users contributing and updating camping is what makes this free app great.
WikiCamps
Get all the info you need on campgrounds, backpacker hostels, dump sites, and more, all crowdsourced by country for the US, Canada, Australia, New Zealand, and the UK. Download WikiCamps for the country where you're camping to see sites and points of interest plotted on a downloadable offline-accessible map. Potential stops can also be viewed as a list you can filter for bathrooms and showers, pet-friendliness, and more. Users can connect with fellow campers via forums. And the app lets you plan your trip and also store notes. WikiCamps says that it's the USA's largest database of campgrounds, RV parks, backpacker hostels, points of interest, dump stations, visitor information centers, water taps, toilets, showers, and more. Whether or not that's true, it's an excellent resource.
FreeRoam
The best camping app for trip planning, FreeRoam has three core competencies: finding camping that meets your specs; helping you get to that camping; and showing you gas, rest areas, and other services along the way. Click on camp spots for info and photos to help you choose where you want to stay, enter your dates, and the app starts to build your trip. Loads of filters let you choose overnight spots, camp spots with specific weather, campgrounds with membership-based discounts, and more. A green donut overlaid on the map guides you in choosing how far you want to drive between stops. Adjust it to pick your ideal travel times. Then add gas stops, rest stops, grocery stops, and points of interest. When you enter your vehicle height, the app routes you to appropriate roads. And images of stops along the way let you see if they'll accommodate the vehicle you're driving and anything you're towing. Get your route set, and then follow it with FreeRoam's Google Maps-like navigation function.
NPS.Gov
Coverage: United States
Cost: Free
Sign up: nps.gov
The official site to find and book National Park campground sites in the US, NPS.gov lets users see all the National Parks in the United States with camping. Then you can click to link directly to the park's website to book camping, cabins, and to apply for permits and more. The site has loads of information for beginner campers, explaining the differences in types of camping available, as well as how to be prepared so that you have the best experience, whether you're in a tent or RV, solo or traveling with a family.
Recreation.gov
Reserve a public lands camp spot, as well as experiences like ranger-guided naturalist tours, at over 3600 facilities and 103,000 individual sites across the US with Recreation.gov. It's a tap of a button to book your site. Photos, driving directions, and a call center operator all help you iron out the details of your adventure. In addition to camping, the site also guides travelers to day use areas, historical sites, and cultural tours. Use the app to rent gear or an RV, to enter a permit lottery, to buy an America the Beautiful National Parks pass, and to get inspired.
Hipcamp.com
Plenty of the best camping apps help campers find public lands, National Parks and private campgrounds and sites. Plenty more help you trip plan. This app does one thing: it helps you find a place to lay your head or park your rig including campsites, cabins, treehouses, and glamping on public and private land across the US. Over 60% of the US is privately owned. Hipcamp opens up private land for public use. Whether you're tent camping, looking for a place to park your RV, or seeking a permanent shelter, Hipcamp can help you find a spot to spend the night, and also lets you book it. Hipcamp connects landowners who want to make a few bucks from land they're keeping wild with campers that want to spend the night somewhere safe, legal, and off the beaten path. The app covers all national, state, regional, and army corps parks in all 50 states, a total of 15,547 parks, 29,237 campgrounds and 450, 528 campsites. But the thousands of private land camping opportunities are the best part of this app. If you're a landowner with a spot to share, you can join the network through the app too.
All the latest inspiration, tips and guides to help you plan your next Advnture!
Vermont-based writer, photographer and adventurer, Berne reports on hiking, biking, skiing, overlanding, travel, climbing and kayaking for category-leading publications in the U.S., Europe and beyond. In the field, she's been asked to deliver a herd of llamas to a Bolivian mountaintop corral, had first fat-biking descents in Alaska, helped establish East Greenland's first sport climbing and biked the length of Jordan. She's worked to help brands clean up their materials and manufacturing, and has had guns pulled on her in at least three continents.