In defence of glamping: why it's time to give comfortable camping a chance
Hardy campers need to learn to kick back, relax – and learn to love the luxury of glamping. It's not such a sin to sleep outside in comfort sometimes...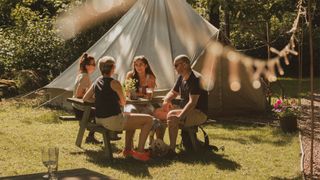 (Image credit: Getty)
"It's the new fag-and-a-pint for the UK's cool kids … a hobby that attracts pale hipsters" sneered Outside magazine in 2007 of the terrifying new trend threatening camping's good name – glamping. Die-hard campers who believe that camping isn't worthy of the name if you don't walk for miles to reach a rocky crag, set up a bivvy in the face of gale-force winds and pack a trowel for your loo-break were quick to label glamping as a fussy fad for people too posh to really get back to nature.
Don't get me wrong, I love camping's no-frills, wild adventurous side. But I also love a good glamp. I too eschewed glamping as an overpriced holiday for rich kids – until a camping trip around the Outer Hebrides with two friends one June. We wild camped for 10 days, getting filthier, soggier and finally, downright miserable when torrential rain and bitterly chill weather descended on us for three unrelenting days.
I was Googling 'how do I know if I have trench foot' in a café, looking out at a sheet of rain, when we decided to also look online for some kind of local respite. I have never been more grateful for any shelter than the charming bell tents at Lickisto Blackhouse on the Isle of Harris. These simple canvas tents look out to sea, and inside each one there's a big double bed facing a wood stove. We had soon draped many pairs of socks on the fireguard and jumped into – untold paradise! – a hot shower. I never wanted to go outside again.
Ever since, I've found glamping, especially DIY glamping (where you bring your own bell tent, blankets and other creature comforts along) a great way to get my non-outdoorsy friends into the great outdoors. As I type this, I'm surrounded by sleeping bags and gas canisters, ready to pack up the car boot and head to Cornwall to celebrate my friend's 30th birthday. She wouldn't be caught dead in a bivvy bag – but a sunny weekend on the Roseland Peninsula, staying in our canvas bell tent complete with bunting, birthday cake and flushing loos nearby? She'll be in heaven.
I also like to fight glamping's corner as a way to get out more in winter. I've wild camped in the cold in some of Scotland and North Wales' most epic mountain landscapes – and while there's nothing like the jaw-dropping beauty of zipping open your tent to a frost-clad landscape, cold-weather camping is seriously hard work. It's exhausting – and positively dangerous for inexperienced people – trying to keep warm outdoors when the mercury falls, so many won't venture out to sleep out-of-doors at all once winter comes around. Glamping, on the other hand, is the perfect way to sleep in the wild in all seasons, with a warm fire to fall asleep by and an eco shower ready in the morning. There's nothing like a bracing cold hill walk with the frost nipping at your toes – if you've got a warm, cosy yurt complete with a crackling wood stove to go home too.
And glamping comes into its own where the trend was arguably born – at festivals. If you can afford to swap the tent gulag fields and the horror that is Glastonbury's toilets for a cozy tipi and a flushing loo, why on earth wouldn't you? Yes, glamping is more expensive than camping. No, it's by no means rough and ready. But it's a wonderful way to sleep out in nature – and to get more people to learn about the joys of the great outdoors. Now please excuse me while I grab my hipster friends and hightail it for the nearest yurt.
All the latest inspiration, tips and guides to help you plan your next Advnture!
An award-winning travel and outdoors journalist, presenter and blogger, Sian regularly writes for The Independent, Evening Standard, BBC Countryfile, Coast, Outdoor Enthusiast and Sunday Times Travel. Life as a hiking, camping, wild-swimming adventure-writer has taken her around the world, exploring Bolivian jungles, kayaking in Greenland, diving with turtles in Australia, climbing mountains in Africa and, in Thailand, learning the hard way that peeing on a jellyfish sting doesn't help. Her blog, thegirloutdoors.co.uk, champions accessible adventures.