Friday 5: champion ultra runner Kim Collison
By Fiona Russell published
The successful hill and trail runner answers our five questions as we continue our quick-fire interview series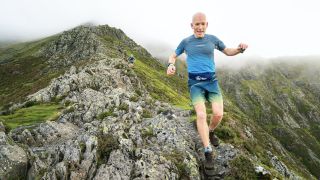 (Image credit: Steve Ashworth)
Kim Collison set an audacious running record in the Lake District last summer. The Lakes 24-hour record had been held for 23 years by Mark Hartell until Kim ran to an extra peak on the weekend of July 11 and 12, 2020.
Kim, a running coach, made it to 78 peaks of at least 2000ft in less than 24 hours. He covered 145km and made a total ascent of 11,750m in 23 hours and 45 minutes.
Kim is also the record holder of a winter Bob Graham Round in 15 hours 47 minutes and he holds the course record for the ARC of Attrition 100 mile race.
Other achievements include a team bronze medal at the World Trail Running Championship in 2015 and the British Trail Champion 2014 after winning at the Lakeland 50.
He is a member of La Sportiva UK and Petzl trail running team, as well as a full-time coach at www.kimcollison.co.uk (opens in new tab).
If you could only keep one item out of all your outdoor gear, which would you keep and why?
My La Sportiva Mutant running shoes so I could keep running in the mountains every day.
What's your pet peeve in the outdoors/adventure space?
I really try not to focus on things I can't control but on things I can influence, such as supporting the Trees not Tees (opens in new tab) initiative where possible.
If you could be instantly transported to the start of any adventure, what would it be, where and why?
The start line of the Tor des Geants in Italy or the Barkley Marathons because they are races that would take you on an amazing journey into the unknown.
We're sitting round a campfire. Tell us a funny or entertaining story about one of your adventures.
During the Adventure Race World Championships in Costa Rica we had been biking, hike-a-biking and trekking through the jungle and over the tallest mountain, as well as paddling through the mangroves as we approached day six of the race.
We were suffering from sleep deprivation and I was having good hallucinations. I even saw an imaginary Land Rover in the middle of a steep jungle hillside.
We had made the last big paddle section, which was going to take us down a river to the Atlantic Coast and then up a long canal towards Honduras but we were shattered.
So we pulled up on to a sand bank in the middle of the river. With the sounds of howler monkeys all around, we had a quick snooze.
Suddenly we were woken with one of the team members Alex in huge panic with a snake on his lap and him waving his arms and shouting.
To this day I don't know if this was an hallucination or real as by the time we came round there was no sign of this snake. However, it was enough to get the adrenaline flowing and to get us paddling again.
Is there any gear that's on your shopping list at the moment?
A Petzl Bindi (opens in new tab) headtorch for those emergencies when your main head torch fails or you misjudge how long the adventure is going to take.
Fiona Russell is a widely published adventure journalist and blogger, who is better known as Fiona Outdoors. She is based in Scotland and is an all-round outdoors enthusiast with favourite activities including trail running, mountain walking, mountain biking, road cycling, triathlon and skiing, both downhill and back country. Her target for 2021 is to finish the final nine summits in her first round of all 282 Munros, the Scottish mountains of more than 3,000ft high. Aside from being outdoors, Fiona's biggest aim is to inspire others to enjoy the great outdoors, especially through her writing. She is also rarely seen without a running skort! Find out more at Fiona Outdoors (opens in new tab).
All the latest inspiration, tips and guides to help you plan your next Advnture!
Thank you for signing up to Advnture. You will receive a verification email shortly.
There was a problem. Please refresh the page and try again.