Kim Collison crowned king of the 24-hour Lakeland challenge
Decades-old fell-running record falls, as a new 24-hour Lakeland champion adds Fleetwith Pike to Britain's premier peak-bagging marathon.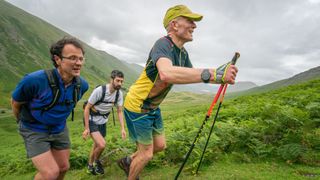 (Image credit: Getty)
In an extraordinary month, marked by multiple new Fastest Known Times (FKTs) being set on routes all around the world, Cumbrian trail runner Kim Collison broke a 23-year-old record of a different sort during his crack at the Lakes 24-hour Challenge.
The famous challenge, which some of the biggest names in off-road running have been expanding upon for over 100 years, involves ascending the most Lake District peaks as possible – each fell a minimum of 2,000 feet in height – and returning to their starting point within a 24-hour period.
The parameters of the challenge were first set out by Dr AW Wakefield in 1904, and previous holders of the record have included Bob Graham – of the Bob Graham Round fame – and legendary fell runner Joss Naylor.
The exact rules have been refined over the last century, and now – as laid out on the Bob Graham 24 Hour Club website – state that contenders must either traverse the same peaks as the current record holder in a faster time in order to take the title, or traverse the same peaks and add another, in time to return to their start point within 24 hours of beginning the challenge.
Besides needing to be over 2000-feet high in order to count, each peak must be at least quarter of a mile away from any other peak included on the round, and must demand at least 250 feet of descent/re-ascent from the next nearest peak included in the count.
The route has grown with every successful attempt, and now includes all the famous fells of the Lakeland region, including Skiddaw, Scafell and Helvellyn. The record was last set in 1997 by Mark Hartell, who bagged 77 peaks in 24 hours.
Several superb fell runners – including Steve Birkinshaw, whose achievements include setting the record for summiting all 214 Wainwright Fells – have tried to better Mark's monster haul since, but without success. Recently Beth Pascall broke the Bob Graham Round record amid a flurry of FKTs, and trail runner Damian Hall toppled another record with his Pennine Way time.
Kim, a running coach and guide who set a new speed record on the Bob Graham Round last December, only decided to have crack at toppling Mark's record on the Lakeland 24 Challenge about four weeks before doing it.
"I had been planning to run a Paddy Buckley round in Wales initially," he told Advnture.com afterwards. "But I gained the confidence to give this record an attempt instead, and I'm glad I did."
And for good reason, because after setting off at 3am on Saturday 11 July, Kim ran 90 miles (145km) and climbed over 39,000 feet to reach the summit of 78 peaks of the requisite loftiness – one more than Mark. The 40-year-old finished back where he started, with 15 minutes of the 24-hour time limit left on his watch, to become the reigning champ of the Challenge, having added Fleetwith Pike to the list of peaks that any future aspirants will have to scale.
"My route was primarily based on Mark Hartell's, because I had to run the same tops," Kim explained. "But there were a few tweaks Adam Perry had made which I also followed. For example switching the order of Little and Great Calva and changing the descent route into Langdale.
"Running into Honister – after having added Fleetwith Pike, the extra top, and still having a buffer on Mark's splits – I thought the record could be mine. However it was far from being in the bag, because from Honister onwards I was really paying for the fast start."
Kim set the record while running in a pair of La Sportiva Mutants, which he describes as "a great shoe for all day on the fell with good protection, cushioning and grip".
The current women's record holder for the 24-Hour Lakeland Challenge is Nicky Spinks, who topped 64 peaks in 23 hours and 15 minutes in 2011.
All the latest inspiration, tips and guides to help you plan your next Advnture!
Author of Caving, Canyoning, Coasteering…, a recently released book about all kinds of outdoor adventures around Britain, Pat has spent 20 years pursuing stories involving boots, bikes, boats, beers and bruises. En route he's canoed Canada's Yukon River, climbed Mont Blanc and Kilimanjaro, skied and mountain biked through the Norwegian Alps, run an ultra across the roof of Mauritius, and set short-lived records for trail-running Australia's highest peaks and New Zealand's Great Walks. He's authored walking guides to Devon and Dorset, and once wrote a whole book about Toilets for Lonely Planet. Follow Pat's escapades on Strava here and instagram here.