Running first aid kit: what to pack in case you have an accident
Everything you need to put together the ultimate running first aid kit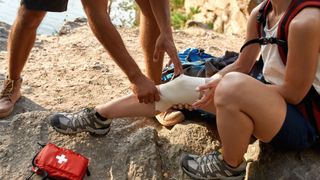 (Image credit: Getty)
Will you be a hero on your next run? We know it sounds like overkill to carry a running first aid kit on every single trip, but you honestly never know when you will have a fall or an accident, or when you might have to come to the rescue of another runner, dog walker, kid or anyone else. It's also very much worth doing a basic first aid course to be prepared. Would you know what to do if your running buddy suddenly collapsed or you saw a passerby in trouble?
So to start with, if you're going out with a running pack or bum bag/fanny pack to carry a bit of food, water, a spare layer and your keys, why not chuck your own version of this lightweight first aid kit in there just in case. Simply pop all these items in a transparent ziplock bag to keep them dry. Superhero cape not included…
Running first aid kit essentials
Mobile phone
You might be taking this with you anyway, but it's a good idea to check it's got a decent amount of charge for a call to your partner/friend/taxi or 911/999 in an emergency situation.
Cash
Enough for a taxi fare, or some food and drink. Ten dollars/pounds is a good shout. Remember to replace it if you spend it on refreshments after a run though!
Whistle
Many running packs have these on now which is a great idea for alerting people to an incident.
ID
Especially if you're allergic to any common medical treatments or have a pre-existing condition. A cut out photocopy of your drivers licence and info written on the back should suffice.
Sugary snack
Pop a long-lasting gel or bar in there in case an incident or navigational mishap keeps you out longer than you planned.
Antiseptic wipes x 4
To clean cuts and scrapes from grit and dirt before protecting them with a plaster, dressing or bandage.
Plasters/band aids x 6
A few different sizes to protect against bramble scratches, knee scrapes, small blisters.
Small wound dressing x 2
A sterile dressing for larger wounds can be held in place by a bandage or K-tape. If you need more padding in a more serious situation, improvise with clothing and accessories like buffs, hats and gloves.
Self adhesive bandage x 2m
To hold wound dressings in place.
K-tape x 2m
Take pre-cut sections if you know you're prone to needing certain muscular support, and you can also use it on your feet to protect from abrasion and blisters. Cut a section into smaller strips to wind round your toes to stop or halt blisters forming in hot spots there.
Medical gloves
1 or 2 pairs of medical gloves is a great idea, especially post-Covid, for protecting yourself and your patient from infection.
Scissors
A tiny, tiny pair just to cut the dressings, bandage or K-tape if needed. Like the ones on a Swiss Army knife.
Tampon
Even if you don't have periods yourself, someone who does come on unexpectedly during your run together will be glad you took one.
Running first aid kit items for more remote outings
Tweezers & tick picker
Useful for getting out splinters and twisting out the little blood-suckers without leaving their heads burrowed into your flesh. Lovely.
Survival bag
Be sure to pack a lightweight survival bag rather than a blanket as you can get inside a bag easily and keep warm, whereas a blanket requires you to hold it around you, and it will flap about and lose precious heat.
Spare headlamp
A lightweight headlamp with 200+ lumens like the Black Diamond Sprint is the perfect emergency headlamp for days when you're delayed because of anything from an injury or difficult terrain to a navigational blip (see our guide to the best headlamps for some more good options).
Portable charger and cable
In an emergency your phone could be your lifeline so take the necessary tech to keep it fully charged.
In an emergency
Call for help
Call 999/911 and ask for the ambulance or Mountain Rescue. Stay calm, keep warm and as safe as possible, give them all your details and follow their instructions. Use the Save a Life app to find out where the nearest AED (Automated External Defibrillator) will be.
Emergency signals in the mountains
To indicate you need help, blow your whistle and/or flash your head torch six times, wait one minute, then repeat. This is the international distress signal. If waiting for a Search and Rescue helicopter, flash the light on the ground, not up at the pilots as this ruins their night vision. A rescue team will flash three times at you in response.
All the latest inspiration, tips and guides to help you plan your next Advnture!
The co-founder and former editor of Trail Running magazine, Claire now runs the YouTube channel Wild Ginger Running, creating films packed with trail- and ultra-running content. An award-winning journalist, writing for outdoor and adventure sports magazines and websites, her first book The Ultimate Guide to Trail Running 5k to 50k is out in January 2021. Claire also speaks and presents at events and races.