Advertisement Feature
The EcoFlow Wave Portable Air Conditioner is the perfect companion for your outdoor adventures
By Sponsored Post published
Power to keep you cool without worrying about keeping it charged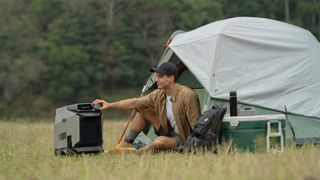 (Image credit: EcoFlow)
It's no wonder why so many people enjoy spending time outdoors. The fresh air, getting closer to nature, not to mention all the great activities. But just because you're away from home doesn't mean you have to be uncomfortable.
EcoFlow has been helping folks enjoy the outdoors for years with their complete line-up of portable power stations (opens in new tab) powerful enough to charge up everything you need while out on your adventures. And now they're adding a new product to their growing ecosystem of outdoor living accessories.
The EcoFlow Wave (opens in new tab) is a portable air conditioner (opens in new tab) that looks to drive a balance of cooling performance, portability and battery life. It combines intelligent software with a range of charging options allowing you to keep cool during hot summer outdoor activities.
To start with, it offers 4000 BTUs of cooling performance with an inverter compressor equipped with advanced algorithms to deliver solid cooling power with less energy loss even under hot and humid conditions. It can cool a 86ft² (8m²) space from 84℉ to 75℉ (30℃ to 24℃) in only eight minutes which is record time among battery-powered portable air conditioners.
Generally speaking, the output of traditional air conditioners vary dramatically and the temperature fluctuates a lot even though you've set a temperature, and that consumes a lot of energy. With the inverter compressor, the EcoFlow Wave has little temperature fluctuations, offering you a steady cooling performance while using less energy.
That's not all the EcoFlow Wave can do. Its Smart Battery Algorithm allows users to set the desired run-time (up to 8 hours) via the EcoFlow app or on the unit itself, and the Wave will automatically find the optimal balance between performance and run-time by alternating between cooling and fan settings. It will also automatically shut off at the end of its set run-time, so you don't have to worry about it staying on all night and running out of power.
When it is time to recharge, the Wave offers four different ways to power-up, including from a wall socket, portable power station (opens in new tab), car charger and solar panels – perfect for taking advantage of those sunny summer days.
You shouldn't have to charge it too often, though, because the EcoFlow Wave can offer 28% extra running time when it is connected to the EcoFlow DELTA Pro or DELTA Max Portable Power Station (opens in new tab), compared to when it is connected with portable power stations with the same capacities from other brands.
Portability is key when you're doing anything outdoors and the EcoFlow Wave Portable Air Conditioner (opens in new tab) certainly fits the bill on that front. At just under 40 pounds, it's easy to take with you wherever you go and the seamless set-up means you can get cooled down in no time.
When you're exploring the outdoors you don't have time to worry about keeping your gear running – it needs to be reliable and easy to maintain so you can quickly get back to your adventures. The only maintenance it requires (when humidity is lower than 70%), is that you need to drain the condensation water before moving the EcoFlow Wave from one place to another or storing it, while other portable air conditioners require draining the water frequently.
When you're exploring the great outdoors, the last thing you want to worry about is being uncomfortable. You're there to leave worries behind, relax, and enjoy the adventure. The EcoFlow Wave is a great travel companion to help keep you cool and comfortable no matter where you are. It's portable, easy to use, and has plenty of features to put control of your comfort in your hands. Pick yours up today (opens in new tab).
All the latest inspiration, tips and guides to help you plan your next Advnture!
Thank you for signing up to Advnture. You will receive a verification email shortly.
There was a problem. Please refresh the page and try again.