What to eat after a run: rehydration, finish line food and whether that post-race beer is okay
Knowing what to eat after a run can speed up recovery time and reduce the risk of injury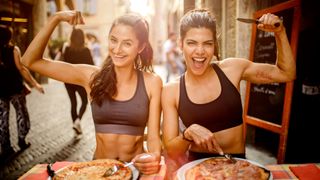 (Image credit: Getty)
Immediately knowing what to eat after a run is hard. After all, it's normal not to feel hungry as soon as you stop running. An hour or so later, however, especially longer or more intense workouts, many runners report being absolutely ravenous and wanting to eat everything in sight, including junk food and unhealthy snacks that are easy to get hold of, but don't provide the right balance of protein and carbohydrates for the quickest recovery from exercise.
You can mitigate this to some extent by not depriving yourself before or during running. But, nutrition after exercise is just as important as fueling up beforehand, especially if you intent to continue running in the days following your latest trail adventure. After longer runs, your body will be craving calories within the first 30 minutes, and you need to listen to it.
Here's a step-by-step set of easy eating and drinking guidelines for a faster recovery from sports nutritionist and author of The Runner's Cookbook, Anita Bean.
You can also check out our guides to what to eat before running and what to eat while running.
Drink up instantly
Wait before you celebrate with alcohol. Anita advises, "After your race sip water or an electrolyte drink before you celebrate with a beer.
"If you find that you don't need the toilet for a long period after a race, or if your urine is bright yellow or even orange when you do go, then you are dehydrated and need to drink more water," Anita says. After longer runs – more than 90 minutes – you will also need to replace electrolytes such as salts and other minerals, so a sports drink is best." (You can make your own from 500ml diluted squash and a pinch of table salt.)
Many runners will religiously chug a protein shake within 20 minutes of finishing a run, which aids recovery enormously. However, Anita says, "Milk – chocolate milk if you prefer – is also an excellent and inexpensive post-run drink, as it provides fluid as well as carbohydrate to replenish glycogen stores and protein to promote muscle repair. If you are planning to exercise again within eight hours, Aim to refuel with a carb and protein-rich snack or meal within two hours of finishing as this is the body's golden window of opportunity to recover more quickly."
The benefits of beer post race are a hotly debated topic. Anita says, "It is true that beer does contain carbs, water and minerals, and help runners relax. The bad news is, alcohol is a diuretic and any more than one pint will result in dehydration. For this reason non-alcoholic beer has become increasingly popular at running events."
Finish line food
You may not feel like eating anything heavy immediately after a big run or race (or there might not be anything available), but Anita says, "For speedy recovery, try to replace some of those burned calories as soon as you can – ideally within the first 30 minutes – by eating a small snack like a flapjack or banana."
Recovery snack ideas
Anita says: "Try Greek yoghurt, an egg or tuna sandwich, dried fruit and nuts, strips of pita dipped in humus, chocolate milk, homemade flapjacks with nuts and seeds, or perhaps a homemade frozen cherry smoothie whizzed up with milk, yoghurt, a banana and a spoonful of honey."
Properly refuel within two hours
Once again, carbohydrates remain your best friends after a long run, as you will need to restock those glycogen reserves you've just emptied out on the trail. Something simple but substantial – such as a jacket potato, with whatever filling you fancy, or a pizza – is perfect.
"Eating a carbohydrate- and protein-rich snack or meal within two hours of running – especially after long-distance runs or high-intensity workouts – will promote faster recovery," Anita says. "This is the best timeframe to aim for – it's is the window of opportunity when your body replaces glycogen faster than normal and good quality nutrition will help to speed up the repair process."
Recovery meal ideas
Anita recommends, "a healthy, balanced meal containing a high-quality source of protein like chicken, fish, tofu, beans, lentils, quorn, quinoa, will help speed up your recovery. Try lamb and split pea lasagna, chicken rice and green veg, fish pie and peas, quorn chile with baked potato, and quinoa or couscous with roasted mixed veg, and pine nuts.
For more great pre-run snack, smoothie and meal ideas see Anita Bean's best-selling book, The Runner's Cookbook, containing over 100 delicious recipes to fuel your running. It's available to buy now on Amazon US and Amazon UK.
All the latest inspiration, tips and guides to help you plan your next Advnture!
The co-founder and former editor of Trail Running magazine, Claire now runs the YouTube channel Wild Ginger Running, creating films packed with trail- and ultra-running content. An award-winning journalist, writing for outdoor and adventure sports magazines and websites, her first book The Ultimate Guide to Trail Running 5k to 50k is out in January 2021. Claire also speaks and presents at events and races.