How to choose an ice axe: picking the right length and type
Knowing how to choose an ice axe involves some simple measurements to make sure you have the right length for winter hiking, scrambling and climbing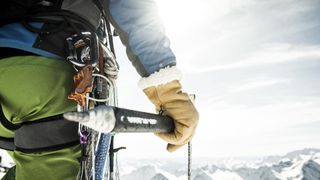 (Image credit: Andre Schoenherr)
We're big champions of keeping your adventure season going year-round, but depending on where you're going, winter walking might involve a bit more than wearing some warm clothes and putting ice grips on your best hiking boots.
If you're hiking or mountaineering at high altitude, your outdoor kit will probably include items like crampons and even an ice axe. It might be tempting to just pick out the most rugged-looking axe you can find (check out our guide to the best ice axes you can buy) but knowing how to choose an ice axe is important to make sure you end up with the right type – and length – for your adventures.
What is an ice axe used for?
An ice axe is an important protection device that helps you maintain balance, test terrain, climb snow and ice-covered slopes and even stop yourself from sliding downhill if you fall (known as "self-arrest"). Since it might make the difference between life or death, you want to make sure you choose the right ice axe for your purposes.
How do I choose an ice axe?
If you're setting off on some wintery alpine adventures this season and picking out an ice axe, you'll first want to know exactly what type of ice axe you need. In our article on how to use an ice axe, we go into the three types of ice axes, but basically you need to know if you're using yours for walking, mountaineering or ice climbing. Though each type has all the same components, there are small differences in terms of shaft curvature and pick clearance that will affect your axe's functionality on the mountain.
Additionally, it's worth examining the materials each ice axe is made of as this will determine how heavy it is. Basically, axes made with a steel shaft will be heaviest but also easiest to use as they will sink nicely into the snow. Aluminum shafts are light but may be a little harder to dig into the ice as a result, while axes with carbon fiber shafts are the lightest and most expensive, and best suited for expert ice climbers.
How do I know what size ice axe to buy?
Once you've narrowed down which type of ice axe you want, you'll need to make sure you get the right length. How long your ice axe should be is partially determined by its usage, and also your height and body proportions.
If your ice axe is too short, it could actually pose a risk as the head could end up too close to your vital organs during self-arrest. If your ice axe is too long on the other hand, it could prove unhelpful for use in self-arrest. So, choosing the right ice axe length is important, but the good news is, it's also quite easy.
Ice axes are measured in centimeters from the tip to the top of the head, and they generally come between 50 and 70 centimeters long. If you're in a climbing shop, start standing in a relaxed, upright position and hold the ice axe with the pick pointing behind you and your thumb resting on the head. The spike (at the end of the handle) should be hovering around ankle height, or slightly above it.
If you are shopping for an ice axe online and don't have an axe to hold, have a friend help you and follow these steps:
Step 1: Put on your winter hiking boots and stand in a relaxed, upright position.
Step 2: Hold a hammer by its head with the claw pointing behind you and your thumb resting on the head – this will mimic holding an axe.
Step 3: Have your friend measure the distance in centimeters from your thumb to your ankle bone. Pick an ice axe that is close to this measurement.
It is okay if the ice axe is shorter than the distance between your thumb and your ankle – in fact, you may want a shorter axe because it will weigh less – just don't go more than 10cm (4 inches) shorter. Unless you're going ice climbing, you don't want an ice axe that is shorter than 60cm (14 inches).
You may want a longer axe if you're primarily using it to test terrain or on a low angle snow field, however it will weigh more and anything longer than 70cm (27 inches) isn't recommended unless you're tall enough to warrant that length.
Do I need one or two ice axes?
Generally speaking, one ice axe is all you need, unless you are planning on tackling very steep or vertical terrain. At this point, you might want two ice axes to help you climb.
All the latest inspiration, tips and guides to help you plan your next Advnture!
Julia Clarke is a staff writer for Advnture.com and the author of the book Restorative Yoga for Beginners. She loves to explore mountains on foot, bike, skis and belay and then recover on the the yoga mat. Julia graduated with a degree in journalism in 2004 and spent eight years working as a radio presenter in Kansas City, Vermont, Boston and New York City before discovering the joys of the Rocky Mountains. She then detoured west to Colorado and enjoyed 11 years teaching yoga in Vail before returning to her hometown of Glasgow, Scotland in 2020 to focus on family and writing.