The best ice axes for tackling frozen terrain while winter hill walking and mountaineering
Winter adventures in the hills and mountains require the best ice axe you can get your gloves on. Here are our recommendations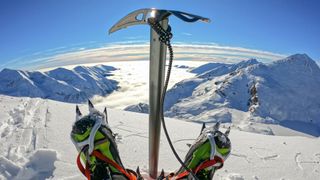 (Image credit: Gerry Images)
The best icy outdoor adventures demand the best ice axes. Full winter conditions in the hills and mountains present an added challenge for even the most experienced hill walker or mountaineer. Colder temperatures, unpredictable weather patterns and fewer daylight hours make factors like kit selection, route planning and assessment of conditions all the more important.
Besides specialist knowledge and the best winter hiking boots, you'll need some additional equipment. If you're serious about getting into winter hill walking, this will include a pair of crampons and the best ice axe you can get. These tools are used on frozen terrain to ensure added safety and security. The presence of snow increases the risk of slips and trips, which makes ascending or traversing hillsides, mountainsides and ridges much trickier and potentially more dangerous, because even a small slip can turn into a more serious slide or fall.
Winter hill walking and classic mountaineering usually involve the use of a single ice axe – sometimes referred to as a piolet. These come in a range of different lengths and styles, from the classic long, straight-shafted hill walking axe to slightly more technical curved mountaineering axes.
Here we have focussed on the best ice axes for moderately steep terrain. More technical winter climbing – including ice climbing on frozen waterfalls and glaciers, and mixed climbing on rock and ice – requires a pair of technical ice tools, but we'll leave those for a future article.
The best ice axes and piolets for tackling winter peaks
Why you can trust Advnture Our expert reviewers spend hours testing and comparing products and services so you can choose the best for you. Find out more about how we test.
As its curved shaft suggests, this is a technically capable ice axe, with a modern design that results in a lightweight but robust tool for winter hill walking, mountaineering and ski touring
Specifications
Weight (45cm):
323g / 11.39oz
Materials:
Welded steel head, anodized aluminum shaft
Available lengths:
45cm / 17½in; 50cm / 19½in; 55cm / 21½in
Reasons to buy
+
Comfortable in the hand
+
Very lightweight
+
Good self-arresting performance
Reasons to avoid
-
No leash supplied
-
Despite its capabilities, not T-rated
A new addition to the DMM range, the Spire Tech is – as the name suggests – a slightly more technical version of the standard Spire. (opens in new tab) The head is of exactly the same design, consisting of a high-strength steel alloy pick and welded adze. However, it has a slightly bent shaft for improved clearance when swinging the axe or climbing up steeper névé. The 12° curve also angles the pick more aggressively, enhancing performance on steeper snow and ice. The shaft itself is made from the same anodized aluminum tube as the Spire, but adds a stylish machined grip. It's also even lighter – which makes the Spire Tech one of the lightest steel-headed ice axes around.
This is a featherweight compared to older, more traditional axes. It's easy to carry and feels very comfortable in the hand. But the adze clears snow well and at the other end of the shaft a durable spike penetrates hard-packed snow easily. You also get large tethering points in the pick and spike, for ease of clipping even with large carabiners.
The only thing worth noting is that despite the Spire Tech's capability, the shaft and pick are not T-rated, unlike the older DMM Cirque, which it is effectively replacing. So, if you want a T-rated DMM ice axe, you'll now have to look to the pricier and heavier DMM Raptor (opens in new tab).
A hybrid hill walking/mountaineering axe that is technically capable and stylish, with a modern design and a curved shaft for improved steep snow performance
Specifications
RRP:
$120 (US) / £95 (UK)
Weight (50cm):
373g / 13.1oz
Materials:
Investment-cast stainless steel head, anodized aluminum shaft
Available lengths:
50cm / 19½in; 55cm / 21½in; 60cm / 23½in; 65cm / 25½in; 70cm / 27½in; 75cm / 29½in
Reasons to buy
+
Warm
+
Comfortable in the hand
+
Good self-arresting performance
Reasons to avoid
-
Despite its capabilities, not T-rated
The latest version of Black Diamond's Raven Pro axe now has a slightly bent shaft and a lighter overall weight – all designed to make for a more capable and ergonomic axe. In this regard, it competes squarely with the DMM Spire Tech. Both are still hill walking axes rather than "proper" mountaineering axes, but in terms of overall capability they're right at the upper end of that category.
Just like the Spire Tech, its slight bend adds a little valuable extra clearance that guards against busted knuckles and makes placing (and retrieving) the pick a bit easier. The Raven Pro also has a similar machined grip to the Spire Tech at the bottom of the shaft. These grooves aren't the deepest or most tactile but still offer a non-slip surface that works well, even with cold hands and bulky winter gloves.
The head is made from a single piece of investment-cast stainless-steel for added corrosion resistance. The pick is very sharp and bites cleanly, with a slightly downturned angle that strikes a good balance between secure penetration in hard ice and reliable self-arresting performance on snowy slopes. The adze is small but effective, again finished with a sharp edge that is good for cutting steps or chopping out ledges, bollards and snow anchors.
The head seems to have been carefully sculpted to ensure it is easy and comfortable to grip in the hand. It certainly isn't bulky – in fact, if you have large hands, it might even feel a bit dainty. But there's a nice recess for your thumb that makes this a great axe to use in self-arrest (adze forward) position. It also has a large hole to clip a carabiner into.
The textured aluminum shaft has an unusual cross-section that is trapezoidal rather than the standard oval or lozenge shape. According to Black Diamond, this enables better grip and more aggressive climbing – it's certainly nice to hold, though we can't say we climbed noticeably harder with it. One point worth noting is that the Raven Pro comes in an extraordinarily wide range of lengths, from 50cm right up to 75cm. This makes it a versatile beast, though the overall design seems better suited to shorter lengths, enabling you to really take advantage of its curved shaft on steeper terrain.
At 373g in the shortest 50cm length, the weight is middling – certainly no heavyweight, but fractionally heavier than the DMM Spire, Spire Tech or Petzl Glacier. It is well-balanced though, with just enough heft to help when swinging it, yet not too much to tire you out if you're forced to carry it all day – either in your hand or strapped to a backpack.
Bottom line? The Raven Pro makes a superb "hill walking plus" axe – it isn't T-rated, but has plenty of technical features for added performance on moderately steep ground.
A versatile hill walking and mountaineering tool that does everything well, only reaching its limits on the steepest snow
Specifications
Weight (60cm):
350g / 12.3oz
Materials:
Welded steel head, anodized aluminum shaft
Available lengths:
60cm / 23½in; 68cm / 26½in,; 75cm / 29½in
Reasons to buy
+
Comfortable in the hand
+
Lightweight
+
Good self-arresting performance
Reasons to avoid
-
Machined shaft but no rubber grip
-
Not outstanding steep climbing ability
As its name suggests, this is an axe primarily intended for glacier travel. But actually, its versatile design makes it one of the best all-round hill walking and mountaineering ice axes on the market, thanks to a surprisingly capable pick and adze, a comfortable and streamlined head shape and a lightweight but sturdy build that ensures it is both easy to carry and nice to use.
In short, it's an excellent axe, especially for its reasonable price point. It's lightweight too, despite an all-steel head. This makes it a great axe for long mountain days or even extended hut-to-hut tours. In traditional piolet mode, the sharp spike also means it works well for balance and support – and plunges quickly for emergency or backup belay use.
The pick is slightly more aggressive than most basic hill walking axes, so it's still a competent performer when self-arresting or for daggering up slopes. There are machined grooves on the lower part of the shaft to provide additional grip while swinging the axe too. The adze has fairly wide shoulders and a sharp edge. This makes it easy to clear out cracks and crevices, cut steps or dig "T-slots", snow bollards and anchors. Only that lack of head weight limits performance in this regard. But the head itself has a large cut-out that accommodates most carabiners too.
Overall, this axe is an excellent companion on winter hill walking days yet capable enough to perform reliably on easy to moderate graded winter climbs and scrambles, with some technical design elements that elevate it above most of the competition.
Undercutting most of the competition in terms of both price and performance, this value-focused newcomer is a great choice for winter hill walking, ski touring and mountain travel above the snowline
Specifications
Weight (55cm):
352g / 12.3oz
Materials:
Welded steel head, anodized aluminum shaft
Available lengths:
55cm / 21½in; 60cm / 23½in; 65cm / 25½in; 75cm / 29½in
Reasons to buy
+
Comfortable in the hand
+
Lightweight
+
Good self-arresting performance
+
Available in four lengths
Reasons to avoid
-
No leash supplied
-
Shaft a little slippery
New for winter 2021, the Spire is a classic, straight-shafted mountain axe with a high strength steel alloy pick and welded adze, riveted to an anodized aluminum shaft. It's lightweight too, a feat which has been achieved by using a shaft made from slightly thinner aluminum tube than DMM's other axes. This makes it more comfortable to carry on long mountain days as well as ensuring it is suitable for pursuits such as ski touring.
But as is the case with pretty much everything DMM builds, the Spire is still a tough beast. The steel head is heat-treated and hardened, then EP [electrophoretic paint] blacked to prevent corrosion. At the other end of the shaft, there's a hefty and durable spike. The angle of the pick has been designed to give optimum performance on steeper ground, and the front point has been improved to give better penetration into ice, while maintaining its durability. In fact, the brand claims it is superior in this regard to its much-loved but more technical predecessor, the DMM Cirque.
When used in piolet mode, holding the axe by the head, the Spire is very comfortable, thanks to the fact that the top of the pick has a partial chamfer. This makes it more forgiving to hold, as well as when plunging the axe. Lastly, it's extremely well-priced, undercutting most of the competition. Yet it performs as well as anything else in its class and comes in a generous range of sizes, from a compact 55cm / 21½in to an extremely long 75cm / 29½in. As a value proposition, it's a great buy.
A classic straight-shafted axe with a plastic head cover that feels extremely comfortable in the hand, making it a great basic hill walking axe
Specifications
Weight (58cm):
425g / 14.9oz
Materials:
Welded steel head, aluminum shaft, plastic blade cover
Available lengths:
58cm / 23in; 66cm / 26in; 74cm / 29in
Colors:
Black / Green / Pink / Blue
Reasons to buy
+
Very comfortable in the hand
+
Well-made and durable
+
Relatively inexpensive
Reasons to avoid
-
Pick not very aggressive
-
Small adze makes step cutting tricky
This is a great axe for hill walkers setting out on their first winter adventures – indeed, that's essentially why Grivel designed it. Well-made and reasonably priced, it does the basics very well. It's available in three different lengths (58cm, 66cm and 74cm) and has an aluminum shaft with a two-piece welded pick and adze. It's supplied with an adjustable webbing leash with an integrated rubber cover for the spike. Unusually for an ice axe, it's also available in four colors.
However, the axe's most distinctive feature is a soft plastic cover that fits over the central portion of the head. Since walking axes are mostly carried by the head, not the shaft, this addition is intended to make it more comfortable to hold in the hand. It also insulates against the cold steel and protects your hands and gloves from the sharp upper edges and teeth of the pick. The cover still leaves enough of the pick exposed to perform a safe self-arrest if needed, though.
It's comfortable, reasonably well-balanced and sits squarely in the mid-range when it comes to overall weight. It's strong and robust enough to perform well as a classic piolet for balance and stability on moderately angled slopes, uneven ground and glaciated terrain. In an emergency scenario it also self-arrests competently enough. For harder mountaineering routes and steeper, more technical terrain, you might want a T-rated axe with a more aggressive pick, but as a "just in case" safety aid that provides added reassurance on frozen fells, the G-Zero is an ideal companion.
A durable and robust axe with a one-piece, hot-forged head and a traditional design, ideal for those in search of a classic alpine-style hill walking or mountaineering axe
Specifications
RRP:
£86 (UK) / €101.30 (EU)
Weight (58cm):
440g / 15.5oz
Materials:
Hot-forged steel head, aluminum shaft
Available lengths:
58cm / 23in; 66cm / 26in; 74cm / 29in
Reasons to buy
+
Well-made and durable
+
Solid and well-balanced
Reasons to avoid
-
Pick not very aggressive
-
Small adze makes step cutting tricky
-
Small hole in head doesn't work with all carabiners
Grivel's G1 is perhaps the most classical ice axe in this line-up. Its traditional looks make it one for the purists, but it also takes advantage of the Italian brand's long and well-established manufacturing expertise, boasting a one-piece, hot-forged head. The result is that it feels extremely solid and well-balanced.
It has an extended pick with a rounded upper edge and a shallow pick geometry – the least aggressive of the axes on test. The adze is fairly narrow, with rounded shoulders. This makes it very comfortable to hold in the hand but comes with a slight cost in technical performance. Having said that, it has enough heft and head weight to swing with confidence. The Plus model also adds a rubber grip at the bottom of the shaft for a more secure feel.
Then again, it's primarily designed for hill walking and glacier travel, and when held in piolet position, you really appreciate its solidity and balance, especially in the longer 66cm and 74cm lengths. Like other Grivel axes, it's supplied with an adjustable webbing leash with an integrated rubber cover for the spike.
It's a strong, robust and reliable piolet, providing a stable third point of contact on moderately angled slopes, uneven ground and glaciated terrain. In an emergency scenario it also self-arrests decently, thanks to that extended pick. If you don't need to climb steep snow and prefer a more traditional Alpine-style axe, this is a superlative choice.
What to look for when buying the best ice axes
As with all kit, it's crucial to select the best ice axe for your needs. (See how to use an ice axe for more information on their uses in the field.)
Back in 1958, mountaineer Godfrey Francis wrote: "Buying an axe should be the beginning of a long partnership." He was right. A good ice axe is a trusty companion on winter adventures, your pointy metal pal on snow and ice-covered hills. Which means that when you're picking one out, you want to get it right.
But how do you choose your perfect partner? After all, the choice of different brands and models out there is vast. To help you decide, here's an overview of the principal types of ice axes for winter hill walking and mountaineering, and their key features.
Types of ice axe
In the UK and Europe, ice axes should carry a CE rating, certifying their compliance with relevant safety legislation. They usually have a B (basic) or T (technical) rating, based on tests for both the shaft and pick. Since these elements are rated separately, it is possible to have a T-rated shaft with a B-rated pick, but this only applies to more technical ice tools that have interchangeable or replaceable picks. For axes with fixed picks, if the shaft carries a T rating you can safely assume that the pick is also T-rated.
B-rated axes are ideal for winter hill walking and lower-grade mountaineering. They're generally lighter and cheaper than T-rated axes too. Conversely, T-rated axes are designed for more technical and challenging climbs.
Features
The first ice axes had wooden shafts made from oak, ash or hickory, but today they are normally made of aluminum alloy tube, which is lightweight, strong and durable. They come in a variety of lengths, usually ranging from 50cm to 75cm / 20 inches to 30 inches, and may be straight or slightly curved. A slightly bent shaft gives improved clearance when swinging the axe or climbing up steeper névé, but a straight shaft is easier to use in piolet (walking) mode and when self-arresting. Since aluminum can be cold and slippery, some axes also have machined grips or rubber overlays at the lower section of the shaft.
2. Head
The head of an ice axe consists of a curved, toothed pick on one side and a short adze on the other. Pick angle or pick geometry varies depending on the technical capabilities of the axe – generally, those intended for steeper terrain have a more aggressively down-turned pick and a greater number of sharper, more serrated teeth. The point of the pick also makes a difference to efficiency of placement. A positive pick angle climbs steeper snow and ice far more securely, but a classic or neutral pick angle is preferred for self-arrest. Reverse curve picks are usually only found on tools designed for climbing vertical ice.
At the other end of the head is the adze. The adze is usually triangular with a scooped end and a broad edge that may be squared or rounded off. This is mostly used for step-cutting and clearing out snow.
Most modern ice axes have stamped-out sections to reduce the overall weight of the head, which prevents fatigue on long hill days – though a little head weight can be useful when swinging the axe. They also incorporate a hole, for clipping in a carabiner.
Heads are normally made of cold rolled or hot forged steel, though lightweight axes may be made from aluminum. They is not as strong though, and tend to blunt more quickly.
3. Spike
The spike at the bottom of the shaft is used for thrusting into snow and ice, providing support and stability on angled or uneven ground – to give you stability when your tool is being used as a glorified, wintery trekking pole. If you're crossing glaciers, narrow spikes with finer points penetrate better and are less likely to skid off the surface.
4. Wrist loops or leashes
Wrist loops or leashes ensure the axe stays attached to you even if you accidentally let go of it. However, when ascending a slope, good technique is to ensure the axe is always in your upper hand, so a leash can make this more awkward, as you have to swap from hand to hand at every change of direction. Rotor or spring leashes can be attached to your waist, overcoming this issue, but they require wearing a climbing harness. In a fall, a flailing axe at the end of leash can also pose a hazard.
5. Weight
Most modern hill walking and mountaineering axes weigh anywhere between 250 and 700 grams / 9 ounces and 25 ounces. A lighter axe is obviously less tiring to carry over a long hill day, but when you are actually using it, a little heft makes swinging the axe easier.
6. Length
Conventional wisdom for picking a hill walking axe is to measure the length between your hand (when held naturally to your side) and your ankle bone. Use this measurement to decide which length you need. In recent years, however, shorter axes have become more popular, particularly for climbing and mountaineering, since the rule of thumb is that the steeper you go, the shorter your axe wants to be. Generally, we'd say that an axe between 55cm and 65cm / 21 and 25in is the most versatile option for hill walking and mountaineering.
An outdoors writer and editor, Matt Jones has been testing kit in the field for nearly a decade. Having worked for both the Ramblers and the Scouts, he knows one or two things about walking and camping, and loves all things adventure, particularly long-distance backpacking, wild camping and climbing mountains – especially in Wales. He's based in Snowdonia and last year thru-hiked the Cambrian Way, which runs for 298 miles from Cardiff to Conwy, with a total ascent of 73,700 feet – that's nearly 2½ times the height of Everest. Follow Matt on Instagram and Twitter.
All the latest inspiration, tips and guides to help you plan your next Advnture!
Thank you for signing up to Advnture. You will receive a verification email shortly.
There was a problem. Please refresh the page and try again.