How to choose a wetsuit for open water swimming
Read our guide to how to choose a wetsuit for open water swimming and get all the warmth, protection and movement you need when you're working on your strokes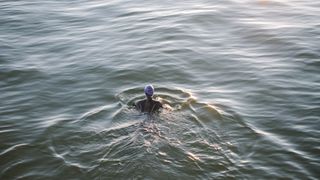 (Image credit: Gary Yeowell)
If the last two years have taught us anything, it's that wild swimming is here to stay. Whether you're planning regular plunges in local lakes or seasonal swims out at the sea, if you're getting serious about open water swimming, you may be starting to think about building your wild swimming kit with items like a pair of the best water shoes and a wetsuit for better warmth and protection in the water. We take a look at why and how to choose a wetsuit for open water swimming to help you get the best out of your gear.
Should I wear a wetsuit for open water swimming?
First of all, a wetsuit is not essential to open water swimming. Lots of people take the plunge without one. In fact, some purists argue that swimming without a wetsuit creates a more immersive experience in nature, and let's face it, if you're just going for a quick dip, wrestling a wetsuit on can be a real hassle.
But there are some really good reasons to wear a wetsuit for open water swimming too:
Warmth: wetsuits help keep you warm which becomes increasingly important during the colder months and also allows you to stay in the water for longer.
Buoyancy: wetsuits also provide some buoyancy, which helps you swim faster and is useful if you want to take a break or become tired.
Protection: wetsuits also offer some protection against abrasive rocks, sticks and other obstacles.
What wetsuit should I use for wild swimming?
Wetsuits are made with different uses in mind, and for wild swimming, there's usually no need to fork out for a special Open Water or Triathlon wetsuit unless you're planning on competing, in which case you might indeed trade some protection for more flexibility.
For regular swimming, you can simply get a wetsuit made for surfing or regular swimming, which will be a bit thicker and provide more warmth and protection.
Further, in terms of cut, there are three types of wetsuit and which you choose is partly down to personal preference, and mostly down to the temperature of the water you'll be swimming in.
Full cut: this is your classic look wetsuit with full length arms and legs and offers the most protection in cold water.
Sleeveless: this wetsuit has full length legs and no sleeves, which allows for great range of motion in your shoulders.
Short cut: with no sleeves and knee length legs, these are best reserved for warmer swimming conditions only.
How thick should a wetsuit be for swimming?
The next thing to consider is how thick your wetsuit needs to be. Wetsuits generally range from about 2mm to 7mm in thickness, often with variation in different parts of the suit. The thicker the wetsuit, the warmer it is. Naturally, you don't want to go to the trouble and expense of getting a wetsuit and still have chattering teeth, but go too thick and you may overheat and be uncomfortable.
For reference, this table shows you the average temperature each thickness is designed to withstand:
Swipe to scroll horizontally
Wetsuit temperature ratings

| Thickness | Temperature |
| --- | --- |
| 2mm | 66°F/19°C |
| 3mm | 61°F/16.5°C |
| 4mm | 58°F/14.5°C |
| 4.5mm | 53°F/12°C |
| 5mm | 51°F/11°C |
| 5.5mm | 48°F/9°C |
| 6mm | 42°F/6°C |
| 7mm | 41°F5°C |
So, you'll need to know the average temperature of the water where you're going to be swimming during the period you're going to be swimming. This of course varies by location, and you might be planning to swim year-round and in various locations so it's not an exact science. In general, most people agree that for wild swimming, you want a wetsuit between 3mm and 5mm thick. A 2mm would be best for very warm summer months while a 7mm wetsuit is really designed for icy waters.
There's one other reason to look at thickness, and that's to do with your technique. If you're a very powerful swimmer, you might be able to go a bit thicker and get more warmth, whereas if you feel you need more flexibility to perform your strokes, you could look for a suit that is thinner around the shoulders.
What should I look for in a wetsuit?
In addition to thickness, there are some other factors to consider when buying a wetsuit for open water swimming to make sure it fits well, doesn't drag you down and allows you to move properly.
Material
In terms of material, seek a wetsuit that contains as much rubber (versus neoprene fabric) as possible. Neoprene fabric absorbs water and gets heavy when you're swimming which slows you down.
Taped seams
Seek a wetsuit with taped seams on the wrists and ankles to help you get it on and off easier.
Reverse zip
You also might want to consider a wetsuit that zips from the top down, known as a reverse zipper. Though not essential, it can help prevent the zipper coming down while you're swimming.
Fit
Most importantly, your wetsuit needs to fit you properly to work. You'll need to try it on and a well fitting wetsuit will be difficult to get into, however once on you should be able to perform arm strokes as if you were swimming. In particular, make sure the wrist, neck and ankles are all as flush to your body as possible without being uncomfortable or cutting off your circulation.
All the latest inspiration, tips and guides to help you plan your next Advnture!
Julia Clarke is a staff writer for Advnture.com and the author of the book Restorative Yoga for Beginners. She loves to explore mountains on foot, bike, skis and belay and then recover on the the yoga mat. Julia graduated with a degree in journalism in 2004 and spent eight years working as a radio presenter in Kansas City, Vermont, Boston and New York City before discovering the joys of the Rocky Mountains. She then detoured west to Colorado and enjoyed 11 years teaching yoga in Vail before returning to her hometown of Glasgow, Scotland in 2020 to focus on family and writing.