Wild swimming equipment: everything you need for a day in the water
Swimming wild this summer? Get kitted up in the right wild swimming equipment to keep you warm and safe in the water with our guide to the best gear for outdoor swimmers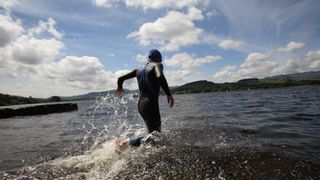 (Image credit: Getty)
Jump on in, the water's lovely. Whether you're a keen outdoor swimmer putting in the lengths at your local lake or you're just jumping in to cool off in a heatwave with a river swim, wild swimming has never been more popular. One of the joys of swimming is that you don't need much kit for a quick dip, but if you're venturing into the world of outdoor swimming for fitness, or want to swim all year round, it's a good idea to invest in some good wild swimming equipment that's designed to keep you warm, safe and happy in the water for longer.
Wild swimming equipment: water-wear for every part of your body
Let's start from the top – a decent swim cap and a good pair of goggles are essential items for any keen swimmer. Get clear vision and protect your eyes from salt water and the sun's glare with a polarised pair of swim goggles such as the HUUB Aphotic Goggle, which will shield your eyes while you swim. A silicone cap keeps hair out of your eyes and reduces drag in the water, and a bright one such as this Zone3 Silicone Swimming Cap will also make you more visible outdoors. Swimming outdoors in cold water brings greater risk of an inner ear infection - avoid swimmer's ear by popping a pair of earplugs such as the Zoggs Aqua Plugz in before your session.
You may have noticed that often when you spot a swimmer out in open water, they're followed closely behind by an orange inflatable. This essential piece of wild swimming equipment is a 'tow float' – a brightly coloured float that attaches via a strap to your waist and makes you easy to spot in the water. Some double up as waterproof dry bags, so you can stash your car keys or an energy drink in your float during your swim. Be safe and be seen with this orange Zone3 Safety Buoy & Dry Bag, or if you're off on a swimming and hiking adventure, invest in a RuckRaft – this brilliant hybrid of tow float and drybag can take up to 15kg of gear. If you don't need to carry quite so much kit, check out our best dry bags.
Swimming isn't just for the summer months – if you're a hardy paddler all year round, a warm neoprene wetsuit will keep you far warmer on winter swims, and will also add buoyancy. Try Orca's and Zone 3's great swimming-specific suits.
Don't forget your feet – neoprene booties can be worn with or without a wetsuit, and will help keep your extremities cosy. Wetsuit boots or aquatic shoes are also handy for walking on sharp pebbles or if you're exploring somewhere rocky – if you want to walk in your water shoes (see: What are water shoes?), we recommend picking with tough, grippy rubber soles, such as the versatile Vivobarefoot Esc Tempest aquatic bootie, designed for swim runs, or their Ultra III Bloom, a breathable shoe ideal for summer swimming adventures. For other options, check out our best water shoes.
Wild swimming equipment: après-swim essentials
Don't forget about keeping cosy once you get out of the water, too. A warm, insulated changing robe is a bit of a luxury, but it makes all the difference when the temperature drops, and makes popping your clothes back on far less of a faff. Insulated, waterproof changing robes are ideal if you're an all-year-round swimmer, helping you to warm up quickly and not lose precious body heat when you get out of cold water. Try a fleece-lined Dryrobe or invest in one of Red's warm and waterproof Long Sleeve Changing Robes.
All the latest inspiration, tips and guides to help you plan your next Advnture!
An award-winning travel and outdoors journalist, presenter and blogger, Sian regularly writes for The Independent, Evening Standard, BBC Countryfile, Coast, Outdoor Enthusiast and Sunday Times Travel. Life as a hiking, camping, wild-swimming adventure-writer has taken her around the world, exploring Bolivian jungles, kayaking in Greenland, diving with turtles in Australia, climbing mountains in Africa and, in Thailand, learning the hard way that peeing on a jellyfish sting doesn't help. Her blog, thegirloutdoors.co.uk, champions accessible adventures.