What is wild swimming? A quick guide to hitting the water outdoor
Wild swimming is a great way to add some adventures to your hikes, trail runs and camps – find out what it is, the benefits and how to get started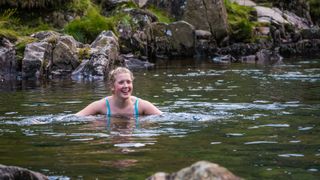 (Image credit: fotoVoyager)
As spending time in the outdoors explodes in popularity, wild swimming has become one of the top outdoor trends seeing people from many walks of life take to swimming in lakes, rivers and the open sea to improve their health. Done safely, it can add a fun and refreshing element to your hikes, trail runs and camps. So what exactly is wild swimming and why should you try it?
What is wild swimming?
Wild swimming is simply swimming – or just taking a dip – in any of nature's watering holes. Distinct from the sport of swimming in man made pools, which started with the ancient Egyptians and was popularized in Britain during the Victorian era, wild swimming can take place in a creek or river, a lake or in the ocean. Humans have been swimming in the wild since the beginning of time, but doing it for sport saw a big boost at the onset of the pandemic, which saw public pools and gyms being closed to the public.
Wild swimming can be done in any weather, during any season and can involve long swims and short dips, lots of gear or no gear.
What are the benefits of wild swimming?
Obviously both swimming and spending time in nature both have proven health benefits, and proponents of wild swimming say it has unique mental health benefits as well. No major research into the topic has been undertaken, but the British Medical Journal published a study in 2018 suggesting it may be effective for managing symptoms of depression while a study in the European Journal of Applied Physiology all the way back in 2000 found that cold water immersion reduced heart rate and blood pressure and increased dopamine levels, a neurotransmitter that helps you feel pleasure.
Generally speaking, exercising in cold temperatures requires your body to work harder, increasing your metabolism to regulate your internal temperature, and it may be that the cold water aspect is a large piece of the benefits of wild swimming. The average lap swimming pool is heated to somewhere around 80 degrees while the average temperature of Lake Windermere, one of the UK's most popular swimming spots, is just 50 degrees in the fall. A 2020 article by the International Journal of Environmental Research and Public Health also cited cold water swimming for improving immune and cardiovascular health, but stressed that the benefits of cold water swimming are likely limited to people without existing health conditions.
What are the risks of wild swimming?
It goes without saying that there are risks posed by wild swimming and it should not be entered into without some preparation and precautions. The water can be very cold and temperatures can vary drastically – this can induce cold shock which can be fatal. There are also variables such as currents and tides which can pull you under and away from shore.
Here are a few general safety tips for wild swimming:
Always go with a friend.
Enter into the water slowly – jumping into very cold water on a very hot day can induce shock.
Avoid areas with strong currents and tides, or swimming above waterfalls where you can get swept over the edge.
Make sure there is an easy way to exit the water and know where it is before you enter.
Check the weather forecast before you go for the possibility of lightning and exit the water immediately if a storm moves in.
Wear your best water shoes – the bottom can be slippery or contain sharp rocks.
If you're jumping in, make sure you've spent some time in the water first to acclimate your body, and check the depth before you dive.
How to get started with wild swimming
If you're ready to give wild swimming a go, the main thing is to be confident in swimming, so if it's been a while since you last swam, consider practising in a pool first or even taking a lesson.
For your first wild swim, go with a friend.
Pick a safe spot such as a small, shallow lake.
Warm, sunny days make it a little easier to get in!
Enter the water slowly and stay close to shore.
Stay in the water for a few minutes to let your body acclimate.
Come out and warm up on the shore, then get back in a second time – you'll find you can stay in more comfortably and for a bit longer this time.
What gear do you need?
One of the reasons that wild swimming is so appealing is that it requires very little apparatus. In fact, depending on where you're going and what kind of swimming you're doing you might not need anything at all. If you're planning on some more serious swimming you'll want to start building your kit.
A swimsuit is the obvious place to get started, and if you're getting your head and face in the water you'll want to consider goggles and a swimming cap.
A wetsuit is great for spending longer periods of time in cold water, so if you get hooked on wild swimming, you'll want to invest in one for winter swimming and swimming in the sea.
Water shoes are great for the rocky bottoms of rivers and lakes – they prevent cutting your feet on sharp stones and make it easier and safer to enter and exit the water without slipping.
Safety buoys are becoming increasingly popular to help wild swimmers stay afloat and to be more visible in water which is useful when there are boats and other vessels around, or in the unlikely event of a rescue mission.
A microtowel is lightweight so you can carry it easily in your pack. Use it to dry off afterwards and you can use it for some privacy while getting dressed if you're swimming in a popular spot .
Check out our guide to wild swimming equipment for more details on how to build your kit. One you're in the swing of wild swimming, take your kit with you any time you go on a hike or a trail run and you can start adding a little aquatic adventure to your outdoor explorations.
All the latest inspiration, tips and guides to help you plan your next Advnture!
Julia Clarke is a staff writer for Advnture.com and the author of the book Restorative Yoga for Beginners. She loves to explore mountains on foot, bike, skis and belay and then recover on the the yoga mat. Julia graduated with a degree in journalism in 2004 and spent eight years working as a radio presenter in Kansas City, Vermont, Boston and New York City before discovering the joys of the Rocky Mountains. She then detoured west to Colorado and enjoyed 11 years teaching yoga in Vail before returning to her hometown of Glasgow, Scotland in 2020 to focus on family and writing.