How to read a tide chart: a quick guide to coastal navigation
Knowing how to read a tide chart can keep you safe, or dry, whether you're going fishing, wild swimming, on a coastal walk or camping on the beach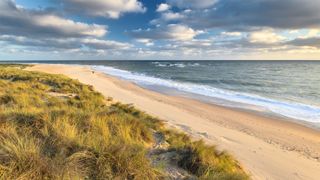 (Image credit: Getty)
Have you ever arrived at the coast delighted to find a stunning beach only to discover it has completely disappeared under water later the same day? Tides can vary wildly over the course of a single day, and knowing how to read a tide chart can keep you safe, or dry, whether you're going fishing, wild swimming, on a coastal walk or camping on the beach.
Though some areas, like the Mediterranean, don't see much variation at all in terms of tides, others see big swings with the largest tidal range in the world being Fundy Bay in Canada which sees a difference of over 53 feet between high and low tide. Getting it wrong can be dangerous, you could end up stranded or taking a much longer walk home than planned, or waking up to the waves lapping at the door of your tent which really isn't as relaxing as it sounds.
So before you grab your best water shoes and head for the beach, check out this handy guide to finding and understanding tide charts.
What are tides and how are they caused?
Tides are the rise and fall of sea levels, which occur at regular intervals. The gravitational pull of the Moon and the Earth's rotation are the two primary factors that govern high and low tides. Basically, whichever side of the earth is closest to the Moon at a given moment is most subjected to the moon's gravitational pull, which causes the seas there to rise and create high tides.
This means that tides vary from day to day and place to place, however because the position of the Moon can be predicted a long way off, useful tide charts are available to help give you some idea of what to expect when you arrive at the coast. It should be noted here there are other factors that influence tides, such as the weather and geography, but tide charts are useful for basic information.
What is a tide chart?
Tide charts indicate the times of low and high tides for a specific area on specific dates. They will tell you when low tide will be, when high tide will be, and how low and high the water will be. It's important to know that tides can be vastly different from one location to another, so you'll want the specific tide table for the area where you're going. Tide tables are often posted at the beach, and you can find them online.
It's worth knowing that all tide tables are slightly different, but generally speaking, once you have the tide table for where you're going, there are three important pieces of information to pay attention to: date, time and tide height.
How to read a tide chart
Before using a tide chart, it's helpful to know what kind of information you're looking for. Are you trying to find out when low tide is so you can cut across the beach on foot? Do you want to go wild swimming or are you seeking the best surf conditions? If so, you'll probably want to know when the tide is high, and how high it will be.
1. Find the right date
Once you know what information you're looking for and you have the appropriate tide table, find the date you will be visiting – tides change day by day so there's no point in looking at today's data if you're not going for another week.
2. Determine high tide
Before you look at the high and low tides, you have to understand what these terms actually mean. Chart datum is the average of low tide heights for the area, not the ocean floor, and it is set low so that tides don't dip below it.
If you actually want to get out in the water, either for wild swimming or boating and kayaking, you will want to know how high the tide will be at its highest, and at what time. Be aware that in the US, this number will be indicated in feet but in other areas it may be in meters. High tide predicts how high above chart datum the tide will be at its biggest swell. It's indicated as a positive number and may be preceded by a plus (+) sign. For example, a high tide of ten feet (3 metres) means the tide will be ten feet higher than the average low water mark.
Look at what time high tide will occur (this may be indicated using a 24 hour clock). Be aware that high tide may occur twice in one day – these are called semidurnal tides.
In an area that experiences high tide twice a day, it generally takes about six hours for the tide to completely recede from high to low, so you generally have quite a lot of time to enjoy the water, but you may want to hit the water an hour or so before high tide while it's still rising, rather than just afterwards when it is already receding.
3. Determine low tide
You also want to know when the tide will be at its lowest, particularly if you're planning to walk across a headland that sometimes disappears under water, camping on the beach or just hoping to build sand castles.
Low tide predicts the water level at its lowest point – because chart datum is an average, low tide can fall below this number in which case this will be indicated as a negative number, otherwise it will just be indicated as a small number. Again, this may occur twice in one day and refers to the height of the tide in feet or meters in relation to chart datum.
If you are crossing a coastal area on foot, it's best to cross it an hour or so before low tide, as the water is receding, rather than at low tide, after which the tide will be rising again. If you're planning on going fishing, the best times are usually between high and low tide.
4. Understand wave height and interval
If you're planning on being in the water, find a tide table that indicates wave height and interval. Wave height indicates the distance between a wave's highest point (crest) and lowest point (trough).
Wave interval refers to the amount of time in seconds between waves as they hit a buoy that is positioned for measuring these intervals. If the intervals are longer, that makes for higher waves which is generally desirable for surfing. If the intervals are short, expect gentler waves better for wild swimming or just learning to surf.
5. Check the weather
As previously stated, another factor that can influence the height of the waves is the weather. High winds can cause waves to rise by more than a foot, so particularly if you plan to be in the water, you'll want to use a weather app to know this information before you set out.
All the latest inspiration, tips and guides to help you plan your next Advnture!
Julia Clarke is a staff writer for Advnture.com and the author of the book Restorative Yoga for Beginners. She loves to explore mountains on foot, bike, skis and belay and then recover on the the yoga mat. Julia graduated with a degree in journalism in 2004 and spent eight years working as a radio presenter in Kansas City, Vermont, Boston and New York City before discovering the joys of the Rocky Mountains. She then detoured west to Colorado and enjoyed 11 years teaching yoga in Vail before returning to her hometown of Glasgow, Scotland in 2020 to focus on family and writing.