The best weather apps for hiking: for expedition planning and real-time updates on the trail
With our guide to the best weather apps for hiking you'll be able to plan effectively, prepare properly and stay safe while out in the hills and mountains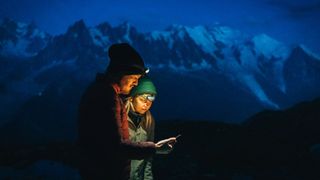 (Image credit: Getty)
The best weather apps for hiking are invaluable sources of information when you're planning an adventure. Today, we are blessed with a choice of comprehensive weather reports tailored to the trails, both in web and app form. In this feature, we take a look at half a dozen of the best apps available for adventures worldwide and those designed specifically for US and UK regions.
For experienced mountain-goers, a detailed study of the weather forecast doesn't just inform what kit they will stuff into their hiking backpack and what they will wear, it also has a direct bearing on route choice and objective. A study of one of the best weather apps enables you to optimize your choices and then make real-time decisions while on the trail.
For example, let's consider how to read a mountain weather forecast for one factor in isolation, such as wind. If wind speeds are up above 50 km per hour, sinuous ridges are probably going to be off the cards, especially if stronger gusts are forecast. Knowing the direction that the wind is coming from will help you plot a route along trails that seek sheltered cirques and don't have you marching headfirst into gales all day long.
So, you've chosen your route, donned your hiking boots, dressed accordingly and packed your waterproof jacket, just in case. With the best weather apps, you can keep an eye on the forecast in real time. By the time you hit the trail head, you might take a last look and find that conditions get a little calmer in the afternoon. Perhaps that exciting ridge traverse is on the cards after all. This is the kind of flexibility the best weather apps for hiking give you.
The best weather apps for hiking all over the world
Platform: iOs, Android, Web
Region: Worldwide
Cost: Basic features free, premium is $29.99 (UK: £28.99) one off for a year or $18.99 (UK: £18.49) annual subscription
Windy.com is an app that's as useful as it is great looking. Created in 2014 by Ivo Lukačovič, a Czech kiter, helicopter and jet pilot, it is a highly visual tool that displays multiple overlays on an interactive map of the world. The free version of the service gives you a 3-hour forecast that is updated twice a day, while the premium subscription gives you a high resolution 1-hour forecast, with precision data that's updated four times a day.
One of the platform's main strengths is the way you can choose between different forecasts. Hikers and mountaineers are best served by ECMWF and MeteoBlue and you can search for specific summits. There's also a fantastic live webcam tool, meaning you can often view nearby conditions in real time, giving you a great idea of factors like the height of the snow line, for example.
Platform: Web only
Region: Worldwide
Cost: Free
Okay, so this isn't an app, but mountain-forecast.com is difficult to leave off this list, as it is probably the most comprehensive mountain weather service for the entire world. While the site might not boast the pinpoint accuracy of a service specifically tailored for a certain region, it's a fantastic tool for those who travel to remote regions.
Simply search for the mountain of interest and you can open up an hourly forecast for wind speed and direction, precipitation, temperature, windchill and freezing level. Probably the neatest feature is the way you can choose your forecast elevation, giving you crucial information about what you can expect at base camp compared to the summit.
Platform: iOs, web
Region: Worldwide
Cost: $3.99 (UK: £3.99)
Dark Sky is notable for its to-the-minute accuracy. It is so highly regarded that Apple recently snapped it up, though this has led to the platform no longer being available for Android users. The mobile app costs $3.99 (£3.99 for UK users), while it is also available on the web for free.
The platform utilizes radars used by the Federal Aviation Administration, as well as proprietary algorithms, to produce the detailed local forecasts it is so renowned for. Real-time weather trends and patterns can be viewed via its global radar map, while you can zoom right in to the area you are interested in. The app features hourly forecasts that boast a wealth of information, as well the Time Machine function, which allows you to look at both historic data and future predictions.
The best weather app for hiking in the United States
Platform: iOS, Android, Web
Region: United States
Cost: basic package is free, full features are $29.99 a year
OpenSummit is a designated mountain forecast app that currently serves the American market, though plans are afoot to add thousands of international locations. Its handy search feature enables you to zone in on a particular peak and acquire a detailed forecast. You can then add the peak to your wishlist, easily keeping an eye on conditions at any time.
The basic package is free to use and includes 2-day hourly forecasts. The full features of the premium package include a 5-day hourly forecast – complete with estimated rainfall, wind speeds, lightning potential, temperature and cloud cover – as well as expected trail conditions and an advanced map overlays with precipitation radar, snow depth and more.
Best weather apps for hiking in the United Kingdom
Platform: iOs, Android, Web
Region: UK
Cost: Free
The Met Office are the UK's foremost weather experts and their free app is an easy-to-use, all-purpose forecast tool. You can search by location, though this is a general weather app featuring only some mountain summits. The main page displays a 2-day hourly forecast and a further 4-days broken into 3-hour intervals, with everything from chance of rain, cloud cover, temperature and wind speed and direction. There are also regularly updated forecast videos, an interactive map showing expected rainfall for the next 24 hours and a weather warnings tab.
For mountaineers and hikers, a tailored mountain weather forecast can be found on the Met Office website. This great platform has yet to make an appearance as on the app but is an excellent source of information when planning your adventure. It features a detailed 2-day, summit specific forecast, which is handily broken down into 3-hour intervals.
Platform: Web only
Region: UK
Cost: Free
Again, this isn't an app, but the Mountain Weather Information Service (MWIS) is – along with the Met Office – the most trusted source of weather information for UK hikers and mountaineers. The mobile version of the website is just as user-friendly as any app and is such a useful (and free!) tool that we couldn't justify leaving it off this list.
The site covers 10 of the major hill and mountain regions of the UK and provides detailed 3-day summaries (downloadable as PDFs) for each. The reports feature everything from wind conditions and its effect on you, chance of precipitation, temperature on the summits, freezing level, and probability of cloud free tops.
As well as this, there regularly updated planning outlook videos, providing an in-depth commentary and synoptic charts for the coming week and beyond.
All the latest inspiration, tips and guides to help you plan your next Advnture!
Alex is a freelance adventure writer and mountain leader with an insatiable passion for the mountains. A Cumbrian born and bred, his native English Lake District has a special place in his heart, though he is at least equally happy in North Wales, the Scottish Highlands or the European Alps. Through his hiking, mountaineering, climbing and trail running adventures, Alex aims to inspire others to get outdoors. He is currently President of the London Mountaineering Club, training to become a winter mountain leader, looking to finally finish bagging all the Wainwright fells of the Lake District and hoping to scale more Alpine 4000ers when circumstances allow. Find out more at www.alexfoxfield.com