America forced to close public land due to raging wildfires
Cold weather, rain and snow can't come soon enough to the American West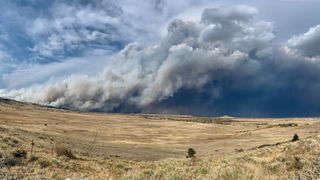 (Image credit: Brian Metzler)
The plight caused by expansive wildfires in Colorado, Utah, California, Oregon and other states has resulted in millions of acres of public lands being closed for recreational use during the late summer and fall. Amid one of the worst wildfire seasons in American history, the U.S. Forest Service has closed large expanses of national forest land to prevent new wildfires and reduce congestion where fire mitigation is necessary. Rocky Mountain National Park, a mountainous 265,000-acre park near Estes Park, and several Colorado State Parks properties also temporarily closed because of the fires.
Colorado has become the latest hotspot for wildfires with 10 fires burning throughout the state as of October 23, including the two of largest in the state's history – the 206,000-acre Cameron Peak fire and the 170,000-acre East Troublesome fire – barely contained and threatening the towns of Grand Lake and Estes Park.
The Cameron Peak fire has been burning since August 13 but recently sparked up again, while the East Troublesome grew more than 145,000 acres in 48 hours from October 21-23. So far, those fires have destroyed more than 500 homes and structures while also resulting in lingering smoke and dangerous air quality concerns.
The fast recent growth of those fires led to the decision to close most Arapaho and Roosevelt National Forest land in five counties along Colorado's Front Range - Clear Creek, Jefferson, Gilpin, Boulder and Larimer counties - that have a combined population of 1.2 million people.
The closures extend from the Wyoming border south to Evergreen, but do not affect the Pike National Forest adjacent to Denver and Colorado Springs.
"The number of large fires and extreme fire behavior we are seeing on our Forests this year is historic," said Arapaho and Roosevelt National Forest Supervisor Monte Williams. "These temporary closures are necessary to protect the public and our firefighters, and we will keep them in place until conditions improve and we are confident that the risk of new fire starts has decreased."
The temporary closures are an attempt to prevent new fires and to support the suppression, Williams said. As with much of Colorado, those counties have been suffering from severe drought conditions since early in the summer. The U.S. Forest Service also commented that there has been a high occurrence of human-caused wildfires, and a limited capacity to respond to them because of the multiple wildfires burning in the state and across the West.
Fortunately, the short-term Colorado weather forecast calls for cold weather and snow and could help tamp down the fires.
The closures come at time when recreational use of public lands in Colorado has been at an all-time high as people have tried to escape the stress and peril of the Covid-19 pandemic by camping, trail running, hiking, mountain biking, fishing and hunting.
"It's gotten increasingly worse in the past two weeks," said Mike Isacson, a trail runner and mountain biker from Boulder. "I understand the need to close things up and hopefully it won't be long, but think about all the people you saw on the trails over the past few weeks and now a lot of them will be packed on the trails that are open closer to Boulder or Denver. But admittedly, the fire situation is a huge problem and worse than it's ever been."
Adding to that stress, the devasting fires and forest closures also come during a tense approach to Election Day on November 3. Climate change is a key but polarizing issue between Democrats and Republicans on local, state and federal levels. It's a divisive issue in the Presidential race between Democratic candidate Joe Biden and Republican President Donald Trump. In Colorado, wildfires and climate change are among the most pivotal issues in a tight U.S. Senate race between Democratic candidate John Hickenlooper and Republican incumbent Cory Gardner.
But there are plenty of people immersed in the outdoors that just want to see progress, not politicization.
"We really need collective leadership to solve this," stated Megan Finnesy, a race director for the Dirty 30 50K and the Silverton 100K trail races in Colorado. "We need to unite and work together. We all want to help, but perhaps many don't know the best way to 'help.' We need to come from a place of possibility. If we continue to stay in this place of limited thinking and divisiveness, we will continue to get nowhere."
California has been under a state of emergency since mid-August. In late summer, the U.S. Forest Service closed large tracts of lands in California, Nevada and Oregon and recently extended made of those closure orders through the end of October. That includes many popular areas for camping, hiking, biking, trail running, fishing and hunting.
There have been more than 50 major fires in California in 2020 with a record 4.1 million total acres burned. Those fires have destroyed or damaged more than 9,200 structures and resulted in at least 31 fatalities as of mid-October.
Most of California remains under the threat of unprecedented and dangerous fire conditions with a combination of extreme heat, significant wind events, dry conditions, and firefighting resources that are stretched to the limit.
"The wildfire situation throughout California is dangerous and must be taken seriously," warns Randy Moore, Regional Forester for the U.S. Forest Service Pacific Southwest Region. "Existing fires are displaying extreme fire behavior, new fire starts are likely, weather conditions are worsening, and we simply do not have enough resources to fully fight and contain every fire."
An example of extreme fire behavior in California is the Creek Fire on the Sierra National Forest, which began on September 4 and grew rapidly the next day. The fire made a 15-mile run in a single day and burned 36,000 acres, prompting evacuations and life-saving measures. As of October 23, the fire has burned 357,656 acres and is about 61 percent contained. It's the fifth-largest wildfire in history and the largest single fire in modern California history.
"We are bringing every resource to bear nationally and internationally to fight these fires, but until conditions improve, and we are confident that National Forest visitors can recreate safely, the priority is always to protect the public and our firefighters," Moore said. "With these extreme conditions, these temporary actions will help us do both."
All the latest inspiration, tips and guides to help you plan your next Advnture!
Brian is an award-winning journalist, photographer and podcaster who has written for Runner's World, The Times, Outside, Men's Journal, Trail Runner, Triathlete and Red Bulletin. He's also the author of several books, including Kicksology: The Hype, Science, Culture and Cool of Running Shoes. He lives in Boulder, Colorado, and loves to run, bike, hike, camp, ski and climb mountains. He has wear-tested more than 1,500 pairs of running shoes, completed four Ironman triathlons, as well as numerous marathons and ultra-distance running races.