Anglers try to save the UK's favourite carp
Britain's favourite and most valuable carp, the Burghfield Common, is in danger of being killed by otters, but the carping community is rallying round to save it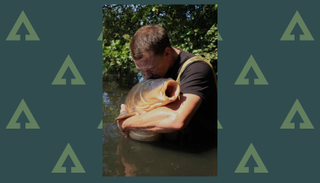 (Image credit: Angler's Mail)
Welcome to Advnture, the new home of AnglersMail.co.uk
The fish, voted the country's most desirable carp in an Angler's Mail poll, has just been landed at exactly 60 lb on the hottest day of the year, when temperatures hit 37.8 degrees Celsius not far away.
The captor, carp ace Greg Ellis, is one of many caring anglers who are helping to raise funds for the fishery to install otter fencing around all the lakes at the large Burghfield complex in Berkshire.
Roofer Greg, from Stanford-le-Hope, Essex, tempted it on products from Mainline Baits. Greg said: "I've achieved my ambition to catch this wonderful fish, and now it will be my legacy to protect it, and I've got a fundraising page to get £40,000."
The fish was caught from the 90-acre Burghfield Main Lake, and otters are rampaging here and on the two other lakes on site. The Main Lake has 180 specimen carp, pike to 36 lb, tench to 12 lb 7 oz and bream to 13 lb.
Burghfield boss Philip Greenacre, of owners Advanced Angling, explained: "Our lakes are right next to the River Kennet, so the otters come in from there.
"We don't currently have any evidence of any of our large carp being killed, but we don't want to take that risk, so we are taking these preventative measures before anything bad happens.
"It would be absolutely tragic if a carp like our big 60 lb common, or any other of our large specimens, were to be damaged, and we are delighted by the help and support being given to us by our members and others to carry out what is a very major task.
"The big common came out last week for only the 14th time in her life, to Greg Ellis, one of the members doing a lot to help the fundraising, including organising a fishing event this weekend.
"She was in great condition, and though it's not the largest that she has been caught at, which was in springtime at 62 lb 8 oz, we believe she is still gaining weight – it was a bit of a surprise that she could go over 60 lb when she is spawned out, and I think 65 lb could be a possibility by this winter. She could even one day beat the UK record.
"We have a lot of crayfish in the lake, and I believe the carp grow on by eating plenty of the young crays.
"The otter fencing is taking place in three phases, which could take three to five years in all, depending on how quickly we raise the money needed and how much voluntary help we continue to get – the total cost is around £100,000. It would be almost double that without the voluntary work.
"We have already completed the first phase, which involved fencing our other two smaller lakes, Blue Pool and Gold Lake. Now we are fencing off the river, but the Main Lake is the biggie.
"It really has been great to see the carping community pull together on this, with too many individuals to name, and we have also received help from organisations such as Embryo and the EA," he added.
All the latest inspiration, tips and guides to help you plan your next Advnture!
Running from 1964 until 2020, Angler's Mail was the UK's leading weekly magazine devoted to coarse fishing, telling readers everything they needed to know about which fish to catch, where to catch them, and what kit they needed to do it. Now, loads of the magazine's expert advice can be found on Advnture.com, as a helpful resource for angling newcomers and experts alike.