Heaviest UK carp, Big Rig, found dead
The UK's largest and most controversial carp, has been found dead at the Shropshire lake where it shot to fame.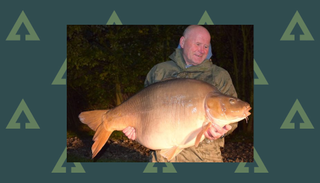 (Image credit: Angler's Mail)
Welcome to Advnture, the new home of AnglersMail.co.uk
Big Rig, the huge hand-reared carp at RH Fisheries' The Avenue syndicate, was caught at 69 lb 3 oz by Tom Doherty in September, 2016.
The British Record Fish Committee rejected his claim as they decided the fish had been artificially reared to near to record weight.
Big Rig was subsequently caught in October at just over 2 lb heavier by Robby Harrison at an astonishing 71 lb 4 oz (pictured).
Rob Hales, owner of RH Fisheries, explained: "I've had so many enquiries from newspapers and magazines that anyone might think it was the Queen who had died not just a big fish.
"We are fairly sure he death was spawning related as her vent had recently emptied, although you can never be sure with older carp – she must have been at least 15.
"We close the lake for ten weeks from the end of May to let the fish spawn in peace and reduce general angling pressure, and don't re-open till July 28.
"I got a call last week from my son to say a large fish had died, and when I came down I sadly recognised her as Big Rig. We didn't weigh her or take any photos.
"Fortunately she was the only fish to perish and the Avenue still has a 60 lb common, five 50s and over 30 40-pounders.
"I will be discussing fish stocks with the Avenue's syndicate but we are likely to remove a significant number of 30s to allow the others to grow on more.
"I am also considering taking out one of the bigger carp next summer to collect the spawn.
"We have 5,000 one-year-old carp from Big Rig spawning last year and we have identified the biggest 500 to grow on especially to be sold as three-year-old fish in the summer of 2019.
"I have never seen such big one-year-old carp in my life," he concluded.
Big Rig divided the carp fishing community with some anglers regarding the whole thing as close to an abomination, and with the captor himself even receiving death threats.
The official carp record was set by The Parrot at 68 lb 1 oz by Dean Fletcher in January 2016 from Berkshire's Wasing Estate. That fish too is now dead.
All the latest inspiration, tips and guides to help you plan your next Advnture!