Latest figures highlight the risk of drowning for anglers
The Royal Society for the Prevention of Accidents is warning anglers to be safe after a string of fishing related deaths.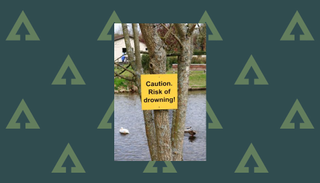 (Image credit: Angler's Mail)
Welcome to Advnture, the new home of AnglersMail.co.uk
RoSPA says that coarse anglers are equally at risk as sea anglers after figures revealed two-thirds of UK drowning deaths happen at inland waters.
Figures show that between 2012 and 2016, 1,029 people died in accidental drownings in the UK's inland waters.
Out of those, 91 were anglers, made up of 46 dying by drowning at sea and 45 in freshwater.
The worst year for freshwater anglers was in 2016 when 12 drowned, with just a further two at sea.
RoSPA has released a new book, Safety at Inland Waters, with guidance and advice on how to manage sites to help prevent tragedy.
David Walker, RoSPA's leisure safety manager and author of the book, explained more about the risks.
He said: "Over the five years from 2012, 60 per cent of drownings were at inland water sites, so clearly this is an issue that urgently needs addressing.
"There is something that all stakeholders can do to reduce the risks, and by working together we can drive down the number of people needlessly dying in the UK's waters every year.
"I hope that Safety at Inland Waters will enable all managers with a responsibility for such sites to better understand and manage risks, and that it acts as a catalyst for further reductions in drownings."
Lifejackets reduce drowning risks
Graham Cridland, boss at the West Sussex & Surrey Angling Academy, said: "I have been trying to campaign for the last 14 years for all anglers to wear modern slimline automatic lifejackets.
"No matter where you are fishing, where water is concerned you have to have the greatest respect.
"The moment you are complacent it will bite you, whether it be the see, river or lake.
"At the Academy we have purchased lifejackets from Adec Marine for students to use on our lessons.
"Although we cannot make students purchase lifejackets after they leave our courses, they have all the information at hand in their folders as to why these should be worn.
"I have been laughed at and ridiculed by other coaches, for providing lifejackets, saying they will not protect their clients.
"This is a dangerous position to take, especially with safeguarding clients, let alone themselves.
"While fishing at Worthing Pier in 2017, my students watched a shore angler be swept into the sea by a rouge wave.
"With the heavy clothing he was wearing, had the inshore lifeboat not been practicing near the pier this man would have drowned.
"Where water is concerned there is no such thing as a safe place, it is only as safe as you yourself make it.
"Yes, clubs, boats and local authorities make provision for such events, but at the end of the day safety responsibility starts and finishes with the angler," concluded Graham.
All the latest inspiration, tips and guides to help you plan your next Advnture!
Running from 1964 until 2020, Angler's Mail was the UK's leading weekly magazine devoted to coarse fishing, telling readers everything they needed to know about which fish to catch, where to catch them, and what kit they needed to do it. Now, loads of the magazine's expert advice can be found on Advnture.com, as a helpful resource for angling newcomers and experts alike.