Biggest carp to British angler comes in World record brace
Specialist lands a 105 lb 14 oz mirror carp, the biggest ever to a British angler.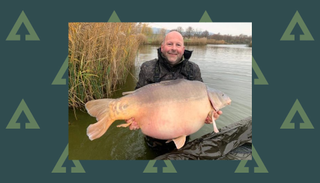 (Image credit: Angler's Mail)
Welcome to Advnture, the new home of AnglersMail.co.uk
Ian Burton fed 500 kg of hemp and 50 kg of Mainline High Impact boilies to take a huge hit of big carp from Hungary's record-breaking Euro-Aqua fishery.
The unprecedented stocks of big carp in the 28-acre lake are used to seeing lots of bait, as owner Alex Horvath piles in up to four tonnes of maize a week.
In total, Ian matted 71 carp in ten nights, including another giant of 91 lb, making it a World record brace of carp.
The 49-year-old carper added two 80s, four 70s, seven 60s, nine 50s, 24 40s, 14 30s, seven 20s and two doubles.
How epic Euro-Aqua session unfolded
Derbyshire-based Ian said: "This was my third trip to Euro-Aqua in a year, but this time I drove there myself.
"I fed 500 kg of hemp and 50 kg of High Impact boilies over ten nights, but it was well worth it, as I netted 71 carp.
"The 105 lb carp was the only fish to give me a one-toner, as the other takes were very shy, the indicator just lifting and dropping, like you'd expect from a bream bite.
"The 105 lb carp was an extremely hard-fighting fish, not just a heavy 'lump'.
"We had at least a five-minute stand-off, me trying to prevent it from getting into a snag that was roughly 90 yards distance from the bank. It took approximately 20 minutes to land.
"I became nervous, knowing that I was potentially about to beat my PB for the fourth time this year.
"With it being my tenth carp of over 80 lb, I managed to keep my cool, getting her in the net on the first attempt," said Ian.
The World carp record stands at 112 lb 14 oz, a Euro-Aqua fish caught by Dutchman Michel Schoenmakers in 2018.
Michel held the World carp brace best with mirrors of 95 lb 1 oz and 93 lb 6 oz, for an 188 lb 7 oz total, but that has now been surpassed by Ian's pair of
105 lb 14 oz and 91 lb, giving him a 196 lb 14 oz total.
Top 12 carp by British anglers
105 lb 14 oz mirror Ian Burton Euro-Aqua 2019
104 lb 2 oz mirror Stephen Weir Euro-Aqua 2015
102 lb mirror Luke Vanes Euro-Aqua 2018
101 lb 8 oz mirror Warren Harrison Euro-Aqua 2017
101 lb 6 oz common Terry Harbert Lake Serene 2019
100 lb 8 oz common Colin Smith Etang La Saussaie 2013
99 lb 14 oz common Alan Munns Etang la Saussaie 2013
99 lb 12 oz common John Thorpe Etang La Saussaie 2013
99 lb mirror Ambrose Smith Graviers 2010
99 lb mirror Scott Phillips Graviers 2014
98 lb mirror Derek Fell Euro-Aqua 2014
96 lb mirror Sam Smith Euro-Aqua 2015
Want to know more about the World's No.1 giant carp venue? Click HERE.
All the latest inspiration, tips and guides to help you plan your next Advnture!
Running from 1964 until 2020, Angler's Mail was the UK's leading weekly magazine devoted to coarse fishing, telling readers everything they needed to know about which fish to catch, where to catch them, and what kit they needed to do it. Now, loads of the magazine's expert advice can be found on Advnture.com, as a helpful resource for angling newcomers and experts alike.