World record common carp caught by English angler
Check out this for a common carp... all 101 lb 6 oz of it, and caught by an English angler.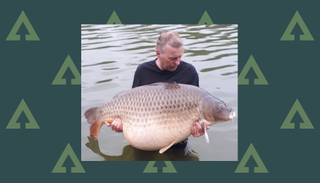 (Image credit: Angler's Mail)
Welcome to Advnture, the new home of AnglersMail.co.uk
The immense fish is the new World record common carp and it fell to Terry Harbert at Lake Serene in France.
In landing the beast, known as The Big Girl, at 101 lb 6 oz , Terry become only the fifth Englishman to catch a carp over 100 lb.
Located in the heart of the Champagne region, Lake Serene is a 16 acre gravel pit and also holds mirrors to over 65 lb and grass carp to 37 lb.
Owner John Ashford is originally from Folkestone in Kent, and he told the story of the lake and the capture of the World record common carp.
If you enjoy hiking, camping and the great outdoors, there's plenty for you on Advnture:
John said: "The Big Girl has been growing fast and came out at 94 lb 4 oz this time last year.
"I thought she might have reached the upper 90s by now and I was both surprised and delighted to see her come out at over 100.
"I was particularly chuffed that it was caught by one of our many regulars.
"Terry isn't keen on any personal publicity but I know he caught the fish using a CC Moore wafter, beating his previous best here by 35 lb.
"After a decade of running fishing trips to France, I acquired the fishless water 17 years ago, initially leasing it from the gravel company and then buying it.
"We stocked it with 2.6 tons of fish which were all small as we couldn't afford bigger ones, so all fish have either grown on from there or have been born in the lake.
"The fishery is now booked for the year ahead and we rely exclusively on return visits from regular customers and never publicise ourselves," John added.
World record common carp reaction
The catch impressed big carp specialist Warren Harrison who has caught fish to a massive 101 lb 8 oz from Hungary's Euro-Aqua.
Warren commented: "This is an awesome fish and I'm 100 per cent certain that it's the biggest living common in Europe, as several previous French fish that size have now died.
"Commons in Euro-Aqua go to about 90 lb and only their mirrors could beat this fish in weight.
"I think this is certainly the biggest carp in France and the rest of Europe bar Hungary.
"It a tremendous fish and well done to the captor," Manchester-based Warren concluded.
The biggest previous common was a 100 lb 8 oz specimen caught in 2013 by Croydon's Colin Smith .
Colin caught it from Etang La Saussie, a neighbour of Lake Serene, but that fish has since died.
The biggest carp by an Englishman is a 104 lb 2 oz mirror caught by Stephen Weir from Euro-Aqua. Luke Vanes has also broken the ton their with a 102 lb giant.
The World record for a carp stands at 112 lb 14 oz. That mega mirror was landed last autumn by Dutchman Michel Schoenmakers at Euro-Aqua.
All the latest inspiration, tips and guides to help you plan your next Advnture!
Running from 1964 until 2020, Angler's Mail was the UK's leading weekly magazine devoted to coarse fishing, telling readers everything they needed to know about which fish to catch, where to catch them, and what kit they needed to do it. Now, loads of the magazine's expert advice can be found on Advnture.com, as a helpful resource for angling newcomers and experts alike.