Four perch over 4 lb prove Hanningfield Reservoir's true potential
Specimen angler Charlie Coppolo made the truly stunning haul.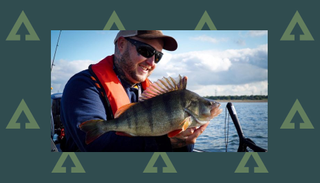 (Image credit: Angler's Mail)
Welcome to Advnture, the new home of AnglersMail.co.uk
Charlie followed up a 3 lb 6 oz and 3 lb 15 oz brace from Hanningfield Reservoir.
His return trip brought perch of 4 lb 4 oz, 4 lb 3 oz, 4 lb 2 oz and 4 lb 1 oz.
He added seven others over 3 lb 2 oz using a variety of lures and methods.
But the most productive pattern was a 15 g jig with a Gunki LS Kiddy softbait in its Vairon pattern.
Charlie revealed how he got amongst the Hanningfield Reservoir specimens – and what his plans are now.
"We managed to find the shoal of baitfish using a Deeper Chirp+, and the perch were there in numbers," he said.
Charlie's previous big brace also came when he boat fished at his local Hanningfield Reservoir.
Tattoo artist Charlie explained: "I've suspected for a few years that Hanningfield Reservoir held a larger population of big perch than what was probably believed. Although I've tried a few times to find them, I've never been successful.
"I used my Deeper Chirp+ Sonar to try find bait shoals all day, on that previous trip. We finally found them with just 30 minutes left until the boat had to be back in. And as I suspected, the perch were there with them.
"In that short time period and with everything being a bit chaotic I managed to land two perch. But I also lost a massive fish at the net which was very comfortably 4 lb-plus.
"Both fish – weighing 3 lb 6 oz and 3 lb 15 oz – were caught on a Gunki 13 cm V2 Riggle lure in UV Brown Perch colour."
So now he's gone back after that catch, and got stuck into really big perch at Hanningfield Reservoir, with the quartet of 4 lb-plus fish, what's next?
The 32-year-old all-rounder's other personal best catches may prove hard to beat in a hurry. They include rudd 3 lb, roach 2 lb 8 oz, carp 35 lb 14 oz, pike 20 lb 12 oz, chub 4 lb 10 oz, tench 8 lb and bream 11 lb.
What next after Hanningfield Reservoir success?
Charlie said "My long-term target had been a perch of 4 lb, but after doing that four times in a day, I guess I've now got a new target of 5 lb.
"My main winter target once Hanningfield Reservoir closes is a big pike. I'm aiming for a 30-pounder, but I would be more than happy with a 25 lb-plus fish.
"I'm also hoping to have a 6 lb-plus chub from my local River Chelmer," added Charlie, from Great Wakering, Essex.
Wayne's perch success comes at the same time as Wayne Fletcher notched possibly the best-ever haul of giant perch in the UK. He caught a staggering eight over 4 lb and a 5 lb 2 oz stunner!
All the latest inspiration, tips and guides to help you plan your next Advnture!
Running from 1964 until 2020, Angler's Mail was the UK's leading weekly magazine devoted to coarse fishing, telling readers everything they needed to know about which fish to catch, where to catch them, and what kit they needed to do it. Now, loads of the magazine's expert advice can be found on Advnture.com, as a helpful resource for angling newcomers and experts alike.