Help save UK rivers with the Angling Trust's new anti-pollution campaign
The Angling Trust has launched a major anti-pollution campaign to protect the environment for future generations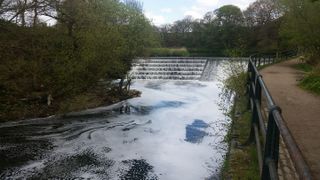 (Image credit: Angling Trust)
The Angling Trust has launched a major anti-pollution campaign to halt the decline in Britain's waters and protect the environment for future generations.
With every water body in England assessed against the Water Framework standard failing, the UK's rivers, lakes and coastal waters are in crisis with pollution from farming, sewage, plastics and litter.
The Anglers Against Pollution campaign kickstarted by England's governing body aims to give anglers a voice by lobbying the UK government to adhere to its commitment on improving the environment, while meeting its legal responsibilities.
The campaign calls for better monitoring of water, proper enforcement of existing laws and regulations, stricter punishments against polluters to discourage them from polluting again and a review of existing laws to help close loopholes.
Pollution in rivers, lakes and estuaries is having a catastrophic effect on plants and wildlife – and the biggest threat is in freshwater species. A recent WWF Living Planet Report estimated an 84 per cent loss in freshwater biodiversity.
Combined sewage overflows (CSOs) in the UK are meant to only allow water companies to pump raw sewage into our rivers in exceptional circumstances. Yet in 2019, 6,508 CSOs released untreated sewage into our rivers.
The government-run Environment Agency's river quality monitoring programme reportedly reduced the number of samples taken by over a quarter in the last five years, from 126,723 in 2014 to 94,408 in 2019. And the number of places it took those samples from was reduced from 17,970 to 14,498. At the same time, the number of river habitat surveys undertaken by the Agency declined from 312 in 2014 to just eight in 2019.
Stuart Singleton-White, the Angling Trust's Head of Campaigns, said: "The Agency is struggling, but it is hardly surprising when it has seen its budget reduced by 57 per cent since 2010. It is hard to see how such drastic cuts are benefiting the taxpayer, but it is easy to see how our rivers are paying the price.
"The waters we fish are in crisis and things are becoming worse, not better. This Government has repeatedly said that the UK wishes to be a world leader in conserving both the environment and biodiversity but has frequently failed to back this up with action. Enough is enough!"
And Trust chief executive Jamie Cook added: "The Angling Trust has been campaigning for cleaner waterways since 1948 and through our Anglers Against Pollution campaign seeks to give anglers a voice in the fight for a better future for our environment by holding the Government to account for its promises and its responsibilities.
"Our waterways are suffocating from all forms of pollution – from agricultural runoff to plastics, chemical pesticides to raw sewage. Time is no longer a luxury we can afford in the fight for a cleaner tomorrow for our environment, our fish and our fishing."
Anglers Against Pollution has already attracted support from high-profile anglers including Marina Gibson, founder of the Northern Fishing School and a specialist game angler.
Gibson said: "We have laws in place that should be protecting our waterways from pollution, but they are simply not being enforced in a meaningful way. Everyone wants to blame the Environment Agency, but we really need to be scrutinising the government and asking why enforcement is so under-resourced and de-prioritised.
"It's time to invest in enforcement, incentivise the updating of sewage systems, and ensure that companies and individuals who pollute our rivers are held to account. If we don't act now it will be too late."
And river campaigner and former rock star Feargal Sharkey has also backed the campaign.
The Undertones frontman who had the punk hit 'Teenage Kicks' and solo success with 'A Good Heart', said: "It's not only our rivers that are having sewage dumped into them, our beaches are in as just a filthy state.
"The next time someone in government tells me that 'There is lots of good work in progress but lots more to do,' I am going to scream.
"The Environment Bill is to coin a phrase becoming nothing more than an 'omnishambles'.
"I have to say that after all of the years I've been involved in senior management, policy, strategy, comms, I don't think I've ever heard anyone so badly briefed as the chair of the EA.
"As a nation, it speaks volumes about the platitudes we heap upon the environment, the empty meaningless words devoid of intent, the 25 year plans that simply perpetuate the obscenity. If we can't conserve some of the rarest rivers in the world how can we ever conserve the rest?," added Sharkey.
Learn more about the campaign and fill in a support form on the Angling Trust website.
All the latest inspiration, tips and guides to help you plan your next Advnture!