Rod licence 2018-2019: all you need to know
Prices, restrictions and artwork for the 2018-2019 rod licence revealed.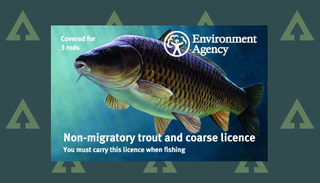 (Image credit: Angler's Mail)
Welcome to Advnture, the new home of AnglersMail.co.uk
Rod licence buyers can pick a three-rod option again, after it was launched to acclaim in 2017, especially by serious carp anglers.
The previous 'standard' rod licence for up to two rods is still available of course, and so to are a range of other options.
On the three-rod version of the new licence is a picture of Clarissa, famously caught by Dick Walker, who helped pioneer specimen coarse fishing.
In what was one angling's all-time standout catches, Clarissa's weight obliterated the British record by 13 lb.
The stunning carp was caught from Redmire Pool on September 13, 1952, and then taken to London Zoo aquarium.
Back then, big fish were routinely killed to establish their weight, something Dick despised.
At the zoo, the fish named 'Clarissa the Carp' and became World famous – although Dick Walker himself called her 'Ravioli.'
Dick was the inventor of Arlesey bomb leger weight, the first electronic bite alarms and he also co-developed carbon fibre rods.
Dick's carp record stood until 1980 when it was beaten by a fish of 51 lb 8 oz from the same water by living legend Chris Yates.
Brilliant rod licence artwork
The two-rod coarse licence has a popular mini species, gudgeon, as its image. The game licence show a salmon in all its wild glory.
All three images were created by renowned angling and wildlife artist, David Miller.
David said: "Designing this year's fishing licence combines two of my passions: fishing and art.
"The EA does a fantastic job and I'm proud to be supporting rod licence sales with my artwork.
"It's been great to be able to capture a fish that has such historical significance in the fishing world."
Mike Heylin, OBE, chairman of the British Record Fish Committee added: "This is a fine tribute to Clarissa and an angler who changed our perspective and excited a whole generation of anglers, many of whom will hold this licence with pride."
Rod licence - what is it?
The new rod licence options are out now and valid from April 1.
If you buy your licence online at the official website you will get a number and receipt to enable to fish before the physical licence arrives by post.
Early signs are that the Environment Agency has been getting 2018/19 rod licence despatched quickly.
The fishing licence now lasts for 12 months from the day it is bought, rather than expiring at the end of March each year.
Sales of licences for the 2016/17 season raised £21 million to help restock rivers with 6,335,000 fish.
Kevin Austin, director of Fisheries at the EA, said: "We're delighted to reveal these new images as part of our continued drive to encourage people to give fishing a go.
"All the money raised from rod licence sales is used to protect and improve fish stocks and fisheries benefiting anglers."
Rod licence prices 2018/2019
The licence fee has stayed the same for 2018/19 with a two-rod main licence costing £30, three rods £45.
Under-16s are again free, but over 12s must register for their freebie licence.
Disabled and OAP rates for the coarse licence are £20 (two rods maximum) and £30 (three rods).
You can get a 12-month disabled person's licence if you've got a Blue Badge, or you get Disability Living Allowance or Personal Independence Payment (any rate) – you'll need your National Insurance number to prove this.
You can also get a discounted 12-month licence if you're over 65.
Disabled and OAP anglers can't get a discount for the 1-day licence (£6) or for an 8-day licence (£12).
You can buy all of the options at the Post Office or online at: www.gov.uk/fishing-licences/buy-a-fishing-licence
All the latest inspiration, tips and guides to help you plan your next Advnture!
Running from 1964 until 2020, Angler's Mail was the UK's leading weekly magazine devoted to coarse fishing, telling readers everything they needed to know about which fish to catch, where to catch them, and what kit they needed to do it. Now, loads of the magazine's expert advice can be found on Advnture.com, as a helpful resource for angling newcomers and experts alike.