Sabrina Stanley defies wildfires to set new Nolan's 14 FKT
Adidas Terrex runner smashes the Nolan's 14 record, despite smoke from Colorado's wilderness burning her lungs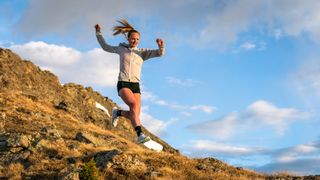 (Image credit: @howiesternphoto)
On Monday 10 August, against an acrid backdrop of smoke emanating from the second-worst wildfires in Colorado's history, ultrarunner Sabrina Stanley sliced over eight hours off the existing women's record for running the notorious Nolan's 14, completing the relentlessly rugged route in 51 hours and 15 minutes.
The Nolans are found in Colorado's Sawatch Range. To complete the long-standing challenge runners may travel in either direction, but must touch the top of all 14 peaks that tower over 14,000ft in between Mount Massive and Mount Shavano, covering between 88 and 106 miles (depending on the exact route taken) and tackling 44,000ft of climbing, to reach the final summit within 60 hours of their start time.
It is a brutal beast of a challenge at the best of times – one which has defeated some top-end trail runners – let alone right in the midst of a shockingly bad wildfire season.
The overall FKT on the Nolan's 14 route is currently held by 33-year-old Joey Campanelli, who completely revised the record book in early July 2020 by wiping 5 hours off the previous fastest time and completing the challenge in exactly 41 hours, all while running unsupported.
Sabrina, who lives at 9,000ft-plus altitude in Silverton, Colorado, tackled the Nolan's 14 in a northerly direction. Her FKT is in the 'supported' category, because she had four different pacers and three people crewing, but her extraordinary achievement is all the more remarkable because she was running into an area where smoke from the state's terrible wilderness inferno hanging in the air and catching in the back of her throat and lungs.
"Smoke from a wildfire rolled in on the second night, causing some pain while breathing deep, but luckily I was within 12-hours of finishing, so I powered through," Sabrina commented shortly after finishing.
Later, in short film made about her run, she elaborated on just how bad the situation was: "The smoke made my lungs burn so aggressively that I couldn't breath, and so I was doing a lot of really shallow short breaths. My heart rate was through the roof, and I couldn't get it down… On the second-last peak, I was taking 10 steps and then resting, ten steps then resting.
No stranger to tough challenges, Adidas Terrex-sponsored Sabrina staked her first claim to trail-running fame when she took out the win in the 2018 Hardrock 100 race. Knocking off the Nolans 14, was a whole new ballgame, however, and the effort required her to be out there for 20 hours longer than she'd ever been on her feet previously.
Aside from the sheer distance, cruel amount of climbing and utterly draining levels of sleep deprivation that the run demanded from her, Sabrina had to overcome orienteering issues while running at night, and several false summits while chasing down Meghan Hicks' FKT of 2 days 11 hours and 36 minutes, set in 2016.
Sabrina, whose coach, trail-running partner and boyfriend is Avery Collins (the pair co-own Power Couple Coaching) was aiming for 55 hours, but she started off extremely fast, by her own admission departing from her race plan on the first few peaks.
Later on, that fast start, and the effects of the wildfire smoke, started to really take their toll. "I went into the FKT not planning on sleeping at all - I thought sleep was for the weak," she says on the film. "But I ended up taking a 20 minute nap before last summit, which made a world of difference."
Once she'd recovered from the run, the enormity of what she had achieved, especially in the condition, began to sink it. "I want it to stand for a very long time," she says of the FKT. "And when it is broke, I want it to be a big deal, and I want it to be done by a phenomenal, phenomenal female runner."
All the latest inspiration, tips and guides to help you plan your next Advnture!
Author of Caving, Canyoning, Coasteering…, a recently released book about all kinds of outdoor adventures around Britain, Pat has spent 20 years pursuing stories involving boots, bikes, boats, beers and bruises. En route he's canoed Canada's Yukon River, climbed Mont Blanc and Kilimanjaro, skied and mountain biked through the Norwegian Alps, run an ultra across the roof of Mauritius, and set short-lived records for trail-running Australia's highest peaks and New Zealand's Great Walks. He's authored walking guides to Devon and Dorset, and once wrote a whole book about Toilets for Lonely Planet. Follow Pat's escapades on Strava here and instagram here.