Seaside fishing at risk if protected areas go ahead
A review of Highly Protected Marine Areas could lead to the banning of certain fishing practices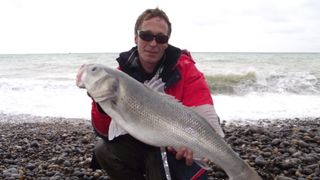 (Image credit: Angler's Mail)
Welcome to Advnture, the new home of AnglersMail.co.uk
Angling and drop netting for crabs could be banned from many seaside resorts if the Richard Benyon review of Highly Protected Marine Areas gets the green light.
The review, which didn't include any angling representatives on its panel, has gone to the government's environment secretary, George Eustice. It could mean no angling, even for catch and release, at many notable spots, including Dorset's Chesil Beach, and from Brighton to Eastbourne.
Ace sea angling guide and charter skipper Robin 'Fishy Rob' Howard thinks the implementation of the conservation zones would be a disaster.
Brighton-based Rob said: "According to the Benyon report, angling is a destructive practice, happening within a marine conservation zone and should be made illegal, along with things like collecting prawns, and crabs, and all the self-sufficiency stuff that has happened since there were people living on this land.
"This will not go away. If you like to fish any of the areas that are in the marine conservation zone list, you need to be mailing your MP, asking about the accountability of DEFRA (Department for Environment, Food and Rural Affairs), and their decision without any evidence that angling is a destructive practice. Please do not let it ride over you," added Rob.
Top sea writer and tackle developer Mike Thrussell said: "The world is changing rapidly, and sea angling, as well as other forms of marine pleasure activities and commercial jobs, is going to come under increasing attack from many sources in the future, the marine conservation areas being just one of them.
"I think the need to conserve and improve sea stocks is much needed but, as a nation, we also need to preserve jobs. Banning recreational catch-and-release sea angling, which genuinely does relatively little damage compared to many forms of commercial fishing, will put real pressure on the industry, costing jobs, and in turn affecting the nation.
"Instead of pretty much trying to ban everything, it would make more sense to me to look at the most damaging aspects of marine extraction, and eradicate those as appropriate from the MCAs.
"This would maximise the conservation of areas, but minimise the social, human and financial impact that draconian bans would inevitably cause."
The Angling Trust is fighting the proposals, with an official response compiled by Martin Salter, which is gaining support from MPs.
Trust head of policy Martin said: "Our response corrects that imbalance, and sets out clearly the wealth of evidence that shows recreational angling can protect HPMAs, anglers often their biggest champions and guardians.
"Ministers now need to reflect on the best way to achieve much needed marine conservation without triggering a wholly unnecessary conflict."
All the latest inspiration, tips and guides to help you plan your next Advnture!
Running from 1964 until 2020, Angler's Mail was the UK's leading weekly magazine devoted to coarse fishing, telling readers everything they needed to know about which fish to catch, where to catch them, and what kit they needed to do it. Now, loads of the magazine's expert advice can be found on Advnture.com, as a helpful resource for angling newcomers and experts alike.