Second fatal fall in two weeks from Angels Landing in Utah
Two hikers have been killed within a fortnight after falling from the famously vertiginous walkway in Zion National Park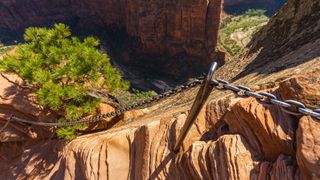 (Image credit: Getty)
The 2.5-mile hike to the Angels Landing precipice in Zion National Park is a stunning 1,500-foot (457-meter) ascent of zig-zagging stone pathways lined with safety handrails. It's one of the most breathtaking hikes in the National Park Service, but also one of the most dangerous.
The last half-mile of the trail is strenuous and lined with numerous sharp drop-offs and narrow paths. Steel chains are provided for safety along portions of the last half-mile to the 5,790-foot (1,760-meter) summit. Once on top, there are overlook sections with no guiderails or fencing.
On March 4, a hiker reportedly got too close to the edge and fell to his death. The body of Jason Hartwell, a 43-year-old resident of Draper, Utah, was discovered on March 5 at the base of the mountain, the National Park Service said in a release.
A search and rescue effort was initiated based upon reports from park visitors that someone had fallen off Angel's Landing. On the morning of March 5, members of the search team located Mr. Hartwell's body at the base of the summit of Angels Landing. According to the preliminary investigation, Hartwell sustained injuries "consistent with a high-elevation fall," park officials said.
Normal park operations have resumed at Angels Landing, but the Washington County Sheriff's Office is investigating Hartwell's death.
This is the second fatal fall in two weeks at the park. On February 19, park rangers located a body of 42-year-old hiker Corbin McMillen at the base of Moonlight Buttress, on the West Rim Trail near Angels Landing, while searching for an overdue hiker.
The hike to Angel's Landing is often cited as one of the most dangerous trails in the US.
All the latest inspiration, tips and guides to help you plan your next Advnture!
Brian is an award-winning journalist, photographer and podcaster who has written for Runner's World, The Times, Outside, Men's Journal, Trail Runner, Triathlete and Red Bulletin. He's also the author of several books, including Kicksology: The Hype, Science, Culture and Cool of Running Shoes. He lives in Boulder, Colorado, and loves to run, bike, hike, camp, ski and climb mountains. He has wear-tested more than 1,500 pairs of running shoes, completed four Ironman triathlons, as well as numerous marathons and ultra-distance running races.