Trail runner completes five round trips across the Grand Canyon
Colorado runner covers 226 miles in five days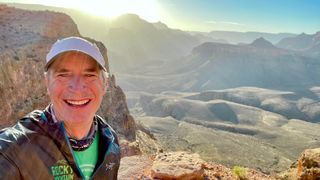 (Image credit: Julia German)
Crossing the Grand Canyon on foot just once can be both a huge thrill and a monumental challenge for any hiker or trail runner.
To cross the canyon once means you have to cover 21 to 23 miles, depending on the combination of trails you take. And unless you want to take a four-hour shuttle ride back to the other side, it also means you're probably going to go back on foot to complete a 42- to 46-mile round trip either that same day or after a night of sleep in a lodge or tent on the opposite side you started.
In trail vernacular, no matter if you're trail running or hiking, it's known as a Rim to Rim to Rim journey or simply R2R2R. It's not only the distance that makes it difficult, but also the 11,200 feet (3,413 meters) of vertical gain and the potential for very hot weather that make it such a big challenge.
"Either way you do it, it's a huge undertaking," says Colorado trail runner Leo Lesperance, who completed his first Rim to Rim to Rim trail run on May 25. "It's an amazing adventure, no matter how fast you're moving on your feet."
And that's what makes Paul Hooge's recent effort so extraordinary. The 58-year-old emergency room nurse from Boulder, Colorado, completed five consecutive R2R2R roundtrips on May 24, covering 226 miles with about 58,000 feet of vertical gain in four days, 17 hours, 22 minutes and 46 seconds. The unprecedented feat is the first (and only) Fastest Known Time for five double-crossings of the Grand Canyon.
Hooge had reserved a campsite on the North Rim and used his van as his own personal aid station. Starting at midnight on May 20, he began his journey, running and power-hiking each of his out-and-back laps on the North Kaibab and South Kaibab trails in the 14- to 18-hour range. After completing a roundtrip, he would return to his van and take a shower, eat a big meal, sleep for three to four hours and wake up and do it again.
Consider that the FKT for one roundtrip is 5 hours, 55 minutes and 20 seconds, set by elite ultrarunner Jim Walmsley in 2016, and you get an idea of how tenacious Hooge was in completing his quest.
"This was just a challenge for myself to see what I could do," Hooge told Trail Runner magazine. "Some people care about these things, but if you're doing them for others and what they think about it, you're going to be a disappointed person. One thing that's inspiring for me is that I'm not an elite runner and never have been. I'm 58 and not fast, but that doesn't mean you can't go out and can't have your own adventure that can be pretty impressive."
Hooge started his laps between 10 p.m. and midnight to delay having to deal with the heat until later in the day as he was most of the way through each journey (check out why you should try running with a headlamp). Along the way, he faced temperatures as low as 17 degrees Fahrenheit (-8.3 Celsius) at night and as warm as 110 degrees during the day (43.3 Celsius), plus a bout of severe winds at the top of the South Rim at one point, but he didn't have to contend with any thunderstorms or lightning that can be common this time of the year.
While a handful of runners have completed double and triple R2R2R runs, Christof Teuscher was the first one to complete four consecutive roundtrips when he covered 168 miles with 44,000 feet of vert in two days, 10 hours, 10 minutes in 2018. Now Hooge has set the bar higher. Will anyone try six?
"He's a legend," says Julia German, a Colorado trail runner who ran part of the way with him on his first and fifth laps. "He's an amazing thinker and an amazing executor and he always stays positive in his ways."
Hooge's incredible effort has been the most stunning highlight of a six-week stretch that has seen hundreds of runners and hikers complete some form of the Rim to Rim to Rim running adventure in the Grand Canyon and several new FKT efforts. During the span of time in which Hooge completed his challenge, Meng Zhao of Frisco, Texas, completed two double-crossings in self-supported fashion — 84.73 miles with 22,421 feet of gain — in 21 hours, 37 minutes and 39 seconds.
Two weeks ago on May 13, elite Nike-sponsored trail runners Addie Bracy and Corey Connor jointly set a new unsupported women's FKT for the south-to-north-to-south Rim to Rim to Rim roundtrip of 8:06:41, shattering Katie Arnold's previous mark of 9:15:00. On May 8, Mallory Brooks, a trail runner and race director from Austin, Texas, lowered the women's supported FKT for the double R2R2R with an impressive 25:29:45 effort. In early April, Sheila Huss and Gina Harcrow jointly set a self-supported double R2R2R of 40:25:11.
All the latest inspiration, tips and guides to help you plan your next Advnture!
Brian is an award-winning journalist, photographer and podcaster who has written for Runner's World, The Times, Outside, Men's Journal, Trail Runner, Triathlete and Red Bulletin. He's also the author of several books, including Kicksology: The Hype, Science, Culture and Cool of Running Shoes. He lives in Boulder, Colorado, and loves to run, bike, hike, camp, ski and climb mountains. He has wear-tested more than 1,500 pairs of running shoes, completed four Ironman triathlons, as well as numerous marathons and ultra-distance running races.