Fastest Known Times: why are they a big deal in trail running?
The acronym FKT has been banded about a lot recently, as many elite ultrarunners have sprinted out of lockdown into FKT attempts on big routes. Here, one of them explains the appeal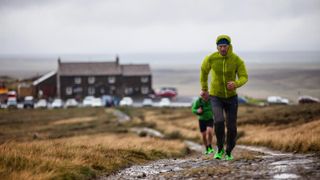 (Image credit: Damian Hall)
I ruddy love FKTs, me. In fact, I was doing them long before I realised they were a thing. Trekking or long distance walking used to be my hobby (on many of the same trails where the best of the FKT action is fought out now) and I remember learning that most people walked Wainwright's Coast-to-Coast route in 12 days. So I was determined to do it in 10.
It involved being on my feet for 12 hours a day, plenty of soreness and grumpiness, and when I achieved it, of course, no one cared. There was nowhere to register it and no social media. But I still felt satisfied. It wasn't by any means a record or a FKT, but I knew then that having some sort or completive target or deadline for a tricky bimble was exciting. I like being outdoors in lumpy places, but I like it even better if I'm pushing myself too.
I was soon doing the National Three Peaks Challenge, Yorkshire Three Peaks, Welsh 3000s – all hiking challenges with a time limit. National Three Peaks, especially, was exciting. It was touch and go at the top of Snowdon, our third and final peak, whether we'd complete it within the 24-hour time limit, and about halfway down I told my mate Bevo I wasn't coming back to do this all over again, and I started running. We both made it, but only by minutes. That was my first visceral buzz of beating the deadline.
Then, as I got more into running, I did the 'Big Three' 24-hour fell-running rounds – the Bob Graham, Charlie Ramsay and Paddy Buckley – though none at record-bothering pace, initially. I also did the under-rated South Wales Traverse, and ran around the Isle of Wight (which I think may still be an FKT). I guess I'd got the bug.
I got a bit carried away though. In 2016, I ran the 630-mile South West Cost Path in 10 days and 15 hours, which involved a whole load of Type 2 fun and very little sleep. In 2018 I ran a FKT on the remote and rugged 230-mile Cape Wrath Trail with my good friend Beth Pascall (who's just set a new record for the Bob Graham), and set a record on the Paddy Buckley Round (2019) and Paddy Buckley in Winter (2020).
Then, just recently, after years of putting it off because Mike Hartley's record of 2 days, 17 hours had stood for 31 years, I finally plucked up the courage to run the 260-mile Pennine Way, which thanks to an amazing team of pacers and road crew, was done in a faster time. I think I'm addicted to FKTs.
Why? Well, there's the competitive element – who doesn't secretly fancy themselves as some sort of mountain-man comic-book hero? Just me? Oh…
But also, these challenges almost always involve running around somewhere spectacular, so that's rewarding in itself, and a great way to get to know places while experiencing them intensely.
There's something about controlling the variables that appeals too. Unlike a race or an organised event, you can decide exactly when you do it, what time of day or year, or shift the days when the weather app brings bad news. Unlike a race, it can be just you. And that's exciting and empowering, and a little bit frightening too (in a good way).
Follow Damian Hall's adventures on Strava.
All the latest inspiration, tips and guides to help you plan your next Advnture!