Ultra runner breaks last-man-standing 'backyard' record after 108 hours and 450 miles of running
Harvey Lewis wins the 2023 Big Dog Backyard Ultra, with an amazing six runners passing the 100 hour barrier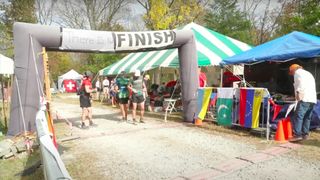 (Image credit: Big Dog Backyard)
Yesterday, American ultra runner Harvey Lewis was the last man standing – or, technically, last man running – at this year's Big Dog Backyard Ultra inn Bell Buckle, Tennessee, breaking a new Backyard record, having run for 108 hours and 450 miles over five days, reports irunfar.com.
And an amazing six runners made it past 100 hours on the final day.
If you're not familiar with backyard ultras, you might be scratching your head at those figures. Backyard ultras are a little bit different to normal endurance races. There is no specific distance to run, the runners just keep on going until only one's left.
OK, there are a few more rules than that. Competitors have to run a 4.167-mile loop every hour, and are eliminated if they fail to complete a loop in an hour. The distance of each loop is equal to 100 divided by 24, so that a competitor runs 100 miles for a full day of competition. The winner is the competitor who completes a loop that no other competitors complete. So while some people argue that ultra running is actually hiking, slowing down the pace to a leisurely amble isn't going to win you any titles in these races.
The Big Dog Backyard was the the original backyard ultra, created in 2011 by Gary "Lazarus Lake" Cantrell, but since then their popularity has grown around the globe with races in such diverse places as Bolivia, Greece and even the Falkland Islands.
This year's Big Dog Backyard started at 7am local time on Saturday 21 October, and finished on Wednesday 25 October when six runners passed the 100 hour mark. One of those was Australian Phil Gore, who had set the previous backyard record on 102 hours, back in June 2023.
Then three runners – Lewis, Ukraine's Ihor Verys and Poland's Bartosz Fudali – all broke that record, and so for the next couple of laps, there were three joint world record holders, until Lewis finally outlasted others.
All the latest inspiration, tips and guides to help you plan your next Advnture!