What is a backyard ultra? A quick guide to the quirky sport
How to run a backyard ultra and other tips for success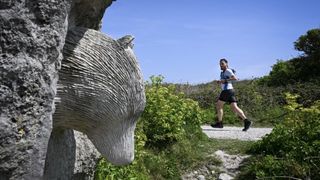 (Image credit: Getty)
Events called backyard ultras have been popping up across the UK – and worldwide – in recent years. But do you know what a backyard ultra is and are you keen to give one a try?
The backyard ultra is a type of ultramarathon or ultra-distance race. Competitors run laps of a set course of 6706m (4.167 miles) and they must finish each loop in less than an hour. The distance of each loop is equal to 100 divided by 24, so that a competitor will run 100 miles over a full day (24 hours) if they keep going.
All backyard ultras across the world follow the same rules. At the start of each hour, the runners line up again to complete the same loop. This keeps going until there is only one runner remaining. This runner is then declared the winner. The race continues for as long as is required for there to be only one runner left.
If there are no runners that can complete a final lap within the allowed hour, then there is no winner. Another part of the quirky backyard ultra is that all competitors who aren't the outright winner receive a DNF (did not finish) for their efforts.
History of the backyard ultra
It was endurance race designer Gary 'Lazarus Lake' Cantrell who came up with the idea for a backyard ultra. He is the name behind the infamous Barkley Marathons, which is renowned as one of the world's toughest running races.
The first backyard ultra, Big Dog's Backyard Ultra, took place in the grounds of Cantrell's property in Bell Buckle, Tennessee in 2011. The race, which is by invitation to competitors, is named after his dog.
Since this first backyard ultra, other races with the same format have been organised in many countries globally.
Backyard ultra rules
The rules of the backyard ultra are the same wherever the race is held. They include:
Each lap of a backyard ultra course must be a loop or an out-and-back course on the same path.
To stay in the race, runners must be in the starting box when the hourly bell sounds.
There is a warning sound that the next lap will start: three, two and one minute before the bell.
Slower runners must allow faster runners to overtake them if they is limited space on the course.
Runners are not allowed to leave the course apart from when they need to visit a bathroom.
Runners can't be supported while on the course, but they can receive assistance, such as a massage or food, between laps.
Backyard ultras: record long-distance running
There are some extraordinary records set at backyard ultras, like that set by Karel Sabbe, who won the 2020 World Backyard Challenge by running 312.5 miles over three days.
Guinness World Records lists the longest distance recorded by a backyard ultra runner as 101 laps (420.83 miles) by Belgian runners Merijn Geerts and Ivo Steyaert during the 2022 Backyard Ultra World Team Championships.
The record for a female runner was achieved by Courtney Dauwalter at Big's Backyard ultra in 2020. The American ran 68 laps.
Tips for backyard ultra success
Pace yourself
This is not a race of fast times but one that requires good pacing. To complete a lap in under an hour, the pace is just over 14 minutes per mile. But you do need to repeat this lap over and over again. This makes the race a game of both physical and mental aptitude and endurance.
Not too fast – and not too slow
As well as the the lap running, you'll also want to take advantage of a rest between laps. The rest provides recovery time for your body and mind. If you run faster, you'll have more time for recovery, but faster paced running also depletes energy levels and fatigues muscles quicker than slower running.
However, if you run too slowly, there will be less time for rest and recovery. It's important to test out your pace in training.
Make the most of the rest
The recovery time between laps should be used wisely. This is when you can sit down, put your feet up, or have a power nap. You might like to employ a massage gun or do some stretching. You should make sure you eat and hydrate adequately between laps, too.
5 UK backyard ultra events to try
Not in the US? Never fear, there are plenty of events around the world, including these four in England and Scotland:
There are many more backyard ultras worldwide – some on trails and paths and others on a track or asphalt loop – and one thing you can be sure of is they all follow the same format.
All the latest inspiration, tips and guides to help you plan your next Advnture!
Fiona Russell is a widely published adventure journalist and blogger, who is better known as Fiona Outdoors. She is based in Scotland and is an all-round outdoors enthusiast with favourite activities including trail running, mountain walking, mountain biking, road cycling, triathlon and skiing, both downhill and back country. Her target for 2021 is to finish the final nine summits in her first round of all 282 Munros, the Scottish mountains of more than 3,000ft high. Aside from being outdoors, Fiona's biggest aim is to inspire others to enjoy the great outdoors, especially through her writing. She is also rarely seen without a running skort! Find out more at Fiona Outdoors.