The best men's ski pants 2023: leg protection for skiing and boarding
Our roundup of the best men's ski pants to keep you dry and comfortable on the slopes this season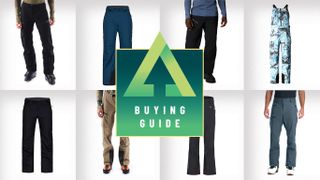 (Image credit: Future)
When it comes to having fun on the slopes, wearing the right gear – including the best men's ski pants – is key. If you don't wrap up warm enough, you'll shiver all day; if you overdo it, you'll be a sweaty mess. And it doesn't even bear thinking about what happens if the weather turns nasty and your kit isn't waterproof. Knowing how to dress for skiing is vital.
There are several things to bear in mind when choosing the best men's ski pants. One is what level of insulation you need. Generally speaking, if you're a beginner skier you'll be standing around a lot or going quite slowly, so you'll want ski pants that will keep you warm.
Advanced and expert skiers – particularly those who like to venture off-piste – will be working their bodies much harder. As such they may prefer a non-insulated pair of ski pants so they don't overheat.
Then there are pockets. The best ski jackets already have plenty of them – hand pockets, a phone pocket, a lift pass pocket and a dump pocket for gloves or hat are pretty much standard these days – but more pockets can never hurt, and being able to stash a wallet, tissues or other handy items in your ski pants can be useful.
Best waterproof ski pants
1. Rab Khroma Kinetic Waterproof Pants
Super stretchy and breathable hardshell pants with the feel of a softshell
Specifications
Waterproofing:
Proflex; HH 20,000mm
Sizes:
30in / 32in / 34in / 36in / 38in
Colors:
Army / Black / Graphene / Orion Blue
Compatibility:
Ultralight for backcountry use or spring resort skiing
Reasons to buy
+
Lightweight
+
Nice fit
+
Stretchy
+
Breathable
+
Comfortable
Rab claims its Khroma Kinetic pants offer the comfort of a softshell with the weatherproof features of a hardshell. That struck us as a little too good to be true – until we tried them out. There was none of the crinkling you get with most hardshell pants, yet when the skies opened and it started bucketing down these pants kept our legs dry through several hours of a downpour.
The Rab Khroma Kinetic Waterproofs feature the British brand's new Proflex fabric. Infused with elastane they offer more stretch than the vast majority of ski pants. With a hydrostatic head of 20,000mm they remain waterproof all day long, and the breathability rating of 25,000 g/m²/24hrs is extremely good as well. Deep side vents also allow you to quickly let out excess heat.
Two hand pockets, a right thigh pocket and a rear pocket provide plenty of storage. Meanwhile, Velcro adjustors inside the waist allow you to tailor the fit. If you need even more security there are loops for a belt and attachment points for braces. Fairly trim fitting, the Khroma Kinetics give you a neat silhouette on the slopes, but plenty of knee articulation combined with plenty of stretch makes these pants as easy to move in as a pair of joggers.
There's nothing in the way of insulation, so if you're a resort skier and it's cold you'll need thermal leggings. They're perfect for spring skiing, though. And for those who do ski touring or like to earn their turns by skinning up the mountain their flex and breathability make them a first-rate choice.
2. Artilect M-Kinetic Pant
Hi-tech all-mountain ski pants with top-of-the-line materials and quality
Specifications
Waterproofing:
High and Dry waterproof and breathable fabric, HH 30,000mm
Insulation:
Trizar Space Certified heat re-radiating technology
Sizes:
XS / S / M / L / XL / XXL
Colors:
Black / Clay & Ash
Compatibility:
All-mountain skiing
Reasons to buy
+
Exceptionally waterproof and breathable
+
Soft-feel fabric
+
Environmentally friendly
+
Superb build quality
Reasons to avoid
-
Expensive
-
Built-in belt slightly fiddly
If you're looking for the ultimate in waterproof and breathable ski pants then the Artilect M-Kinetic fits the bill perfectly. The Boulder-based company prides itself on using cutting-edge technology to create the highest levels of performance. Their "High and Dry" waterproof fabric has waterproof and breathability ratings of 30,000mm and 30,000gm/m²/24hrs respectively. Those are extraordinary numbers and should ensure you stay dry yet well ventilated through virtually any weather conditions. We found the fabric had a soft feel, very low crinkle levels, and could be worn next to the skin on warmer days.
They're environmentally friendly as well. The lining is made from 100% recycled material and they are manufactured without using any "forever" chemicals such as PFAs and PFCs. They're not insulated, but they feature something called Trizar – first developed to protect spacecraft during re-entry. This works by re-radiating body heat back to the wearer instead of letting it escape. Realistically even this space-age technology isn't going to keep you as cosy as a pair of well-insulated ski pants but we found them surprisingly warm given how lightweight they are. Deep side vents are there for when you get too warm.
Two deep thigh pockets have YKK AquaGuard zippers. The pockets sit low on your thighs, though, and any heavy items will swing around a little when you're skiing at speed. The inbuilt belt holds the pants up well, but is fiddly to connect and almost impossible with gloves on. But there's no denying the superb build quality and boundary-pushing technology on offer here. These ski pants are certainly not cheap, but they should last – and perform – for years.
3. Columbia Platinum Peak Pant
Waterproof pants for hard-charging piste skiers
Specifications
Waterproofing:
Omni-Tech; HH 10,000mm
Sizes:
S / M / L / XL / XXL
Compatibility:
All-round on- and off-piste use
Reasons to buy
+
Rugged
+
Good fit
+
Weatherproof
Reasons to avoid
-
Awkwardly placed pockets
-
Not comfortable next to the skin
-
Limited color options
Technical-looking, with a rugged build quality, Columbia's Platinum Peak pants are aimed at all-round mountain skiers. A mid-cut fit is neither too close nor too baggy, and they're easy to get in and out of. A single popper does them up and the waist is easy to adjust thanks to Velcro tabs and belt loops. On the storage front you get two thigh pockets which are deep enough for a wallet or phone. These are well down the thigh, however, and not as easy to access as hip pockets. Leg vents make heat management easy.
The Platinum Peak feature Columbia's own Omni-Tech waterproofing, which has 10,000mm waterproof and breathability ratings. The fabric has a crinkle and we didn't find it comfortable next to our skin, so we would recommend slipping on a pair of base layer leggings with these. They are robust, however, and should stand up well to being whipped against tree branches or skidding over the occasional rock. You can expect these to last you for many winters to come.
Best insulated ski pants
4. Haglöfs Gondol Insulated Pants
Warm yet lightweight ski pants perfect for on-piste action
Specifications
Waterproofing:
2-layer PROOF, HH 10,000mm
Insulation:
60g/m2 sheet insulation
Sizes:
S / M / L / XL / XXL
Colors:
True Black / Tarn Blue / Fjell Green
Compatibility:
Resort skiing and cold weather skiing
Reasons to buy
+
Warm
+
Value for money
+
Good articulation
Reasons to avoid
-
Relatively low waterproofing and breathability rating
-
Fabric not as technical as some more high-end ski pants
These insulated ski pants from Swedish mountain specialist Haglöfs are lightweight and warm. Intended mainly for on-piste skiing, but suitable for backcountry use on colder days, their sheet insulation provides warmth without being bulky. Internal snow gaiters prevent moisture sneaking into your boots, while external Velcro adjustors help dial in the fit and there are belt loops as well. Zippered side vents let you quickly dump excess heat. Front pockets are placed on the hip making them convenient for tucking hands into for extra warmth.
Articulated legs provide a good range of movement and we found the Haglöfs Gondols comfortable for all-day wear, even without a base layer underneath. A waterproof rating of 10,000mm and breathability of 10,000 g/m²/24hrs doesn't put them at the higher end of the performance envelope, however. That said, they should perform adequately for most resort skiing. High-level all-mountain skiers or those going out in truly horrendous weather may want to choose other pants.
Sustainable men's ski pants
5. The North Face Dragline Bib Trousers
Solid construction and fantastic snow protection at a reasonable price
Specifications
Waterproofing:
DryVent 3L shell
Sizes:
XS / S / M / L / XL / XXL
Colors:
Norse Blue Cole Navin Never A Face Print / Red-Cordovan
Compatibility:
All mountain
Reasons to buy
+
Good guild quality
+
Bib style keeps snow out
+
Lots of pockets
Reasons to avoid
-
Loud colors won't be for everyone
-
Some pockets only secured by Velcro
The North Face have been producing dependable, well-featured ski gear for a long time and their Dragline Bib Trousers continue this tradition, with excellent built quality and an attention to detail.
Why buy a pair of bibs? Their high front help keeps snow from getting under your jacket hem and into your mid layers. This is particularly useful if you frequently bomb through powder, where a fall can leave you covered in the white stuff. The extra coverage increases warmth as well and the suspenders ensure a fit that never slips. That said, for most resort skiers bibs are overkill and a solid pair of ski pants will do the job just as well 99% of the time.
These North Face bibs make the most of their extra material to cram in plenty of pockets. You get two zippered chest pockets that are perfect for stowing small valuables such as credit cards or car keys. Zippered hip pockets are in the right spot for phone, wallet and tissues. Meanwhile two deep thigh pockets offer storage for larger items. These are only secured by Velcro though, so don't put anything in there you absolutely cannot afford to lose.
Weatherproofing is good and neither wind nor water is likely to cut through the three-layer fabric – which is PFC free and partly made from recycled materials.
The cut is on the generous side which will appeal to freeriders and boarders. They come in a bright red color or a special edition blue created in conjunction with North Face snowboard star Cole Navin. This latter color is LOUD and will definitely make you stand out on the slopes.
Best budget ski pants
6. Wedze Men's Warm Ski Trousers
Bargain basement price but easily good enough for one-or-two-weeks-a-year skiers
Specifications
Waterproofing:
HH 8,000mm
Sizes:
S / M / L / XL / 2XL
Colors:
Black / Red / Sungold
Compatibility:
Beginner and intermediate resort skiers
Reasons to buy
+
Very well priced
+
Recycled insulation
+
Warm
Reasons to avoid
-
Comparatively low waterproof rating
-
Too hot for backcountry activity
Skiing is an expensive sport so why make it cost any more than it has to be? These men's ski pants from Wedze have a bargain basement price, but offer enough quality for anyone who isn't an advanced skier. Recycled insulation will keep you cosy down to -11ºC, according to the brand, but with a hydrostatic head of 8,000mm, these have the lowest rating of any models on test – on paper at least.
They wouldn't be the pants we'd reach for on an extended tour into the backcountry. But for resort skiers they should keep you dry through a few hours in sleet or wet snow.
All the other features you'd expect are present. Velcro tabs let you adjust the waist and there are belt loops too. You get two zippered hip pockets and one small zippered thigh pocket.
There are side vents, which have a mesh lining in case you're not wearing a base layer underneath – these ski pants are warm enough that you may not need one. Expert skiers who go fast and hard will find these pants are too warm for them. Beginners and intermediate skiers, who will be going slower and stopping more frequently will definitely appreciate the way they keep your legs cosy. And they'll be delighted with their price tag.
Best versatile ski pants
7. Arc'teryx Beta AR Pants
Bombproof build quality and weather protection in a pant that can be used year-round
Specifications
Waterproofing:
Gore-Tex Pro
Sizes:
S / M / L / XL / XXL plus short, regular and tall inseam lengths
Compatibility:
Year-round mountain use
Reasons to buy
+
Top-of-the-line materials and design
+
Unbeatable weather protection
+
Short and long inseam options
+
Versatile
Reasons to avoid
-
Expensive
-
Only one pocket
Vancouver-based outfit Arc'teryx are known for products that feature superb design, extremely high-quality build and… eye-watering price tags. The Beta AR are weatherproof all-mountain pants, and, unlike the other models tested here, they aren't intended solely for skiing. They're great for skiing, of course, but they're also geared up for a range of mountain activities from mountaineering to hiking in savage weather.
Snow gaiters go over ski or hiking boots and feature clips to secure them. Reinforced instep patches protect against damage from boots, crampons and ski edges. Meanwhile deep side vents can release excess heat.
The Beta AR are made from 80-denier Gore-Tex Pro material, which is the most rugged and durable material of all the models tested here. As long as you don't ski into the Iron Throne you're unlikely to damage them. It also means they'll protect you from the most ferocious conditions the mountains can throw at you.
Where Arc'teryx have been stingy is with provision of pockets. You get a single hip pocket and that's it. One big plus point, however, is the great range of sizes. As well as the usual Small to XXL you get short, regular and tall inseam lengths. This means people who aren't average height can get a great-fitting pair of ski pants.
They're very packable and for hiking and mountaineering they can be stuffed into a rucksack ready to be thrown on should the weather close in.
The Arc'teryx Beta AR are an expensive pair of pants, but we've been using them for skiing and year-round wet-weather mountain climbing for several years now, and they haven't once let us down.
Swipe to scroll horizontally
Best men's ski pants comparison table

| | | | | |
| --- | --- | --- | --- | --- |
| Pants | List price | Waterproofing | Insulation | Compatibility |
| Rab Khroma Kinetic Waterproof Pants | $300 (US) / £260 (UK) | Proflex; HH 20,000mm | None | Ultralight for backcountry use or spring resort skiing |
| Artilect M-Kinetic Pant | $450 (US) / £380 (UK) | High and Dry waterproof and breathable fabric, HH 30,000mm | Trizar Space Certified heat re-radiating technology | All-mountain skiing |
| Columbia Platinum Peak Pant | $200 (US) / £270 (UK) | Omni-Tech; HH 10,000mm | None | All-round on- and off-piste use |
| Haglöfs Gondol Insulated Pants | $199 (US) / £180 | 2-layer PROOF, HH 10,000mm | 60g/m2 sheet insulation | Resort skiing and cold weather skiing |
| The North Face Dragline Bib Trousers | $325 (US) / £300 (UK) | DryVent 3L shell | None | All mountain |
| Wedze Men's Warm Ski Trousers | £60 (UK) | HH 8,000mm | Synthetic | Beginner and intermediate resort skiers |
| Arc'teryx Beta AR Pants | $499 (US) / £400 (UK) | Gore-Tex Pro | None | Year-round mountain use |
How we tested the best men's ski pants
Each of the skiing pants, trousers and salopettes featured here were tested by our expert reviewer in the mountains of Scotland and the European Alps in the midst of winter, and assessed against a range of criteria including warmth, waterproofing, comfort, fit, features, build quality and price.
How to choose the best men's ski pants for you
What makes the best skiing pants for you depends on the kind of skiing, boarding or mountain activity you most often get up to. However, the following factors are always well worth considering…
1. Waterproofing
Why you can trust Advnture Our expert reviewers spend hours testing and comparing products and services so you can choose the best for you. Find out more about how we test.
All the ski pants in our buying guide are waterproof, but there are different levels of waterproofing. The best ski pants will have what's called a Hydrostatic Head rating. This is normally between 5,000mm and 30,000mm and relates to how high a column of water standing on the fabric would have to be before it would penetrate through. The higher the number the better the waterproofing. Anything above 20,000mm is high end and should keep you dry through almost anything.
Such high numbers are overkill for resort skiing, though, and anyone who sticks to the piste and doesn't go out in blizzard conditions won't need to go for the most high-end products. Some manufacturers such as Gore-Tex and The North Face's DryVent don't use this system, so it isn't the be-all-and-end-all.
2. Fit
Think about what kind of fit you want from your ski pants. Do you like a looser and more baggy feel? These give great freedom of movement but may flap around a bit at high speeds. Some people prefer a more streamlined pant. With these styles look for four-way stretch and articulated knees so the slim fit doesn't cramp your range of motion.
3. Warmth
Do men's ski pants need to be insulated? The answer used to be yes. However, in more recent times trends have changed. You can now get quality base layer leggings made in a range of comfortable, moisture-wicking materials such as Merino wool and brushed polyester. Layering can offer far more versatility than an insulated ski pant, allowing you to choose to wear them when it's freezing outside, or go without during warmer conditions. For beginners and intermediates who'll be doing more standing around, it's still worth going for an insulated pant, though.
4. Pockets
Men's ski pants have all different kinds of pocket configurations. Some have deep cargo-style pockets with enough room for a water bottle. Other more streamlined pants may only have small hip pockets with space for tissues or a ski pass. In general, look for zips rather than Velcro closings – things are much less likely to fall out of zippered pockets.
Finally, look for zip pockets with weatherproof taped seams. Very few zipped pockets are 100% waterproof, but good quality taped seams should keep out all but the very worst weather.
5. Vents
Skiing is one of those sports where you might be too cold one minute and overheating the next. Sit on a chairlift for 20 minutes in sub-zero temperatures and you'll need all the warmth your ski pants can give you. Work hard in the backcountry and you might find yourself sweating big style. The same goes for the time of day. If you're out first thing before the sun is up the ski resort will be at its coldest. By mid-afternoon the temperature might be much higher.
That's where vents come in. They can be kept closed until you're warm enough then easily zipped down to let excess heat out. They're a great way to easily manage your body temperature and we wouldn't be without them.
6. Snow gaiter/cuff reinforcement
A snow gaiter is the elastic seal most ski pants have under the cuffs. These go around your boots to create a weatherproof seal and prevent snow getting in.
Meanwhile, look for a ski pant with reinforced cuffs. Many ski pants use a more durable fabric in places where the inner edge of the ski is likely to wear the material down. Ski pants with this feature are likely to last for many more seasons than those without.
All the latest inspiration, tips and guides to help you plan your next Advnture!
Jack McKeown is a Scottish journalist, hiker, skier, runner and beach volleyball player. Having walked many of Scotland's long distance trails, last year saw him tackle his first ultramarathon. He lives in Dundee and in his spare time Jack and his golden retriever Bracken are often to be found exploring the mountains, forests, lochs and rivers of Highland Perthshire.
All the latest inspiration, tips and guides to help you plan your next Advnture!
Thank you for signing up to Advnture. You will receive a verification email shortly.
There was a problem. Please refresh the page and try again.