Camping on BLM land: why we love it and how to do it
We uncover the advantages and disadvantages of primitive camping on BLM land, and explain how to find the perfect backcountry spot to pitch your tent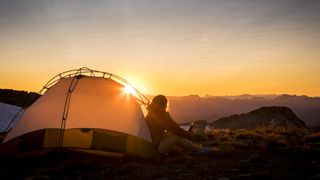 (Image credit: Getty)
Camping used to always mean getting off the beaten track, but these days with developed campgrounds, it sometimes means flushing toilets and established fire pits. If that's your jam, we get it, but if you're seeking a more rugged experience when it comes to overnight adventures in the US, look no further than camping on BLM land.
Sure, there are advantages to camping at an established campsite, from convenience to relative safety, but for many adventurers, there's nothing quite like primitive camping, where you find yourself the perfect spot in the backcountry to pitch your tent, unroll your best sleeping bag and snooze away under the stars with no one else for miles around.
In the US, we are extremely lucky to have a lot of access to free, primitive camping. In fact, the BLM manages some 245 million acres of public land including wilderness areas, historic trails and landmarks, almost all of which is up for grabs if you're looking for a spot to legally pitch your tent. The BLM, or Bureau of Land Management, was established in 1946 and exists to sustain the health, diversity, and productivity of public lands for the use and enjoyment of present and future generations.
In this article, we take a look at the advantages and disadvantages of camping on BLM land, and how to go about it.
Can I camp anywhere on BLM land?
BLM land does have developed campgrounds that you can use for a fee, however camping away from any developed recreational facilities is usually allowed as long as it doesn't interfere with other authorized activities or negatively affect local wildlife or natural resources. Any area closed to camping will have a sign announcing the closure.
The BLM refers to primitive camping as "dispersed camping" and it's more colloquially known as "boondocking."
Is camping on BLM land safe?
Because the BLM covers such a large area, it's impossible to conclusively rate its overall safety and of course, it depends how you define danger and safety to begin with. Generally speaking, when camping on BLM land though, you'll be far away from other people and traffic. This might make you safer, but of course there will be less – or nothing – in the way of support services if you have an emergency.
Additionally, in some areas, you'll be in areas that are home to wildlife like bears, mountain lions and wolves, which may pose a small risk. Such animals are likely to give you a wide berth, however. If you are camping in bear country, make sure to bring a bear canister or bear bag for your food.
How does camping on BLM land work?
Even though you can technically camp most places on BLM land that aren't being used for another purpose, you shouldn't just throw your tent or bivy sack down anywhere. There are often dispersed campsites that won't be marked, but you'll be able to tell that other people have camped here before by the usual signs of disturbance like flattened land and stone fire pits. The BLM asks that when possible, you use these existing sites rather than further disturb the land. Most of these sites will be down secondary roads.
You don't need a reservation, permit or have to pay a fee to camp on BLM land that isn't marked as off limits, however you are limited to 14 days in one area within a 28 day period. This is no problem if you're backpacking and moving through a large area on foot, but if for some reason you do decide to stay in one area for two weeks, on day 15 you'll need to move camp by 25 miles. This rule is in place to reduce the impact of humans on the land.
To find BLM land, get yourself a good map of the area which will indicate any BLM land, or use their online tool and simply input what you're looking for and where you're going.
The advantages of camping on BLM land
As far as we're concerned, there are lots of advantages to camping on BLM land that make it preferable to developed campgrounds.
It's free. As we've already stated, dispersed camping on BLM land requires no fee. So if you're a US citizen, remember that you're paying for this land through your taxes, which is all the more reason to get out and use it.
It's quiet. You'll definitely be away from the crowds on BLM land, so if you like being awakened by the birds (and not the hum of an RV), you'll love camping on BLM land.
It's untouched. The whole point of BLM land is conservation, so it will be undeveloped. There will be no bathrooms, just beautiful wilderness. That said, it's your job to ensure that continues by following the principles of leave no trace.
The disadvantages of camping on BLM land
The disadvantages of camping on BLM land largely come down to the lack of convenience that comes with paying for services.
It's often unmarked. Because the land is just public land, it's not always clear if an area is actually being used for another purpose or whether you can camp there. It's not impossible that you set up camp only to be told you have to move on, though this is rare.
You can't reserve it. The trade off for it being free is that you might show up and discover someone else is already using the area and you might find yourself driving around looking for another spot. Of course, that doesn't mean you can't camp nearby, but since you both presumably came looking for solitude, it's nice if you can move further away.
No potable water: There's probably not going to be potable water nearby, and if you're camping in the desert, there may not be any water at all. Make sure to bring your own water and read our guide to finding safe water sources in the wild.
You might not be able to have a fire. There won't be established fire pits, so you'll need to build your own practicing campfire safety, and you'll need to check local fire restrictions before you strike a match.
Camping on BLM land: the verdict
Though you do trade some conveniences like bear storage boxes and the guarantee of a reservation, camping on BLM land easily wins over developed campgrounds if you like adventuring in a true wilderness setting. If you like things a little more rugged, and a lot more peaceful, start checking out BLM land near you and you're sure to find lots of natural beauty spots where you can spend the night away from the crowds, for free.
All the latest inspiration, tips and guides to help you plan your next Advnture!
Julia Clarke is a staff writer for Advnture.com and the author of the book Restorative Yoga for Beginners. She loves to explore mountains on foot, bike, skis and belay and then recover on the the yoga mat. Julia graduated with a degree in journalism in 2004 and spent eight years working as a radio presenter in Kansas City, Vermont, Boston and New York City before discovering the joys of the Rocky Mountains. She then detoured west to Colorado and enjoyed 11 years teaching yoga in Vail before returning to her hometown of Glasgow, Scotland in 2020 to focus on family and writing.