What is a bivy sack? Ultralight minimalism for overnight adventures
What is a bivy sack? We look at the ins and outs of the ultra-light shelter that's a dream come true for minimalists in the outdoors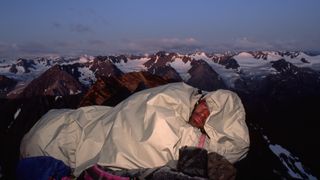 (Image credit: Galen Rowell)
As enthusiasm grows for ever longer and more challenging hikes, runs and climbs in the outdoor community, so does the desire for ever lighter and more packable gear. If you're interested in a more minimalist approach to sleeping outdoors, you may already have been shopping around for a one-person tent, but you might actually want to consider going even smaller and lighter with a bivy sack. What is a bivy sack, you ask? We take a look at this ultra-light shelter and explain why it might be just what you're looking for when it comes to sleeping in the wild.
What is a bivy sack?
A bivy sack is a small, simple and extremely lightweight sack for your best sleeping bag and is used in place of a tent. The word "bivy" is short for the French word "bivouac" which evolved to refer to a temporary camp without tents or shelter, used mostly by soldiers and mountaineers.
A basic bivy sack essentially just looks like a nylon slipcover for your sleeping bag and sleeping pad that has a waterproof layer made from a breathable fabric like Gore-Tex and a drawstring opening for your head, so you can sleep inside it instead of a tent. Some versions feature zipped armholes so you can wear them while moving around camp as well as for sleeping in.
While a bivy sack provides pretty good protection from wet weather, the head opening can allow some moisture to enter, and more recently, outdoor brands have started to manufacture bivy shelters, which provide a little more protection via a mesh panel held up by light poles that covers the head opening.
A bivy sack might be as light as six or seven ounces and pack down to impressive dimensions no bigger than your camping mug, making it very attractive to adventurers on multi-day journeys. In comparison, even a lightweight one-person tent is more likely to weigh in at a couple of pounds, and pack down something more like the size of a hardback dictionary. You can learn more about the differences between the two in our article on bivy sacks vs tents, but suffice to say, a bivy sack is generally smaller, lighter and more convenient than a tent.
What is a bivy sack used for?
In the outdoors world, bivy sacks have traditionally been mostly used by rock climbers for spending nights sleeping on narrow ledges of big walls where a tent isn't an option, or as a backup, emergency shelter for a cross country hike or bike ride where you can't always rely on Airbnb to finding lodging.
Nowadays, however, bivy sacks are becoming the shelter of choice for all kinds of lightweight solo enthusiasts like thru-hikers, fastpackers and bikepackers. Basically, anyone who is out in the backcountry and prefers a minimalist approach to things can skip the tent-pitching part of overnight camping and simply put their sleeping bag and pad inside their bivy sack and climb inside when it's time to go to sleep.
Naturally, it's almost ideal when the weather is fine, but the sack will provide protection from the rain too. In the morning it's easy to stuff it back in your backpack and hit the trail again.
Is a bivy sack warm?
Not only do bivy sacks provide wet weather protection, you may be surprised to learn that they also often keep you warmer than a tent by capitalizing on the warming capacity of your sleeping bag. The sensation is not unlike what you feel when you add a rain jacket on a cold day. So they'll keep you warm in the cold, and in warmer weather, some people choose to skip the sleeping bag and just use their bivy.
Can you suffocate in a bivy sack?
No, you won't suffocate in a bivy sack but they are confined spaces and if it's raining heavily, you might be tempted to use the drawstrings to close the head opening completely, which increases the overall sensation of claustrophobia that some campers experience in a bivy sack.
Obviously in a tent you can hang out, move around and even stash your gear, but what you sacrifice in terms of space with a bivy sack, you make up for in the convenience of being able to set up camp virtually anywhere.
Do you need a tarp with a bivy sack?
You do not need a tarp or groundsheet when using a bivy sack. Its waterproof layer means you're already protected, and the point of this bivy sack is to reduce the amount of gear you're carrying, not increase it.
That said, you might choose to carry a tarp to build a shelter to hang out and cook your meals under. Remember that you won't be able to stash your belongings inside your bivy sack, so you may want a shelter for your backpack and hiking boots.
All the latest inspiration, tips and guides to help you plan your next Advnture!
Julia Clarke is a staff writer for Advnture.com and the author of the book Restorative Yoga for Beginners. She loves to explore mountains on foot, bike, skis and belay and then recover on the the yoga mat. Julia graduated with a degree in journalism in 2004 and spent eight years working as a radio presenter in Kansas City, Vermont, Boston and New York City before discovering the joys of the Rocky Mountains. She then detoured west to Colorado and enjoyed 11 years teaching yoga in Vail before returning to her hometown of Glasgow, Scotland in 2020 to focus on family and writing.