Desert camping: a guide to a successful camp in arid climes
Our 8 tips for desert camping help you safely enjoy the desert's incredible natural beauty, unusual wildlife and plants and unique adventures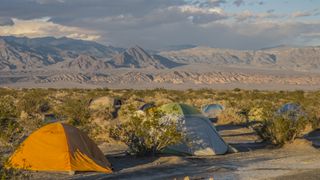 (Image credit: Matthew H Irvin)
For many of us, the quintessential camping experience is set on the shore of an idyllic lake surrounded by an evergreen pine forest with granite peaks in the distance, an enjoyable adventure that entails only a moderate amount of survival skills and gear. But for outdoor enthusiasts, many must-see iconic landmarks may require pitching a tent in the desert – Death Valley, Arches National Park (check out our guide to the best hikes in Moab, Utah) and the Grand Canyon are just a few of those places.
Though it might conjure up cartoonish images of vast, featureless, sun-bleached clay where no plant or animal can survive, the desert actually offers incredible natural beauty, unusual wildlife and plants, unique activities like slot canyoneering and some of the most jaw-dropping geological phenomena you will ever see. In addition, the arid climate can actually be a welcome change if you're used to wet weather conditions. Though it's a bit more rigorous, desert camping is absolutely possible, and can be very fun, but it's a different beast altogether from forest camping and requires some specific preparation.
Whether you're a seasoned camper, or just learning the basics of how to plan a camping trip, there are some important health and safety measures that you will need to take in order to have a successful – and fun – desert camping trip.
1. Know when to go
Summer is obviously the most popular time for camping, but the most uncomfortable and dangerous for desert camping. Though it's certainly a much quieter time to camp in the desert, you'd need to be prepared for highs in the 100s and spending a lot of time hiding in the shade.
The most pleasant times for desert camping are definitely in the spring and fall, where temperatures tend to be comfortably in the 70s during the day, and not yet down to freezing at night. However, this is also the busiest time for desert camping so if you're looking for solitude, you'll have to get somewhere really remote.
Winter is the quietest time for desert camping and you'll probably have your pick of campsites. The days can still be quite pleasant with highs in the 50s and 60s, but you might be looking at subzero nights.
2. Drink plenty of water
Needless to say, having access to water is crucial when it comes to desert camping. A desert is defined as an area of land that receives no more than 10 inches of precipitation in a year, where the evaporation generally exceeds annual rainfall. It's by definition an arid climate where you're more prone to dehydration, and not often home to large bodies of water, so you want to make sure you have a good water source.
One easy way around this is to reserve a spot in a developed campground that has water available, but if you're planning on wild camping, you'll need to make sure you carry a lot of water in with you, and bring a water filtration system in case you need to stock up from natural sources. Experts recommend drinking a gallon of water a day in the desert to avoid dehydration. The more physical activity you have planned, the more water you should bring, and drink. If you are planning on doing lots of physical activities like hiking or biking, bring a hydration pack and electrolyte tablets to replace lost minerals and help you retain water.
3. Pack for extreme heat – and cold
Most of us think of the desert as a hot place, but it's actually often a land of extremes. In Moab, Utah for example, the daily highs in October can be in the 70s and very pleasant, but at night temperatures can drop down close to freezing. The sandy ground of the desert doesn't absorb heat very well, instead sending the energy from the sun back out and super heating the air just above the ground, which is why it gets so hot during the day. The reason it gets so cold at night is down to the lack of humidity; water retains heat well so it traps heat close to the ground in humid environments, but without it the heat quickly dissipates once the sun sets.
All of this means you'll want to bring clothes – and a tent and sleeping bag – meant to protect you against both extreme heat and cold. When it comes to clothing, moisture wicking material is a good bet. As we explained in our article on moisture wicking material, it helps speed up your body's natural cooling process while you're hiking during the day, and dries you off faster at night once temperatures drop.
It's hard to know how to dress, but the best bet is to bring several light layers, including a sleeveless top for during the day and a long sleeved top like a base layer that can go over it to provide sun protection and keep the chill off. No matter how hot it will be during the day, bring a down jacket or fleece that you can pull on over the whole lot at night, and a warm hat like a beanie.
If you like to hike in shorts, also bring a light pair of your best hiking pants and long underwear for the evening hours, but the most versatile option is zip-off pants that can become shorts when it's hot.
In addition to clothing, you'll want to have a three-season tent and sleeping bag since you might be moving through several seasons in one 24-hour period.
4. Beware of flooding
We know we've talked a lot about how dry it is in the desert, but believe it or not, drowning is actually the leading cause of death in the desert. It's a myth that deserts receive no rainfall, and when it comes, even a little rain can cause a life-threatening flash flood due to the low saturation rate of the soil.
The most important thing to know is where to pitch your tent to stay safe. Naturally, if you can find an area that offers shade, such as in a canyon or near a large rock formation, you're going to go for it. An area to avoid, however, is the dry bed of a desert stream running through a canyon. These can seem ideal as they're flat and might offer shade, but they're also the first place to fill up with water if it rains.
5. Carry sun protection
Shade is in low supply and high demand in the desert thanks to sparsity of cloud coverage combined with arid conditions which make it difficult for many trees to grow. Ideally, bring a tarp or other pop-up structure that provides good shade from the sun, especially if you're hanging out at camp in the middle of the day. The inside of your tent can be a dangerous place in extreme heat as it magnifies the effect, so don't plan on that as an option. You should also bring a good sunhat and sunglasses to protect you on your hikes.
6. Know the signs of heatstroke
According to the CDC, an average of 658 people succumb to extreme heat each year in the US. Heatstroke and heat-related illnesses are a real concern in the desert, especially if you're exerting yourself with hiking and biking and you'll want to know the signs of heatstroke.
Heatstroke is caused by your body overheating, usually as a result of prolonged exposure to or physical exertion in high temperatures, and it requires immediate medical attention or you risk complications and even death. Signs of heat stroke include high body temperature, confusion, alteration in sweating, nausea and vomiting, rapid breathing, racing heart rate and headache. If you think a person may be experiencing heatstroke, seek immediate medical help.
Ultimately, the best way to treat heatstroke is to avoid it in the first place. Practice prevention by seeking shade in the middle of the day, staying well hydrated and getting out on the hiking trails early in the morning or in the evening if the forecast is for high temps.
7. Protect yourself against venomous critters
Though it's rare to see a rattlesnake or a scorpion out in the wild, the desert is home to such critters and you should assume they are nearby and practice precautions to stay safe – the bites are rarely deadly but they will certainly ruin your trip. The main thing you can do is stay alert during the day and shake out your clothes before dressing and your sleeping bag before climbing in. Even if it's warm at night, sleep with your tent zipped up to avoid any unwelcome intruders.
8. Travel in a reliable car
The final piece of advice if you're travelling into the desert is to do so in a reliable vehicle – it's one of the more dangerous places to break down. That means making sure you're up to date with servicing and oil changes and if you're planning on traversing rough terrain, do it in a high clearance vehicle with four-wheel drive.
All the latest inspiration, tips and guides to help you plan your next Advnture!
Julia Clarke is a staff writer for Advnture.com and the author of the book Restorative Yoga for Beginners. She loves to explore mountains on foot, bike, skis and belay and then recover on the the yoga mat. Julia graduated with a degree in journalism in 2004 and spent eight years working as a radio presenter in Kansas City, Vermont, Boston and New York City before discovering the joys of the Rocky Mountains. She then detoured west to Colorado and enjoyed 11 years teaching yoga in Vail before returning to her hometown of Glasgow, Scotland in 2020 to focus on family and writing.