How to use a bear canister – keep your food safe from bears and critters at camp
By Julia Clarke
Going camping in bear country? Storing your food in a bear canister will ensure you don't attract unwanted guests or end up hungry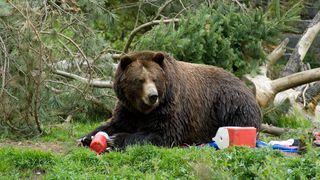 (Image credit: roundtree)
Camping safely in bear country means staying alert at all times, but it doesn't need to be a major cause for concern if you keep your food secure with a bear canister. Though a bear wandering into your campsite in the middle of the night might sound like a terrifying prospect, chances are they'll give you as wide a berth as you give them so long as you don't unintentionally tempt them over with the promise of tasty snacks. 
Bears are opportunistic foragers. In their natural habitat, they're happy to subsist on plants, berries, small animals and fish, but in more urban areas, they're known for digging through the trash and even breaking into homes for a good rummage through the freezer. Once they get a taste for human food, they also get more aggressive in their pursuit of it. Basically, they will eat anything and that includes your carefully planned camping menu as well as any smelly toiletries you brought along like toothpaste and deodorant. Needless to say this isn't good for anyone involved – the bear ends up with a belly ache and you wind up hungry.
When preparing for overnights in bear country, in addition to checking out the best sleeping bags and best camping stoves for your trip, you'll want to read our articles on how to use bear spray and what to do if you meet a bear, and look into obtaining a bear canister to keep your food odor-free and out of reach. 
 What is a bear canister? 
The traditional method of hiding your food from bears at camp is by putting it in a nylon bag and tying it up in a tree. A better method, and one that also takes care of the scent that entices the bears in the first place, is to get a bear canister.
A bear canister is a portable, hard-walled food locker that locks and secures food and other scented items like trash and toiletries from bears and other animals. Though they are certainly heavier and take up more space than a nylon bag, they hold 3-5 days worth of food and toiletries, can cleverly double as a small stool and they're certainly worth their weight in peace of mind.
 Do you really need to use a bear canister? 
In a word: yes. Although bears are unlikely to launch an unprovoked attack, welcoming them into your campsite with the tantalizing aroma of your sausages and granola bars will increase the likelihood of an unwanted interaction, and even leave you out in the wilderness with nothing to eat.
Bears have a phenomenal knack for sniffing out food at a long distance and as they become more accustomed to the presence of humans, they grow bolder when it comes to entering tents and more relentless when it comes to getting food out of a tree or a trash can. Further, many major national parks now require a proper bear canister in order to camp because bears have become so adept at getting into bags.
 How to use a bear canister 
As a general rule, if it has a scent, it should go in the bear canister. That includes items like your chapstick, bug spray and sunscreen.
If you're hiking in, pack the bear canister in the center of your pack above your sleeping bag.
Keep your bear canister closed and locked at all times, even when you are nearby.
Store your bear canister on the ground, hidden among brush or rocks, at least 100 feet downwind from your tent - but not near someone else's tent.
Do not store your bear canister near a cliff edge, water source, or anywhere a bear might roll it away.
Do not attach anything to your bear canister like ropes or carabiners that might allow a bear to carry it away in its teeth.
Julia Clarke is an author, mountain enthusiast and yoga teacher who loves heading uphill on foot, ski, bike and belay. She recently returned to her hometown of Glasgow, Scotland after 20 years living in the USA, 11 of which were spent in the rocky mountains of Vail, Colorado where she owned a boutique yoga studio and explored the west's famous peaks and rivers. She is a champion for enjoying the outdoors sustainably as well as maintaining balance through rest and meditation, which she explores in her book Restorative Yoga for Beginners, a beginner's path to healing with deep relaxation. She enjoys writing about the outdoors, yoga, wellness and travel. In her previous lives, she has also been a radio presenter, music promoter, university teacher and winemaker.
All the latest inspiration, tips and guides to help you plan your next Advnture!
Thank you for signing up to Advnture. You will receive a verification email shortly.
There was a problem. Please refresh the page and try again.