Supported
The best walks in the Lake District: from Scafell Pike to Cat Bells and beyond
Our selection of the best walks in the Lake District, the UNESCO World Heritage–listed landscape that inspired Wordsworth and Wainwright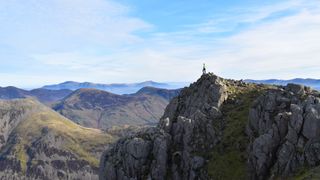 (Image credit: James Forrest)
The best walks in the Lake District transport you into a hillwalking paradise, blessed with a myriad of breathtaking hikes. From towering summits like Scafell Pike, Helvellyn and Blencathra to dinky but delightful fells such as Latrigg, Cat Bells and Helm Crag, there is something for everyone in the Lake District – whether you're a super-fit mountain aficionado hoping to bag all 214 'Wainwright' fells in Lakeland or a total beginner intrigued by countryside walks.
The national park, which was named a UNESCO World Heritage Site in 2017, attracts millions of visitors every year, lured by the idyllic scenery and spectacular walks – and it's easy to see why. The Lake District is where William Wordsworth 'wandered lonely as a cloud' amongst the dancing daffodils; it's where Beatrix Potter was inspired to write about Peter Rabbit and his friends; and it's the landscape where guidebook writer Alfred Wainwright discovered 'an inspired and inspiring vision of loveliness...lakes and mountains arranged to perfection'.
What can you expect from a walk in the Lakes? The terrain can be rough, uneven and steep, so be prepared for a challenging hike, and (of course) the weather can be rather wet and wild. But, if you're lucky enough to get a sunny day, you'll be treated to a heavenly landscape. Think wobbly dry stonewalls, cute-faced Herdwick sheep, sweeping mountain ridges, jaw-dropping cliffs and crags, towering peaks, tumbling streams and glistening lakes. It truly is a magical place – and to help you discover its wonders, here's our list of eight of the best walks in the Lake District.
Advnture's 8 best walks in the Lake District
1. Scafell Pike
A wonderful walk to England's highest peak, along an exciting and less-rambled route
Distance: 14km (8¾ miles)
Ascent: 1,100m (3,609ft)
Start/finish: Seathwaite
Scafell Pike is England's highest, and perhaps most iconic, mountain. But standing atop its towering 978m (3209ft) summit is not simply about bagging the country's loftiest peak. Scafell Pike is also the nation's greatest war memorial; a place of beauty and grandeur to pay tribute to fallen heroes. In 1919, the mountain was bequeathed to the nation in 'perpetual memory of the men… who fell for God and King, for freedom, peace and right in the Great War'. So, when you're hiking this glorious route up Scafell Pike from Borrowdale, spend a quiet moment to think of those men.
Scafell Pike is commonly climbed from Wasdale, but the tourist route is busy and rather boring. Instead this option is an exciting (and challenging) way to reach the roof of England. Starting in the hamlet of Seathwaite (the wettest place in England), this walk climbs gently to Styhead Tarn before picking up the Corridor Route – a traversing path over rocky, rugged terrain – to Lingmell Col. Next comes a steep climb to Scafell Pike's summit, before looping back to the start via Esk Hause and Grains Gill. It's a truly intrepid outing.
2. Latrigg
Distance: 10km (6 miles)
Ascent: 450m (1467ft)
Start/finish: Keswick
Arguably the Lakes' loveliest short outing, this circular walk takes you to the top of iconic Latrigg
This might just be the best short walk in the Lake District. Climbing Latrigg from Keswick is a classic outing that can be fitted into just a few hours – a walk so good it's almost become a rite of passage for lovers of Lakeland. At only 368m (1,207ft), Latrigg is a small fell, but it offers big views – particularly from a perfectly positioned bench half way up the ascent. The panoramas down to Keswick, over the north-western fells, and across Derwentwater are simply mesmerising.
Our chosen route starts in Keswick and takes the Cumbria Way path northeast before turning south to climb Latrigg. It's a family-friendly ascent on good, well-maintained paths. Rather than descending the same way, we suggest a circular by returning via Brundhulme Wood and the Keswick to Threlkeld Railway Trail. The latter was severely damaged by flooding during Storm Desmond in 2015, but finally reopened fully in December 2020 after a £7.9 million renovation project to rebuild three bridges, install new tunnels, and resurface the track.
3. Helm Crag
A hike through an enchanting and enigmatic landscape to the Howitzer – an optional scrambling challenge that will separate the lions from the lambs
Distance: 13km (8 miles)
Ascent: 750m (2,461ft)
Start/finish: Grasmere
Rising gently over picturesque Grasmere, Helm Crag initially appears dumpy and unremarkable – and then you spot its knobbly, gnarled summit. Alfred Wainwright labelled the summit of Helm Crag as one of the very best in Lakeland – a 'rather weird and fantastic place' blessed with a 'remarkable array of rocks'. This walk explores all of these rocky wonders. After a delightful ascent from Grasmere, you encounter The Lion and The Lamb, a dramatic rocky outcrop on the south-eastern end of the ridge, which, well, resembles a lion and a lamb (from the valley). But this isn't the true summit. Beyond lies The Howitzer, a fear-inducing slab of angled rock that can only be gained with some skilled scrambling. Intrepid and confident souls might give the nerve-jangling scramble a go (extreme caution advised), but don't worry if you don't fancy it – Alfred Wainwright famously wimped out of it. Once the drama of Helm Crag's summit is over, this route ticks off two more Wainwrights – Gibson Knott and Calf Crag – before returning to Grasmere via the delightful Far Easedale valley.
4. Cat Bells
A classic Lakeland day outing, starting with a boat ride across Derwentwater before a hike to the top of Cat Bells and peek at Peter Rabbit's scrumping ground
Distance: 12km (7.5 miles)
Ascent: 550m (1,804ft)
Start/Finish: Keswick
A firm family favourite, Cat Bells is a classic Lakeland outing for young, old and everyone in between. Sweeping aesthetically above Derwentwater with a distinctive profile, it is a little fell with big features: a taste of scrambling, a domed summit and mind-boggling views of the Borrowdale valley. It does have downsides – it's super-popular and often over-crowded. But who cares when the views are this good? Our suggested route is something a bit different. Start in Keswick and enjoy a ride on the Keswick Launch boat, a brilliant way to enjoy the beauty of Derwentwater. Hop off at Low Brandelhow jetty and begin your walk back to Keswick. The route explores the majestic western lakeshore before a stiff climb up Cat Bells. Next comes a descent of the mountain's northern ridge towards Portinscale and a loop east back to Keswick. For a coffee and cake – and to explore the walled gardens, which Beatrix Potter credited as her original inspiration for Mr McGregor's garden in The Tale of Peter Rabbit – The Lingholme Kitchen is a brilliant stop-off along the way.
5. Wansfell
Putting the amble into Ambleside, this half-day walk with wonderful Windermere views goes via Baystones, Troutbeck and Skelghyll Wood
Distance: 12.5km (7¾ miles)
Ascent: 700m (2,297ft)
Start/finish: Ambleside
Climbing Wansfell from the bustling town of Ambleside is undoubtedly a popular outing. But too many tourists do it the wrong way, trudging uphill to Wansfell Pike – which isn't actually the true summit – before boringly heading down the same way they came up. This route is far more authentic and appealing, visiting the Wainwright-approved summit – known as Baystones – before completing a circular loop via Troutbeck and Skelghyll Wood. It's probably the best half-day walk you can start in Ambleside. The unquestionable highlight is the view across Lake Windermere, which stretches sumptuously into the distance.
6. Mosedale Horseshoe
Possibly the Lake District's finest horseshoe hike, this rugged ramble takes in a handful of Wainwrights
Distance: 17km (10½ miles)
Ascent: 1,450m (4,757ft)
Start/finish: Wasdale Head
There is fierce competition for the title of 'best horseshoe walk' in the Lake District. Some favour the undulating splendour of the Kentmere Horseshoe, others prefer the mountain drama of the Newlands Round, or Coledale Horseshoe. But, perhaps, the greatest of all these high-level, circular ridge walks is the Mosedale Horseshoe. Starting at Wasdale Head, under the shadow of Scafell Pike, this route loops the remote, bowl-like valley of Mosedale via a series of iconic peaks. The walk ticks off five Wainwrights – Pillar, Scoat Fell, Steeple, Red Pike and Yewbarrow – and serves up stunning views of others including the Scafell Massif and Great Gable. It's a rough and rugged hike, with steep ascents and a touch of scrambling. It's not for the faint-hearted, but the ample rewards are well within the grasp of the average hillwalking enthusiast. It is a classic Lakeland mountain walk with steep and rocky ground, boulder fields and sections of scrambling on Yewbarrow, but generally follows good paths and hill lines.
7. Coledale Round
A bigger round for peak-bagging enthusiasts, this cracking circular route ticks off eight Wainwrights and takes in some of the best vistas in the Lakes
Distance: 18km (11 miles)
Ascent: 1,500m (4,921ft)
Start/finish: Braithwaite
The Coledale Round, or Coledale Horseshoe if you prefer, is a high-level, summit-bagging loop of Coledale Beck. It is one of the finest walks in the north-western fells – and an efficient outing for anyone ticking off the Wainwrights. There are many versions of the round: extremely energetic hikers opt for up to 10 summits, but here we exclude Grasmoor and Wandope to complete a more than adequate eight Wainwrights in a single walk. Starting with an ascent of Grisedale Pike's shapely eastern ridge, you are greeted with panoramic views over Keswick, northern leviathan Skiddaw and ahead to the dark, brooding cliffs of Hobcarton Crag, plunging dramatically into a secret, craggy amphitheatre. And the delights keep coming. Hopegill Head has grandstand views of the Vale of Lorton; the lumpy-bumpy ridge from Scar Crags to Causey Pike's knobbly summit is airy and delightful; and the grassy humps of Outerside and Barrow feel like two freebies for your Wainwright box-ticking. If you're looking for a circular hike, this is undoubtedly one of the best walks in the Lake District.
8. Low Fell
A family friendly fell walk, offering big views for a relatively short walk and easy climb
Distance: 7.5km (4½ miles)
Ascent: 400m (1,312ft)
Start/finish: Thackthwaite
Low Fell serves up a view of "classical beauty", as Alfred Wainwright put it. Crummock Water stretches out majestically into the distance, framed by Mellbreak's sweeping ridgeline and Grasmoor's looming bulk, while on the horizon Great Gable and Haystacks tower over Buttermere. It's a small, easy fell that can be climbed in a matter of hours on easy, grassy paths – but it feels like you're rewarded with panoramas from the loftiest of all peaks. The bang for your buck with Low Fell is phenomenal. For families, beginners and older walkers, it's a top-notch choice. As Wainwright explained: "The lesser heights and foothills of Lakeland, especially those on the fringe, are too much neglected in favour of the greater mountains, yet many of these unsought and unfashionable little hills are completely charming. In this category is Low Fell." This route, starting in Thackthwaite and taking in Fellbarrow too, crescendoes with the Low Fell summit – a stunning short walk.
If you're new to Komoot use our Advnture voucher code to get an offline region map bundle for free. Head to www.komoot.com/g and enter the code ADVNTURE. Valid until December 31, 2021.
All the latest inspiration, tips and guides to help you plan your next Advnture!
James is passionate about hill-walking, wild camping and peak-bagging, and describes himself as a 'self-taught adventurer' – which is a polite way of saying he gets lost a lot (he once walked for two days in the wrong direction on the GR20 hike in Corsica). The first part of his three-year mission to climb 1,001 mountains across the UK and Ireland (including all 446 'Nuttalls' in England and Wales, the 273 Irish 'Vandeleur-Lynams', and Scotland's 282 'Munros') is recounted in the book Mountain Man: 446 Mountains. Six Months. One Record-Breaking Adventure.