Cross country ski poles: choosing the right pair
Choosing the right cross country ski poles is critical to your technique, so we explain how to choose the right length and other features like grip, weight, swing and basket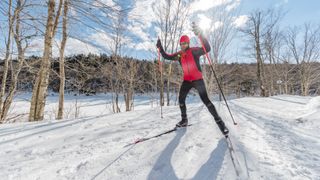 (Image credit: Maridav)
Getting kitted out for cross country skiing sometimes seems like it's more work than the skiing itself – and cross country skiing is a lot of work. After all, you have to figure out what length of cross country skis you need, choose the right pair of bindings and then make sure your boots are compatible with them. Once you've done all that, you need to make sure that you have chosen the best pair of cross country ski poles to complete your kit.
Whereas in alpine skiing, you can just grab any old pair of ski poles that's been gathering dust in your garage, adjust them to the right length and hit the slopes, choosing cross country ski poles require a bit more precision. In cross country skiing, you use your poles to help propel you forward, so they're critical to your experience. It's vital that you choose the right length and weight for starters, then there are other factors to consider like how efficiently you can swing the poles forward and what type of grip and straps they have.
In this article, we break down how to size cross country ski poles and how to choose the best type for your purposes.
How to size cross country ski poles
Cross country ski poles usually come in set sizes, measured in centimeters, though there are some adjustable cross country ski poles out there. Set sized cross country ski poles typically come in increments of five centimetres, so for perspective, at worst, a pair of cross country ski poles will only be 2.5 centimetres off your ideal length.
Cross country ski poles should be significantly longer than alpine ski poles and the type of cross country skiing you're doing determines the length you want:
Classic: shoulder height, or your height in centimeters x 0.83
Skate: nose height, or your height in centimeters x 0.89
Touring: chest height, or your height in centimeters x 0.78
If you're in between sizes, size up rather than down.
The argument for adjustable cross country ski poles is definitely there if you plan to use one set of poles for different types of cross country skiing. Otherwise, while they can obviously be adapted to the exact length that you need, there's always the danger that if you don't tighten them properly – or they're faulty – then they'll retract as you plant them, which is annoying.
Cross country ski poles: shaft materials
Cross country ski pole shafts are usually made using aluminium, carbon, or composite material using carbon and other materials.
Aluminium poles will be the cheapest and usually the simplest design with loop straps and the heaviest weight. Poles made using composite materials will range in weight according to how much carbon is used and they generally have more features, like better grips and harness straps. These will be priced more in the mid-range. Carbon poles are the lightest, stiffest and preferred by competitive and advanced skiers. These are the most expensive and also slightly more fragile.
If you're just getting started with cross country skiing or doing it more casually, you will be more than happy with either aluminium or composite poles while advanced or competitive skiers will opt for a lighter pole.
Cross country ski poles: straps
Alpine ski poles have simple loop straps that go around your list and you can find cross country ski poles with these straps too, usually aluminium poles. However, if you're looking at composite poles, you might consider ones with harness straps which hold the pole closer to your hand ensuring more comfort and control. Some poles come with quick-release harness straps which detach from the pole and are a nice convenience that allows you to stop and drink water or fiddle with gear without removing your gloves, which you might do more of if you're skiing in the backcountry.
Cross country ski poles: swing
The way that you use cross country ski poles means that you have to be able to easily swing them forward in front of you after you've pushed them back to move yourself forward. You would think that as long as they're the right length, you're good to go, but small details can affect swing, sometimes referred to as pendulum.
Some poles are designed with more weight at the top, which improves the swing, but that doesn't mean you just want to look for heavier poles. In fact, you can basically count on lightweight, more expensive poles having the best swing. When you're shopping around, simply look for references to the swing or pendulum of the pole.
Cross country ski poles: grip
The grip on cross country ski poles is typically made using either rubber or cork. Cork is lighter while rubber is more durable and offers a bit more grip. This choice mostly comes down to personal preference.
Cross country ski poles: basket
Finally, there's the basket, which is the little disc towards the bottom of your ski pole that prevents the tip from just sinking into the snow and helps keep you upright. If you're classic cross country skiing on hard packed or groomed snow like a track, you can go with a small basket, but if you plan to head out into ungroomed snow, make sure you get a larger basket.
All the latest inspiration, tips and guides to help you plan your next Advnture!
Julia Clarke is a staff writer for Advnture.com and the author of the book Restorative Yoga for Beginners. She loves to explore mountains on foot, bike, skis and belay and then recover on the the yoga mat. Julia graduated with a degree in journalism in 2004 and spent eight years working as a radio presenter in Kansas City, Vermont, Boston and New York City before discovering the joys of the Rocky Mountains. She then detoured west to Colorado and enjoyed 11 years teaching yoga in Vail before returning to her hometown of Glasgow, Scotland in 2020 to focus on family and writing.