Cross country skiing techniques for all types of terrain and snow
Knowing the different cross country skiing techniques can help you navigate varied terrain and ensure you enjoy all the amazing benefits of cross country skiing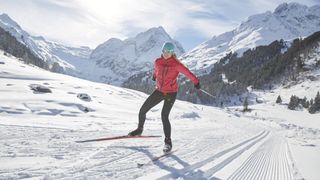 (Image credit: Westend61)
Knowing the different cross country skiing techniques can help you navigate varied terrain and ensure you enjoy all the amazing benefits of cross country skiing.
When you're just getting started with cross country skiing, you might be wondering why you seem to be shuffling awkwardly through the snow instead of gracefully gliding across it like other skiers. The difference might be down to experience level of course, but it's helpful to know that there are various methods you can employ according to different circumstances.
Basically, cross country skiing techniques vary according to what kind of snow and terrain you are skiing on. Like other types of skiing, cross country skiing techniques start out simple and become more complex, allowing you freedom to improve as you gain skills and confidence. In this article, we take a look at some of the most common cross country skiing techniques, and when you might use them.
Cross country skiing techniques
There are two basic cross country skiing techniques that are used for forward locomotion on different types of snow – these are known as the classic technique and skate skiing – while turning techniques are used for descents.
Classic technique
The classic cross country skiing technique involves using wax or a texture on the bottom of the ski to allow you to slide one ski forward, then the other. This technique is used on untouched or tracked snow. The Classic is ideal for beginners and can entail a variety of sub-techniques to incorporate the use of poles or navigate different types of terrain:
Diagonal stride: in this technique, the skier plants the pole on the opposite side to the forward-moving ski. So if you are sliding your right ski forward, you would simultaneously be pushing off with the pole in your left hand.
Kick-double-pole: this technique is required on a gentle slope when great use of arms is required. Here, you plant both poles simultaneously with every other stride to propel yourself forward.
Herringbone: on moderate uphill terrain, you can turn your skis outward and essentially step up the hill without sliding backwards.
Side step: on steeper uphill terrain, instead of attacking the slope head-on you can turn sideways so that your skis are perpendicular to the hill and step up with your uphill ski, followed by your downhill ski. You can also apply this to steep downhills.
Skate skiing
The skate skiing technique is employed on a smooth, firm snow surface like a skate skiing track and looks a lot like ice skating with skis on. Your skis will be pointed outwards and you push off one ski and then the other to propel yourself forward at high speed, often with a double pole plant every stride or every other stride. To go uphill in this technique, you widen the "V" of your skis, take shorter and more frequent strides and use your poles more forcefully.
Turns
Though not as commonly used in cross country skiing as in alpine skiing, turns are employed when going downhill or for braking. There are two common turns used in cross country skiing:
The snowplough, also known as "the wedge turn" or "pizza wedge" is the most basic way of stopping and the first method taught to beginners, however it remains useful at all levels on steep descents. Here, you simply bring the front ends of your skis together to come to a stop or slowly turn.
The stem christie was developed by Austrian Hannes Schneider and basically involves turning one ski outward in the direction you want to move in, then following it with the other ski until the two skis are parallel.
If you're interested in extending your outdoor season through the winter, take a look at our roundup of different winter sports you can try this cold season.
All the latest inspiration, tips and guides to help you plan your next Advnture!
Julia Clarke is a staff writer for Advnture.com and the author of the book Restorative Yoga for Beginners. She loves to explore mountains on foot, bike, skis and belay and then recover on the the yoga mat. Julia graduated with a degree in journalism in 2004 and spent eight years working as a radio presenter in Kansas City, Vermont, Boston and New York City before discovering the joys of the Rocky Mountains. She then detoured west to Colorado and enjoyed 11 years teaching yoga in Vail before returning to her hometown of Glasgow, Scotland in 2020 to focus on family and writing.