Why do your fingers swell when you go hiking?
Why do your fingers swell when you go hiking? We look at five common causes and provide some easy solutions to keep your fingers from turning into sausages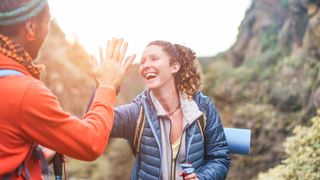 (Image credit: DisobeyArt)
When you start hiking, it can be alarming to pull your best hiking gloves off only to discover that your fingers and thumbs have been replaced by ten fat sausages, and even downright uncomfortable if you happen to go hiking wearing a wedding ring. So why do your fingers swell when you go hiking? And is there anything you can do to prevent it?
Why do your fingers swell when you go hiking?
Though swollen fingers from hiking – and often other forms of exercise too – is very common, medical experts at the Mayo Clinic aren't totally sure why it happens. However, the general consensus seems to be that it is normal fluid buildup that is exaggerated by one or more of the following five factors:
1. Vasodilation
When you go hiking, your cardiovascular system will increase blood flow to the parts of your body where you most need oxygen – your heart, lungs and legs. Meanwhile, blood flow decreases to other areas that aren't working hard, like your hands, which means they cool off. In order to keep your hands from cooling off too much, your body opens the blood vessels in your hands wider to allow more blood in, called vasodilation, which may cause swelling.
2. Thermoregulation
The next possibility is simply that as you hike, and warm up, your body will work to cool you down to maintain internal homeostasis (consistent body temperature). In addition to sweating, this involves pushing the blood vessels of your muscles closer to the surface, and this could also lead to swelling of your hands.
3. Gravity
Your hands aren't typically doing a whole lot when you're hiking; rather they're just swinging gently by your sides. Thanks to the downward flow of gravity, this means that your heart has to work a bit harder to get that blood out of your hands and back to your heart, which can cause some fluid build up to occur.
4. Inactivated hand muscles
The effect of gravity can be magnified by the fact that muscle contractions help to return blood to your heart, and while your legs are doing lots of muscle contractions, your hands are often relaxed on a hike, allowing fluid to pool in your fingers.
5. Your backpack
Finally, according to Science Daily, your backpack might be to blame. They found that even a backpack weighing only 10% of your body weight can obstruct blood flow to your arms and hands. Poor circulation can cause pooling of fluid, known as edema, and lead to swollen hands in hikers wearing heavy packs fitted improperly.
What can you do to prevent your fingers from swelling on a hike?
First off, a little swelling in your fingers during a hike is normal and not usually something to worry about. It should dissipate quickly after your hike. If, however, you're finding it uncomfortable, there are a few things you can do to help:
Take your rings off before you leave the house to help circulation.
Use trekking poles so that your arms are working as well as your legs.
Stop and swing your arms in gentle forward and backward circles every so often.
Periodically flex your hand muscles by squeezing your hands into fists and stretching your fingers while you hike to encourage circulation.
Read our article on how to adjust a backpack to make sure you're carrying the weight on your hips, not your shoulders.
All the latest inspiration, tips and guides to help you plan your next Advnture!
Julia Clarke is a staff writer for Advnture.com and the author of the book Restorative Yoga for Beginners. She loves to explore mountains on foot, bike, skis and belay and then recover on the the yoga mat. Julia graduated with a degree in journalism in 2004 and spent eight years working as a radio presenter in Kansas City, Vermont, Boston and New York City before discovering the joys of the Rocky Mountains. She then detoured west to Colorado and enjoyed 11 years teaching yoga in Vail before returning to her hometown of Glasgow, Scotland in 2020 to focus on family and writing.