Friday 5: champion triathlete Helen Jenkins
The two-time triathlon World Champion is next in our weekly series of questions and answers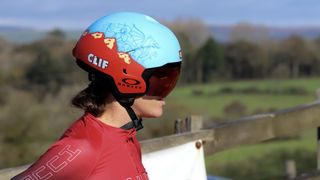 (Image credit: Ryan Sosna-Bowd)
Helen Jenkins is one of Britain's most celebrated and successful triathletes. She has competed at three different Olympic Games and achieved more ITU World Triathlon Series podium finishes than any other British woman. She has won the ITU world title twice. 
Helen, who has two children with husband and fellow British Triathlon Olympian and coach Marc Jenkins, achieved what was the highest performance ever by a British woman at an Olympic Games at London 2012. She was fifth. 
She is 36 and lives in Bridgend, Wales.
If you could only keep one item out of all your outdoor gear, which would you keep and why?
Waterproof trail shoes. I get really cold feet so having waterproof trail shoes has been a game changer for me. I used to run or walk in regular trainers and I didn't realise how much easier it makes life having a specific trail shoe.
What's your pet peeve in the outdoors/adventure space?
Grumpy people! I have been brought up when riding, running and hiking to give fellow adventurers a quick nod or hello; an acknowledgement that we are doing something shared. 
It might seem kind of ridiculous that I get a bit annoyed when you don't get that nod back or get ignored but I do. 
The sporting community is such a lovely supportive one in general and I always try to give fellow runners/cyclist/hikers a hello.
If you could be instantly transported to the start of any adventure, what would it be, where and why?
I would love to cycle the California section of the 101 Highway. We have spent quite a lot of time in  Southern California training for triathlon and I would love to explore more of the coast. The scenery looks stunning! 
I would love to combine the trip with surfing. I'm not a great surfer but I try hard and would love to get better. A cycling/surfing adventure would be perfect.
We're sitting round a campfire. Do you have a funny or entertaining story about one of your adventures?
I once got attacked by an angry Hungarian man with an umbrella in Budapest while riding my bike. 
We were In Budapest for the World Series final of triathlon. We were finishing up a ride and riding around slightly lost in the pouring rain looking for the swimming pool.
I think I must have cycled closer to the man and his dog on the pavement than I thought but he chased me as we were going slow trying to figure out where we were. I got hit a few times with the umbrella before I managed to get away. 
My friend and I were in hysterics riding away. It was so unexpected and luckily didn't hurt or affect my race.
Is there any gear that's on your shopping list at the moment? 
A tent that fits our family of four. Our kids are three and one and we haven't taken them camping yet. I would love to get a tent this year and take them on some adventures, preferably near the beach.
All the latest inspiration, tips and guides to help you plan your next Advnture!
Thank you for signing up to Advnture. You will receive a verification email shortly.
There was a problem. Please refresh the page and try again.