Friday 5: Interview with record-breaking ultra runner Sabrina Verjee
Our regular quick-fire interview series continues with questions and answers for a champion long-distance runner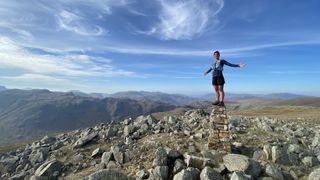 (Image credit: Sabrina Verjee)
Sabrina Verjee is one of the UK's leading ultra-runners, having completed the five-day Dragon's Back Race in Wales on three occasions, finishing second place in the women's race in 2017 and 2019.
In 2020, she broke her own record time as the fastest female runner of the 268-mile Pennine Way. The year before, she was first female in the Montane Spine Race along the Pennine Way, and finished fifth overall.
Also in 2020, Sabrina, a veterinary surgeon, became the first female to complete a non-stop round of the 214 Wainwright fells in the Lake District. She holds the third fastest time for the feat on the Wainwrights.
If you could only keep one item out of all your outdoor gear, which would you keep and why?
My Berghaus Hyper 100 waterproof jacket. At 90g and packing into the same space as a small pair of gloves, this jacket is easy to take with you. Whatever the weather, even if I am on a short run, I take it just in case the weather turns and I end up in a deluge. It's extremely watertight, breathable and light.
What's your pet peeve in the outdoors/adventure space?
The obvious one is litter. I picked up lots of abandoned water bottles the other day in my own valley in the Lake District and some tin foil. I ran out of space for the rest of it in my little race vest and I had to carry it round the rest of my 35km loop.
And don't get me started on dog poo bags... Why would you put the poo in a bag only to leave the poo and the bag on the path?
If you could be instantly transported to the start of any adventure, what would it be, where and why?
Te Araroa – The Long Path in New Zealand which is 3000km. I would love to run the whole thing. That would be a proper adventure and something and somewhere I don't know at all.
We're sitting round a campfire. Tell us a funny or entertaining story about one of your adventures
I was aged 20 and travelling in Mongolia with my best friend Lindsey. We were hiking around and visiting a lot of places that no tourists had been to before.
We were in a little village and ended up buying a pony and cart. We decided that we would make a three-day journey to Kazakhstan with our new acquisition.
It all started out fine and as it was getting dark we decided to set up camp next to a beautiful lake. I had watched the Mongolians "hobble" their horses to prevent them straying so I did the same.
But when we woke up in the morning the pony was gone. It was nowhere to be seen (we were not sure if it had been stolen or if I did a terrible job at tying its legs together!).
We then were faced with a very heavy cart that we had to abandon and a long walk. There was really not much around but after a few hours of walking up a very steep hill we heard the chugging of a quad. We were delighted to see a farmer driving a few of his sheep and in our bestest Mongolian – aka charades – we managed to win ourselves a lift (to where we didn't know but it seemed like a good idea).
We clambered into the back of his vehicle and squashed ourselves in like sardines with the sheep. We were so chuffed with ourselves and didn't even mind the mounds of sheep shit until... the farmer started freewheeling down a very steep, bumpy hill and we began to fear for our lives!
Is there any gear that's on your shopping list at the moment?
La Sportiva Primaloft Skirt – so I can pretend to be a bit girly and also keep my butt warm in this cold weather!
All the latest inspiration, tips and guides to help you plan your next Advnture!
Fiona Russell is a widely published adventure journalist and blogger, who is better known as Fiona Outdoors. She is based in Scotland and is an all-round outdoors enthusiast with favourite activities including trail running, mountain walking, mountain biking, road cycling, triathlon and skiing, both downhill and back country. Her target for 2021 is to finish the final nine summits in her first round of all 282 Munros, the Scottish mountains of more than 3,000ft high. Aside from being outdoors, Fiona's biggest aim is to inspire others to enjoy the great outdoors, especially through her writing. She is also rarely seen without a running skort! Find out more at Fiona Outdoors.