Is hiking good exercise?
Get set to hit the trail – hiking is a fantastic way to improve your fitness, strength and mood, all while exploring the great outdoors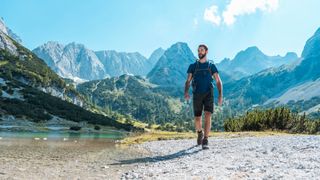 (Image credit: Getty)
Hiking might not be the first activity that springs to mind when you're wondering how to bump up your fitness levels, but heading for the trail is actually one of the best ways you can give your body an all-round workout. Is hiking good exercise? The short answer is yes – it's an excellent cardio workout that will improve your fitness, strength, health and even your mindset.
Let's start with the obvious – hiking will give you strong leg muscles. Walking is a fantastic way to work out the lower body, and all those ups and downs will quickly strengthen glutes, calves and hamstrings. While you may find the ascent harder work (and a better cardio workout for your heart), it's actually the downhill treks that make your knees and hips work hard to keep your body strong and stable. Hiking also has unseen health benefits – fast-paced walking improves blood pressure, boosts your bone density and can even prevent future injuries by stabilizing and strengthening weak muscles. For more on this, see our guide to hiking injuries.
While hiking burns fewer calories per hour on average than running (it's roughly half – the average woman will burn around 260 calories/hour walking and 530/hour running, although fast-paced hikers with heavy packs could end up burning a whopping 700 calories/hour), walking is a brilliant way to get a great cardio and muscle workout without the extra strain and impact of running. A gentle valley stroll is obviously different to conquering a mountain summit, and while both count as exercise, one of the best ways you can pump up the volume is to head for the hills and increase your hike's elevation. Another hack for making your hike more of a workout? Carrying a loaded backpack (see our best hiking backpacks) makes your core work much harder.
On a mission to get fitter or faster on your hikes? If you're clocking up a fair few miles, make sure you pace yourself. You should be able to hold a conversation as you walk – if you can't, you're going too fast. Endurance and stamina are your two keywords, and are best improved by building up the distance you walk over time. Try to vary your workout routine when you're off the trail, too – gym exercises that work your core and back will ensure a strong hiking posture, and running and swimming will help build up the aerobic fitness you'll need for more challenging treks.
One of the best things about thinking of hiking as a workout is that once you own some decent hiking boots, it's completely free, without any costly kit involved – the mountains don't charge a monthly joining fee, after all. And whatever level of walking or hiking you choose to tackle, you'll reap great mental health benefits. Hiking has been proven to boost your mood, improve your sleep and reduce stress and anxiety, and walking just three times a week for 10-30 minutes each time can be enough, as explained in our feature on green exercise. Consistency is key - mix shorter local walks with bigger hikes in the great outdoors and you'll definitely see big benefits, both physically and mentally.
All the latest inspiration, tips and guides to help you plan your next Advnture!
An award-winning travel and outdoors journalist, presenter and blogger, Sian regularly writes for The Independent, Evening Standard, BBC Countryfile, Coast, Outdoor Enthusiast and Sunday Times Travel. Life as a hiking, camping, wild-swimming adventure-writer has taken her around the world, exploring Bolivian jungles, kayaking in Greenland, diving with turtles in Australia, climbing mountains in Africa and, in Thailand, learning the hard way that peeing on a jellyfish sting doesn't help. Her blog, thegirloutdoors.co.uk, champions accessible adventures.